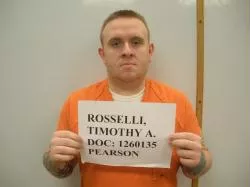 Image via Missouri Department of Corrections
Timothy Rosselli faces federal charges of impersonating an officer.
A Missouri con man with a taste for high-end sports cars, fake names and online romance was arrested today at an Illinois bus station after his $180,000 Lamborghini Gallardo blew a tire, police say.
Timothy Rosselli told the cops in Effingham he was a deputy U.S. Marshal. It was a line he'd used on at least two girlfriends — but the officers already knew it was a lie, according to authorities.
The 28-year-old, who most recently lived in Union, Missouri, is now facing federal charges of impersonating a federal officer and state charges of identity theft. He is in the custody of actual Marshal's deputies.
Rosselli's arrest ends a complex scam conducted across multiple states, involving at least two victims but probably more, authorities say.
The Pennsylvania native spent the past nine months living with a woman in Union, about 50 miles southwest of St. Louis. They were engaged, but the woman had begun to suspect something was wrong.
Union police Sgt. John Biser says she knew Rosselli as Austyn Gardner. He originally claimed to be a flight medic but later told her he'd landed a job with the Marshal service. He started driving a police-style Ford Interceptor "with lights and sirens, all that," Biser tells the
Riverfront Times
.
The faux federal agent's story started to fall apart when he told the girlfriend he had to go in for training. When she returned home unannounced, she found him still there. After she confronted him about a $20,000 credit card debt he'd racked up in her name, he hopped in the Lamborghini and bolted, Biser says.
On Monday evening, the girlfriend contacted Union police, who quickly determined he was no deputy Marshal. His badge, vest and other law enforcement memorabilia were all knock-offs.
They also learned he had another girlfriend in Florida, who knew him as Austyn Labella. It was that woman who bought Rosselli the Lamborghini as well as a $96,000 Corvette. She'd also given him cash and loans totaling roughly $27,000, Biser says. The woman told police he'd given her a similar story about working as a deputy Marshal.
"He hasn't had an actual job in years," Biser says.
Rosselli had courted her online and gone down to Florida to visit. In fact, she'd just been in contact with him — and after fleeing his girlfriend in Union, he was on the way to meet the Florida woman in Pennsylvania, Biser says. The Florida girlfriend told police that Rosselli had called her from the road and told her the Lamborghini had blown a tire in Effingham.
He planned to take a bus the rest of the way, she told police. Effingham cops, tipped off by police in Union, intercepted him at the Greyhound station.
His bit about being a fellow law enforcement officer got him nowhere, which maybe he should have seen coming. After all, he had previously been arrested in 2014 in Franklin County, Missouri, and extradited back to Pennsylvania, where authorities claimed he'd impersonated a state constable.
Pennsylvania investigators knew Rosselli as Timothy Rossell (dropping the last "i" from his name). They say he bought a Crown Victoria off Craigslist in 2012, telling the owner his name was John Tobisti and that he needed the car for his work in law enforcement. He took the car but never paid, authorities say.
Southwest Regional Police in Pennsylvania claim he had pulled similar cons on others, using the name Timothy Brandhorst to scam a couple out of their Ford F250 pickup and later identifying himself as Missouri State Trooper Timothy Michael Keller to sell a twenty-year-old a $650 car he never delivered.
Rosselli eventually pleaded guilty to multiple theft charges, court records show.
In the most recent case, investigators are still trying to retrace Rosselli's tracks. Biser says they're talking to other women whom police suspect were duped by Rosselli, and he says there could be more.
Authorities ask anyone with information to call the U.S. Marshals Service Investigations Bureau at 314-539-2040.
The charge of impersonating a federal officer carries a max sentence of three years in prison and a $250,000 fine.
We welcome tips and feedback. Email the author at doyle.murphy@riverfronttimes.com or follow on Twitter at @DoyleMurphy.