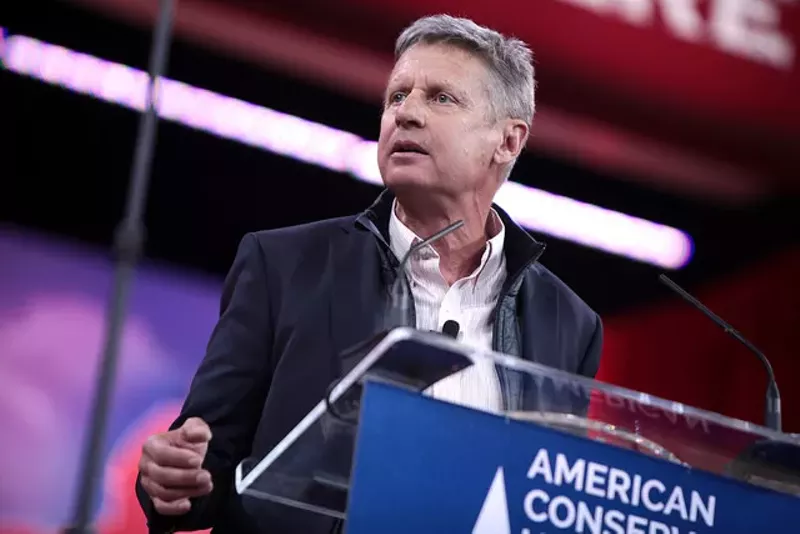 Photo courtesy of Flickr/Gage Skidmore
Gary Johnson isn't happy about being excluded from the presidential debate in St. Louis on October 9.
When Donald Trump and Hillary Clinton take the stage to debate at Washington University on Oct. 9, Libertarian candidate Gary Johnson won't be there. But he's hoping to change that by putting pressure on one of the debate's biggest sponsors, Anheuser Busch InBev.
Johnson's supporters will protest at Anheuser Busch's historic brewery in Soulard today, asking the company to intercede with the Commission on Presidential Debates on Johnson's behalf. Since 2000, the commission has only allowed candidates polling at more than 15 percent nationwide to participate — a barrier no independent or third-partier has been able to surpass.
The Johnson campaign plans to gather 50 to 100 people for their protest, hoping that even if their bid to get into the Wash U debate doesn't succeed, they'll gain enough attention to make it to the final debate in Las Vegas.
"The problem with having such a polling standard is that if you are a third party or independent, it's extremely hard to get any media coverage," says Terry Michael, the senior media advisor for the Johnson-Weld campaign.
Low media attention leads to low poll numbers, which in turn bars candidates from debates.
Michael knows the process well — he was once the spokesman for the Democratic National Committee before becoming a libertarian, and witnessed the establishment of the debate commission firsthand. He says it was always designed to keep third-party candidates out.
Indeed, presidential debates were once run by the League of Women Voters, which was friendly to third-party candidates and didn't allow the Republican and Democratic campaigns to agree to rules behind their backs.
But when the two major parties formed the commission in 1987, they began agreeing on debate parameters in secret — everything from who could participate in the debates to the height of the podiums. The League of Women Voters cut off its relationship with the debates altogether, saying the commission was helping the parties "
perpetrate a fraud
."
So now instead of going through a non-partisan organization, all debate matters are now left up to the prominent Democrats and Republicans on the commission. Only once have they allowed a candidate outside the two-party system to debate: Ross Perot, in 1992. Even then, the commission was against it, but the campaigns of George H.W. Bush and Bill Clinton pushed for Perot's inclusion, each believing the Texas billionaire would undermine his opponent.
The debate commission strives for independence by accepting "
no funding from the government or any political party, political action committee or candidate
." But debates cost money, and the commission gets it from
corporations, wealthy tax attorneys and major law firms.

After formally hearing from the commission that Johnson would not be invited to the Wash U debate, Johnson's campaign organized today's protest of Anheuser Busch. The candidate also sent a letter to Joao Castro Neves, the zone president of A-B InBev in North America.
"The [commission] refused to allow me to participate in the first debate at Hofstra University in New York on September 26, citing that I was five or six points below the fifteen percent polling threshold the Commission created in 2000," Johnson wrote. "That threshold is clearly intended to exclude any candidate other than the Republican and Democrat."
Anheuser Busch has been topping the list of the debate commission's sponsors for 20 years. Michael says the reason Washington University has hosted so many presidential and vice presidential debates, more than any other location, is probably due to Anheuser Busch's influence.
"They are, as most corporations are, very involved in the political process," Michael says. "Both political parties hold the status quo in place."
That kind of "crony capitalism," he says, is part of what libertarianism is against. Anheuser Busch is a clear participant. During the 2016 election cycle, the company has
donated thousands of dollars
to Hillary Clinton, as well as to many of Donald Trump's primary opponents.
"That sector has decided [Clinton] is probably going to be elected, so we want to be on her good side," Michael says. "They're banking on who they think the winners might be."
Johnson is currently polling at around seven to eight percent nationwide and will be on the ballot in all 50 states and Washington D.C. He is polling higher than Perot, the last third-party or independent presidential candidate to be allowed into the debates in 1992, was at the time.
Michael says that 2016 would be an ideal year for Gary Johnson to break through with the publicity a debate appearance provides, because so many Americans are unhappy with the choice between Trump and Clinton and open to voting for a third-party candidate.
"He would also be representing a great many millennials, the now-largest demographic," Michael says. "It's ironic that these debates are held on college campuses, with many millennials who are very friendly to Gary Johnson."