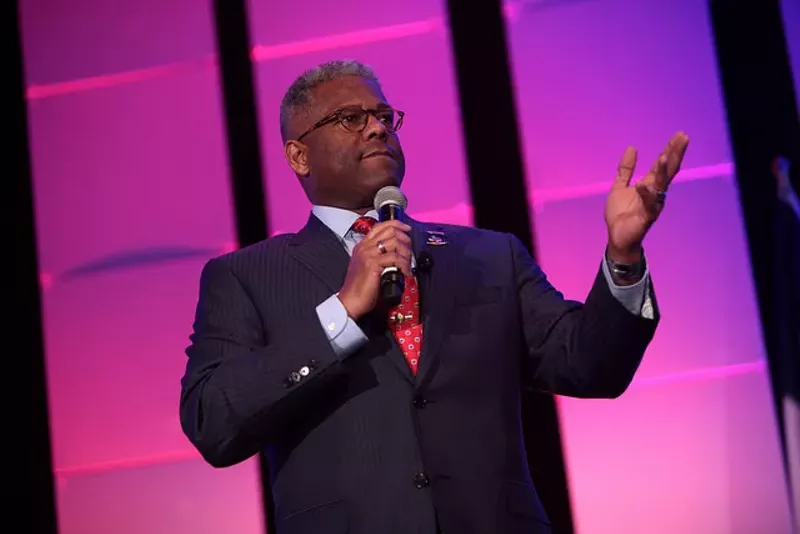 Photo courtesy of Flickr/Gage Skidmore
Controversial Fox News commentator Allen West is headed to SLU tonight.
A group of law students at Saint Louis University are questioning why conservative pundit Allen West is allowed to speak on campus after calling its Muslim
students' group a "stealth jihad radical Islamic campus organization
" — even though last year a former law professor's talk about abortion had to be moved off campus for conflicting with university values.
"We find ourselves wondering why a guest speaker who has incredulously asserted that the Muslim Students' Association is part of a 'terrorist organization' and that they are attempting to further 'civilizational jihad which designs to destroy our civilization from within' is deemed appropriate to present on campus," a group of seven student organizations wrote in an open letter.
"Are we to conclude that Lt. Col. West's beliefs are more in-line with the University's Jesuit values than an attorney from Planned Parenthood speaking about reproductive issues?"
Jeremey King, who wrote the letter, is the vice president of SLU's LGBT law student group, OUTLaws. He says the West decision reflects the university's lack of a real policy regarding controversial speakers.
"We need to push the necessity of having a conversation about the line between hate speech and normal speech, and what the university's responsibility is," King says.
The letter says the most appropriate solution would be to ask the Young Republicans, who are sponsoring West's speech this evening, to move the event off campus, just as the law students were asked to.
Last November, SLU's Law Students for Reproductive Justice wanted to bring Linda Raclin, an attorney for Planned Parenthood who was also a former associate law professor for SLU, to speak on campus.
The event was moved off campus to the Omni Hotel due to pressure from the university
. Vice president of marketing and communications Jeff Fowler said at the time that Raclin's speech conflicted with the university's values.
Originally, West's speech didn't face serious opposition. But then the former Republican congressman put the university on blast, saying that he'd been told that student organizers weren't allowed to use the phrase "radical Islam" in promotional materials for the speech. West fired back, calling SLU students "little cupcakes" and suggested (without providing any evidence) that the decision was dictated by the Muslim Student Association, which he called a "stealth jihad radical Islamic campus organization".
SLU president Fred Pestello wrote in an email that West's statements did conflict with the Jesuit values of the university, but in the interest of academic freedom, he should still be allowed to speak on campus.
Today,
West posted on Facebook
that he had spoken with the event organizers and heard that a professor would be speaking before him to "contextualize" his remarks.
"I do not recall ever hearing of any liberal speaker on a campus having their remarks 'put in context' before they spoke," West wrote. "I just have to ask, do we still live in America? Do we still have free speech, or are we only allowed to speak when the leftist progressives are accepting?"
But the coalition of groups representing minority law students at SLU now wonders why West should even be allowed to speak on campus.
"The tricky thing about the First Amendment is when speech rises to the level of a call to action in some ways, and people start to feel unsafe in their learning environment," King says.
SLU's chief diversity officer, Jonathan Smith, forwarded a message from the Muslim Student Association to the student body condemning West's remarks.
"In the current climate where Islamophobia is manifesting through violence against Muslims, this kind of rhetoric is not only offensive but dangerous, as evidenced through a number of burnings of mosques and attacks on individual Muslims following comments such as these," the email reads. "The Muslim students on campus are involved in service, community outreach, and inter-religious dialogue. We are students that are trying to balance the pressure of college with the current political climate, and comments such as these are deeply hurtful."