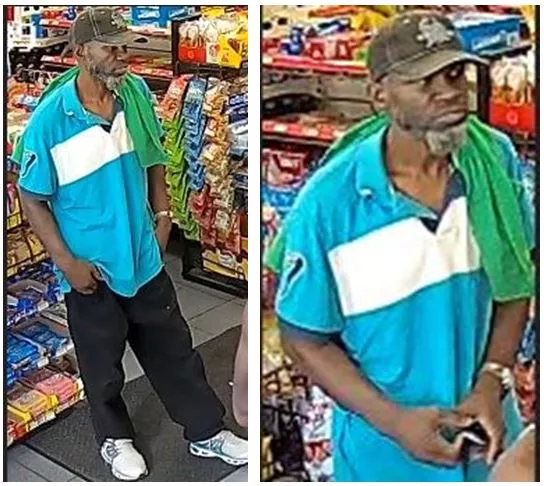 Image via St. Louis Metropolitan Police
This man stole an SUV with a baby boy inside, St. Louis police say.
St. Louis cops are searching for a man who stole a car on Thursday and sped off with a two-month-old boy inside.
The baby was discovered safe a short time later in a bathroom at Sherman Park in north St. Louis. The car had been abandoned a block or two from the park, authorities say.
Investigators don't know what happened to the car thief. The child's 25-year-old mother told police she was getting gas about 4:30 p.m. at a Gulf Mobil station on Natural Bridge Avenue near Goodfellow Boulevard. One of her kids went inside, and when the mother went to check on him, the thief pounced.
Police say he hopped in the driver's seat of her 2003 Mercury Mountaineer. The key was in the ignition, and the two-month-old was seated inside. The mom returned in time to see the man driving out of the parking lot.
Officers found the SUV in the rear of the 5000 block of Lotus Avenue. The child was checked out by EMS and was unharmed, police say.
The suspect was filmed on surveillance cameras, and police estimate he's anywhere between early 30s and mid-40s and between five-feet-ten inches and six feet tall. He has a gray beard and was wearing a gray baseball cap, a turquoise shirt with a white stripe across the chest, black Dickies pants and white tennis shoes.
Police ask anyone with information to call CrimeStoppers at 866-371-8477.
We welcome tips and feedback. Email the author at doyle.murphy@riverfronttimes.com or follow on Twitter at @DoyleMurphy.