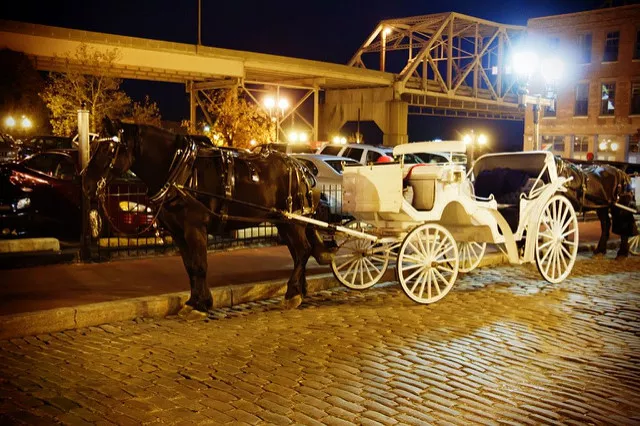 Photo courtesy of Flickr/Rian Castillo
Horse-drawn carriages are a popular tourist attraction downtown.
More than 47,500 people have signed
a petition asking St. Louis to ban horse-drawn carriages
, with a campaign started by a St. Ann resident who hopes to draw attention to horses working in what she says are far from fairy-tale conditions.
Daniella Flores was aiming at just 1,000 signers until her petition made the front page of the website, Care2, where it was posted. Now she's earned many, many times that.
Flores says she was inspired to make the petition after seeing three news stories about horse-drawn carriages in the same day — about a horse who collapsed and died in New York City, another who was injured in Charleston, and the
Brookdale Farms company in St. Louis
, which was recently ordered to end its operations in the city.
"I feel like it's obviously dangerous for them to be walking around downtown, around the construction and the fumes," Flores says. "It doesn't seem like a healthy condition."
The St. Louis Metropolitan Taxicab Commission accuses Brookdale Farms of using unlicensed drivers and working horses in temperatures over 100 degrees.
But four other carriage companies are still operating downtown, and Flores sees the whole practice as unhealthy. She says that while some instances can be appropriate, like Budweiser's Clydesdale events, a single horse pulling a carriage isn't appropriate for workhorses, who should be in teams.
"I'm not trying to get rid of horse-drawn carriages in St. Louis altogether," Flores says. "I'm just aiming at downtown."
Flores has also contacted the St. Louis Board of Elections about trying to get a carriage ban on the ballot, but says she hasn't heard back from them yet.
Brookdale Farms owner Jerry Kirk is now suing the Taxicab Commission, saying it has no legal right to require his drivers to be licensed. According to his lawsuit, the commission's regulations only cover motor vehicles — horse-drawn carriages don't have motors.
In his lawsuit, Kirk also says his horses never work in dangerous conditions. The Eureka-based company is still operating outside of St. Louis county limits.
Objections to horse-drawn carriages aren't new.
Protests have sprung up
at Ladue's "Winter Wonderland" light display after a carriage horse died during a sightseeing ride. And in 2014, St. Louis' then-Health Department Director, Pam Walker, spotted a horse that she thought was showing signs of heat stroke. After arguing with the horse's owner about the conditions he was working in,
Walker was inspired to make a bid to ban the carriages, though that attempt was unsuccessful.
The carriage company that caught Walker's attention two years ago? Brookdale Farms.
"When I see something like that happening, it just doesn't seem right," Flores says, "and I can't believe it's still happening in downtown St. Louis."