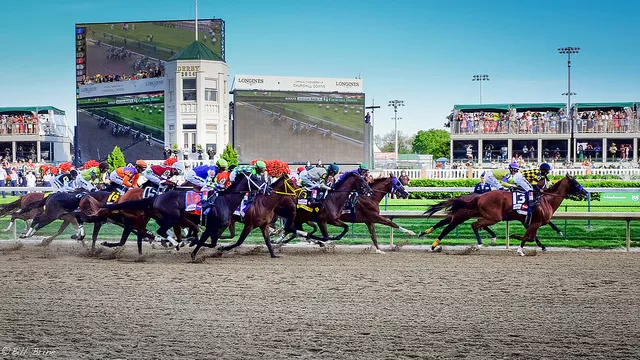 Image via Flickr/Bill Brine
A Ballwin man promised Kentucky Derby passes to victims in a ticket scam.
A serial scammer from Ballwin claimed in his online ads he had hard-to-get passes to the Kentucky Derby. He also sold tickets to St. Louis Cardinals games and the Master's Golf Tournament, sometimes bundling them with the promise of luxurious accommodations in resorts.
But Darrin Landes, 46, was full of it. He never shipped the tickets and often never had them to begin with. If he did have a ticket to one of the marquee events, he sometimes sold it to multiple people.
On Thursday, Landes pleaded guilty to federal wire fraud. It was the second time in three years. He was busted in 2013 after the FBI caught him running the same scam.
Federal prosecutors calculated back then he'd pocketed more than $120,000 in fake ticket sales. His attorney tried to keep him out of prison, telling the court Landes was undergoing treatment for depression and alcoholism.
"The Presentence Investigation Report notes that Defendant's mental health and alcohol dependency probably contributed to the offense... " Kirkwood attorney Francis Pennington, III wrote in a 2014 motion.
A judge sentenced Landes to a year and a day in prison and ordered him to pay $126,960 in restitution. Landes was still under supervised release when he picked up his old con game.
Between September 2015 and July 2016, he again sold phony passes to victims. When they complained about not receiving the tickets, Landes either didn't respond or tried to put them off with a variety of excuses, prosecutors say.
In one example, a buyer from Texas sent $1,000 through PayPal for a travel package that was to include tickets to this year's derby and Kentucky Oaks horse race along with hotel accommodations in a Marriott hotel, prosecutors say.
Landes now faces as many as twenty years in prison and fines of $250,000 as part of his latest guilty plea. He's due to be sentenced on December 16.
We welcome tips and feedback. Email the author at doyle.murphy@riverfronttimes.com or follow on Twitter at @DoyleMurphy.