Image via St. Louis Metro Police Department
Xavier Perkins, 18, is charged with murder.
A 54-year-old woman, murdered last week in the Central West End, was randomly targeted and then killed just blocks from her home, according to newly released court documents.
Monica Shaw, 54, was walking at about 10:30 p.m. on Sept. 12 along North Sarah Street when a carload of teens and young men from O'Fallon pulled up, police say.
Xavier Perkins, eighteen, and Jermaine Stabler, seventeen, hopped out of the car and confronted Shaw, according to a criminal complaint. Their reasons remain murky.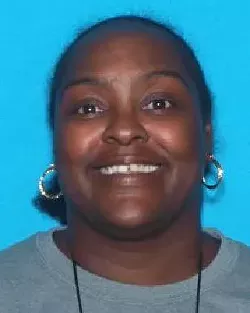 Image via CrimeStoppers
Monica Shaw was killed on Sept. 12.
A juvenile, who remained in the car, told a detective the teens tried to rob Shaw, and Perkins shot her when she tried to brush them off. He claimed that he'd thought they were just going to the area to buy some marijuana.
However, documents filed on Tuesday describe a different scenario.
In those accounts, another member of the crew, twenty-year-old Ronald Harris, had previously bought about an ounce of marijuana and told the other two to approach random people on the street to try to sell it.
In the 400 block of Sarah Street, they spotted Shaw and confronted her. Perkins shot her within minutes, and they left her lying on the ground as the fled, authorities say.
The young witness, identified in court papers only as L.C., told police he jumped out of the car and ran, but they picked him up down the road and drove him back to O'Fallon. Perkins talked as they rode along about selling the murder weapon, the boy told police. The juvenile and Perkins talked about the killing again the next day, authorities say.
Two days later, the boy told O'Fallon police he knew about the killing, and they contacted St. Louis city cops.
Images via St. Louis Metro Police Department
Ronald Harris (left) and Jermaine Stabler face murder charges.
Perkins was charged on Saturday with first-degree murder, attempted robbery and two counts of armed criminal action. He was held without bail.
Harris and Stabler, the only one in the group from St. Louis city, were both charged on Tuesday with second-degree murder, armed criminal action and felony marijuana distribution. They were jailed on $1 million bail each.
Image via St. Louis Metropolitan Police Department
Damonte Dixon, 18, is charged with second-degree murder.
The juvenile witness wasn't charged. Another person was named in court papers as riding in the car, but he also wasn't charged. (Editor's note: That fourth person, eighteen-year-old Damonte Dixon of O'Fallon has now been charged. Police arrested him on Wednesday. He faces charges of second-degree murder and armed criminal action. He was held on $1 million bail.)
We welcome tips and feedback. Email the author at [email protected] or follow on Twitter at @DoyleMurphy.