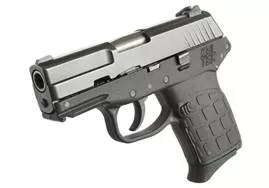 File Photo
Put it in your pocket.
Missouri is A-OK with the National Rifle Association after lawmakers voted to weaken the state's already meager gun laws.
"This is a great day for freedom in Missouri," the NRA gushed after Wednesday night's vote.
The law in question,
Senate Bill 656
, eliminates the need for a permit to carry a concealed weapon, along with requirements for training and background checks. It also expands "Stand Your Ground," dropping the requirement to retreat before offing someone you think is threatening you on your property.
Governor Jay Nixon vetoed the bill back in June,
arguing it was probably a bad idea
to "throw out the permit process and allow concealed firearms without any of the public safety protections that exist in current law... "
He pointed out that people, including people awaiting trial on felony charges, would now be allowed to walk around with handguns under their jackets. Law enforcement leaders agreed that it set up a nightmare scenario for cops. St. Louis Metropolitan Police Chief Sam Dotson begged state lawmakers to leave the bill "in the graveyard of bad ideas."
State legislators, however, decided we'd all be way better off with more hidden guns. They Republican-led Senate on Wednesday
voted 24-6 to override Nixon's veto, and the House followed up with a 114-41 vote
.
That was awesome news if you're the NRA. The organization lobbied hard in support of the bill. On Wednesday night, after the final votes were counted, the group posted giddy BREAKING tweets, celebrating the override. Legislators voted for "peoples' right to self-defense" and made it legal for gun owners to carry concealed guns "without unnecessary government regulation," according to the NRA.
So enjoy the appreciation of the nation's top gun lobby. Missouri did just what it wanted the state to do.
We welcome tips and feedback. Email the author at doyle.murphy@riverfronttimes.com or follow on Twitter at @DoyleMurphy.