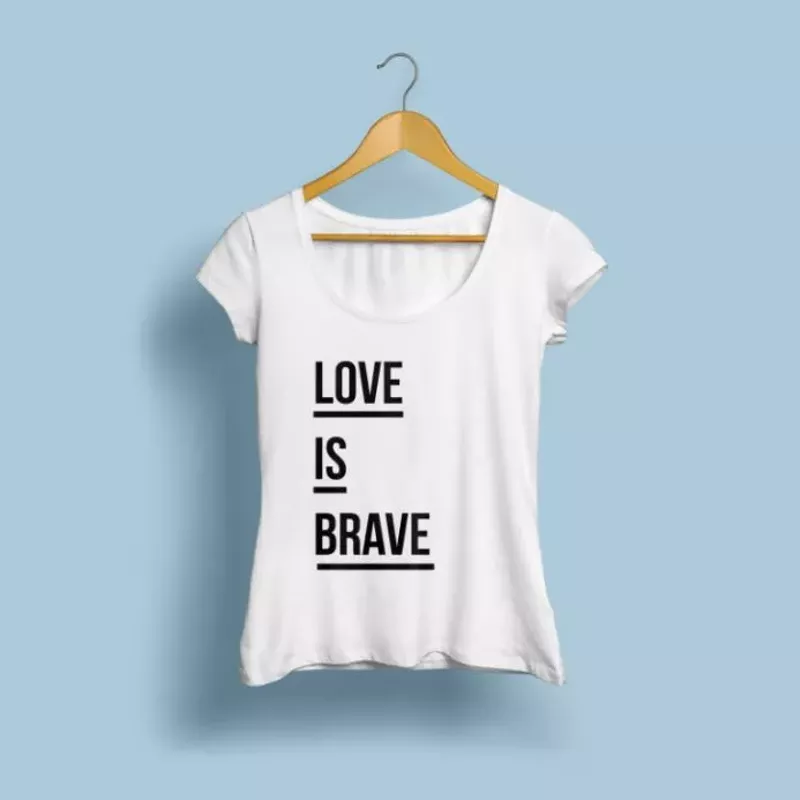 Courtesy of Magdalene St. Louis
A mock-up image of a t-shirt design created by the women of Magdalene St. Louis.
For the residents of Magdalene St. Louis, undoing the damage of human trafficking amounts to a full-time effort. Women admitted to the two-year program may have been sexually abused from as early as seven years old, with drugs and prostitution derailing their lives by thirteen.
But healing can take many forms, and at Magdalene that process will soon involve the chance to earn a living wage while marketing and promoting an apparel company.
Called
Bravely
, the company will provide paying jobs to five or six residents at a time, with the only requirement being successful completion of a six month stay in the Old North-based treatment community.
"They are a group of very skilled and resilient women, but they have trouble getting employment," explains Magdalene St. Louis executive director Hope Jernagan. "They have arrests on their records and have experienced so much trauma in their lives. Our idea is to create a business to help them overcome the trauma and help them build resiliency in the workplace."
Earlier this week, Magdalene launched a
crowdfunding campaign
to raise $50,000 to assist with startup and payroll funding for the first year of operation.
The women will be paid $13 per hour for their work, and Jernagan notes that the job and salary come with "no strings attached." Having been admitted to Magdalene St. Louis, the women are already provided with housing, food, medical care and therapy at no cost.
However, it should be pointed out that Bravely won't be offering apparel that has been physically crafted by the women themselves. Production of the clothing will be outsourced, leaving the women to run things like marketing, sales, website management and customer service.
"Manufacturing skills, unfortunately, will not get them into jobs that will help them earn a living wage for the rest of their lives," says Jernagan.
The products will bear a personal touch, though. The women chose the phrases that appear on shirts, water bottles and tote bags, including "Love is brave" and "I am a work in progress."
Those messages are more than mere branding.
"It's their voices," Jernagan says. "They get to choose what they want to say and how they want to put it out there. It's them saying, 'This is what I want to tell the world about my recovery and my journey forward.'"
Jernagan expects Bravely's first line of apparel to be available for purchase by November.
Follow Danny Wicentowski on Twitter at @D_Towski. E-mail the author at Danny.Wicentowski@RiverfrontTimes.com