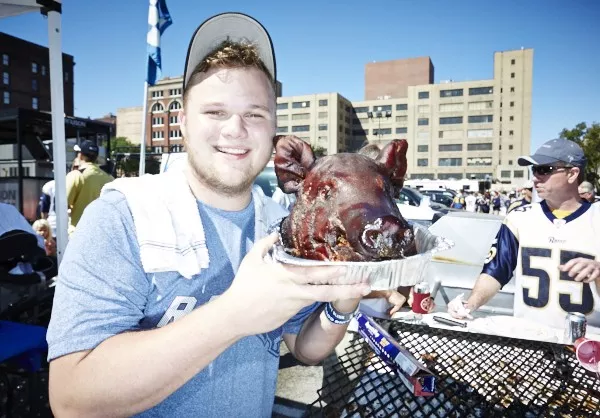 Theo Welling
Losing the Rams doesn't mean we have lose out on tailgating.
As football season begins, it's clear that any remaining sentimental attachment to the formerly St. Louis Rams has been clobbered and squeezed to death. Hell, people are seriously trying to debate the merits between cheering for the Kansas City Chiefs, the Chicago Bears and...
the Indianapolis Colts?
For shame. For shame.
But what of the tailgaters, those grill-masters who transformed the mediocre athletic spectacle of Rams games into glorious circuses of gluttony? What of that quintessential sports tradition of staking out a parking spot, filling yourself with meat and booze and consuming said meat and booze until your body can just barely function?
Perhaps St. Louis will never see another professional football team, but we need to cherish our tailgaters, the true victims of the Rams relocation. Where do they go now for their parking lot parties?
We have some suggestions.

5. Church
Pining for those Sunday tailgates of yore? Leave the congregation in awe as you arrive four hours early to get the burgers and cornhole tournament going. Invite your friends to debate which apostle would play offensive tackle for Jesus — Paul,
obviously
— and toss around the pigskin until you're steady enough on your feet to make it to the sermon.

4. New Comic Book Day


Sure, new comics are kind of a Wednesday thing, but if tailgating is about preparation, consumption and payoff, then what could be more fitting than eating brats and downing Bud Lights before tearing into a stack of new comic books? Revel in your triumph as you try to avoid smearing barbecue sauce on the latest issue of
Black Panther.
Cheer for the newly villainous Captain America.
Heckle Batman.
3. Your Neighbors's Vegetable Garden
Look. Sometimes you need to slow life down. Make some potato salad. Try that recipe for ribs you've been thinking about for months. Then set up some lawn chairs, gather your comrades and pass around some bourbon while remarking things like, "Damn, those tomatoes are coming along really nicely," for several hours.
2. Donnybrook
Leave your sports jerseys at home. Dig out your best tweed jacket and affix your officially licensed Bill McClellan clip-on mustache, because
KETC's Donnybrook
is the goddamn ride you've been searching for, a policy debate rollercoaster between St. Louis' most notable intellectuals and also Charlie Brennan. Pro tip: If you're headed to the annual Donnybash — that exciting time of year when
Donnybrook
is filmed before a live studio audience of wealthy geriatrics — smuggle some buffalo-sauce chicken fingers and buttered corn into the studio. Throw kernels at whichever grouchy smart person you disagree with. Just don't try that shit on Wendy Wiese; the panel's sole female regular is clearly much tougher than our beloved Uncle Ray and is not putting up with your nonsense.
1. Franks/Hubbard Special Election
Like football, politics is a game usually played by the rich for the benefit of the richer. But revelations about shady of election practices in St. Louis means we're due for
a rematch between the Hubbard political dynasty and scrappy underdog candidate Bruce Franks
, and the showdown is shaping up to be more dramatic than anything on a football field. Granted, this tailgate might be tricky to pull off, since setting up your grill and picnic tent near polling stations could maybe violate some election laws. Our advice? Walk right into the city Election Board with a stacks of absentee ballots stuffed with skirt steaks and jalapeno poppers. If the newly appointed election commissioners are
anything like the old ones
, no one will even bat an eye.

Follow Danny Wicentowski on Twitter at @D_Towski. E-mail the author at Danny.Wicentowski@RiverfrontTimes.com