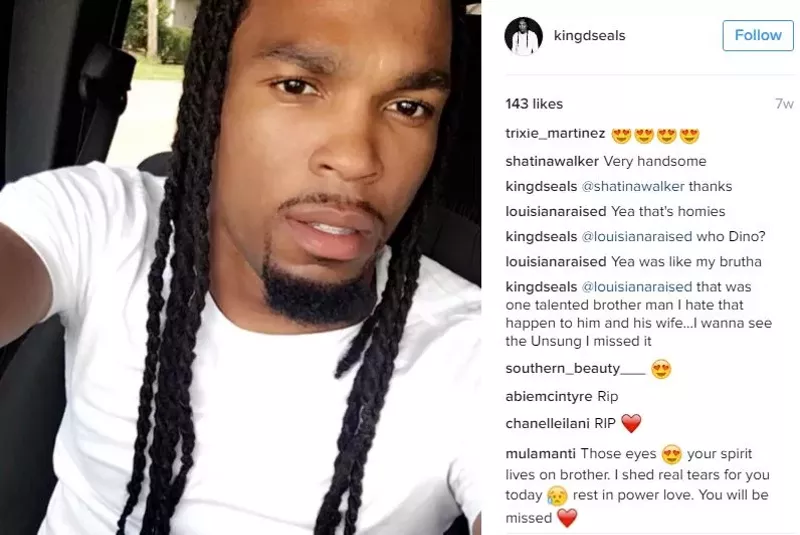 Darren Seals, a protester in Ferguson who had become an outspoken commentator, and harsh critic, of the various offshoots of the Black Lives Matter movement, was found shot to death in his car Tuesday — and the activist community is reeling.
A
rapper
and General Motors assembly line worker, Seals was close to the family of Michael Brown, the unarmed black teenager who was killed in a fatal confrontation with a white Ferguson police officer on August 9, 2014. Three months later, when a grand jury declined to bring criminal charges against the officer, it was Seals who embraced Brown's mother as she sobbed.
The same night as the grand jury decision, as Seals and others took to the street to protest, a man named
Deandre Joshua
was shot dead in his car and then lit on fire. (The killing remains unsolved.)
Two years later, Seals suffered a similarly gruesome fate. In the early morning hours of Tuesday, September 6, St. Louis County Police responded to reports of a vehicle fire in the 9600 block of Diamond Drive in Riverview. After extinguishing the blaze, police found Seals' body. Investigators said he'd been shot before the fire had been set.
Seals was 29. Police are treating his death as a homicide.
But his friends aren't content to wait on the police investigation. Activists who gathered at the site where his car was found tweeted photos yesterday of shell casings and car parts seemingly left at the crime scene, suggesting the police had failed to gather up all the possible evidence.
Twitter user FunkyCow also uploaded a
series of videos
showing an interview with a man claiming to have witnessed an unknown individual parking Seals' Jeep before it was set ablaze.
In the video, the man said he initially assumed the Jeep had been stolen. He
described
watching a black man with dreadlocks exit the Jeep while wearing "white socks on his hands" and jump into a Chrysler 300, and then drive off.
"I thought they would come back and take the rims off it," the man said
on one of the videos.
"The whole time, I didn't know there was a body in there."
After the Chrysler 300 departed, another unknown person entered the scene.
"A white boy came from Riverview-way, through the woods, and I'm thinking he's finna come try to find some crack or something, and I'm not really paying attention. By the time I turn away and look back, the whole car is in flames."
A person out of frame asks if the man saw the "white boy" carrying anything in his hands.
"Nah,"
he responds
. "I really didn't pay attention."
So far, police have not released any information about suspects or motives behind Seals' death. The lack of information and horrific circumstances has sparked an outpouring of grief on social media and Twitter — despite the fact that Seals and other activists didn't always see eye to eye.
In what is undoubtedly the most deeply reported story on the aftermath of Seals' death
,
Washington Post
reporter Wesley Lowery writes that Seals was beloved in some circles for his forceful critiques of media and the groups and activists associated with Black Lives Matter, whom Seals frequently accused of profiting from protests and abandoning those still struggling in Ferguson.
Lowery writes
, "For other local activists who felt angered that the media attention had departed from Ferguson and Greater St. Louis, his online screeds were often heralded as bold truth-telling. Yet many other organizers and activists distanced themselves, publicly and privately, from Seals in part because his attacks on other activists felt too personal to be launched in public and, several said, often included language or undertones that they found homophobic, misogynistic or otherwise impolitic."
Seals' work as an activist and organizer was heralded locally and in the national press. He helped create the activist collective known as Hands Up United and spearheaded an effort to send a message to the Democratic politicians who had long held power in St. Louis County. It was time to vote Republican, he told the
Washington Post
.
"Just because they've got the D next to their name, that don't mean nothing,"
Seals said an October 2014 interview
. "The world is watching us right now. It's time to send a message of our power."
Seals' outspokenness also attracted the attention of vindictive trolls.
In a Facebook Live video
dated June 7, Seals described how Ferguson police officers pulled him over, pointed guns at him and his fourteen-year-old brother and initiated a search on his Jeep without his consent. Finding nothing, detectives told Seals that they'd been following a tip from "some people" who claimed he was a drug dealer and liked to criticize Donald Trump on Facebook.
"They say, 'Did you go Trump rally?' I said yeah. They say, 'Did you post some shit about Trump on Facebook?' I say 'Yeah, what, is that illegal now?' He said, 'No, there's nothing wrong with that, but you might want to pick your enemies better.'"
Mourners have taken to Seals' Facebook page to leave their condolences and to honor a man who many remember as a vital force during the protests in Ferguson. They comment on and reshare his old posts, drawing inspiration from his words while still grappling with the tragedy.
<!———————————StartFragment———————————>
"I don't recall anyone having a longer protest, a more productive protest, a more creative protest than what we did," Seals told MTV News in 2014. "I don't think people will ever really appreciate what we did until years from now. We really did the best we could."
Follow Danny Wicentowski on Twitter at @D_Towski. E-mail the author at Danny.Wicentowski@RiverfrontTimes.com