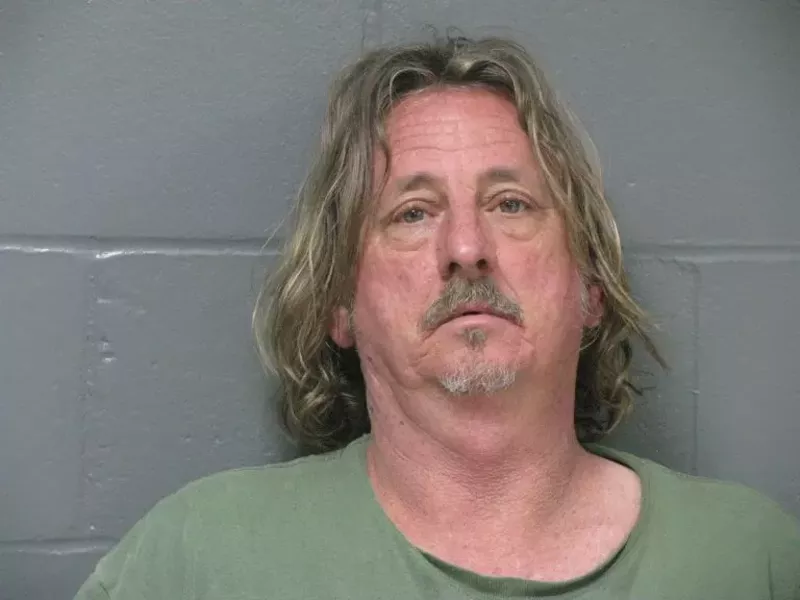 Camden County Sheriff's Office
Steven Ray Endsley
The murder of a mother and daughter last week in central Missouri is now being investigated by the FBI as a possible hate crime. A suspect, Steven Ray Endsley, is facing charges for murder and arson.
On Saturday, Endsley, 54, was taken into custody in connection to the deaths of Danielle Smith and her mother Teresa Jackson. Witnesses say that Endsley "had been in an ongoing disagreement with Smith over her sexual orientation,"
according to a press release from the Camden County Sheriff's Office
. Two adult members of Endsley's family were also taken into custody for questioning, but they have not been charged and therefore are not being named by the Sheriff's Office.
On August 29, firefighters discovered the remains of Smith and Jackson after responding to an early morning blaze that consumed a mobile home near Camdenton, a small town about an hour-and-a-half's drive south of Columbia.
Before Endsley's arrest, the Missouri State Fire Marshal's Office found evidence of an accelerant used to start the fire. An autopsy determined that both women had been killed prior to the fire being set. Because of the condition of the bodies, detectives were forced to use DNA testing to identify the victims.
Smith was 27. Her mother, Jackson, was 61.
The possibility that the killings were motivated by bigotry has attracted the attention of the FBI, and its findings could ultimately lead to hate crime charges. If convicted under
federal law
, Endsley could be sentenced to life in prison.
For now, Endsley has been charged with a
litany of felonies
: two counts of the Class A Felony of 1st Degree Murder, two counts of Felony Armed Criminal Action, one count of the Class B Felony of 1st Degree Burglary, and one count of the Class C Felony of 2nd Degree Arson. Endsley is being held without bond. His next court date is October 4th.
A
GoFundMe page
has been set up up to raise money to cover funeral expenses for Smith and Jackson.
According to
data
published by the Missouri State Highway Patrol, there were a total of 86 hate crime offenses reported in 2013, which is the most recent year available. Among all Missouri hate crimes that year, the most frequently reported motivations were race (60.4%) and sexual orientation (19.8%).
Steph Perkins, executive director of PROMO, Missouri's largest statewide LGBT advocacy organization, had this to say in a statement to the
RFT
:
Even today, too many LGBT people are still met with harassment and violence, simply for who they are or who they love. We are grateful to those in law enforcement who are taking this matter with seriousness and diligence and seeking justice for Danielle M. Smith and her mother Teresa A. Jackson and their family. We must all work together to ensure we treat each other with compassion so situations like this do not happen again.
<!——StartFragment——>
Follow Danny Wicentowski on Twitter at @D_Towski. E-mail the author at Danny.Wicentowski@RiverfrontTimes.com