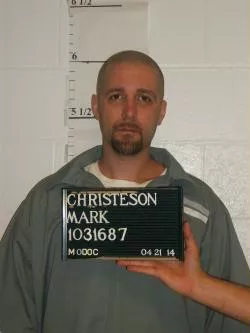 Image via Missouri Department of Corrections
Mark Christeson is appealing a death sentence in the murder of a mother and her two kids.
A man convicted of raping a Missouri mom and then slaughtering her and her two kids needs more money to get a fair shot at appeal.
That's according to some of the nation's top legal defense organizations, who have rallied around the case, saying that the federal court needs to release more money or risk a serious miscarriage of justice.
Mark Christeson, now 37, was saved from execution in 2014 when the U.S. Supreme Court stepped in to order that lower courts appoint new attorneys to represent him.
Attorneys from five legal organizations, including the newly opened St. Louis office of the MacArthur Justice Center, filed briefs last week in support of Christeson's case. The defense lawyers argue a federal judge in Missouri's western district subverted the high court's order when he approved just $10,000 of defense lawyers' $161,000 budget request — money they say is needed in part because of Christeson's "severe cognitive disabilities."
Even if all the defense attorneys worked for free, U.S. District Judge Dean Whipple's meager appropriation wouldn't be enough to pay for even one neuropsychologist, one of several key experts needed for the death penalty case, the organizations argued.
"When death is on the line, such opportunities for review cannot be so curtly denied," lawyers for the organization wrote in the brief.
Christeson was convicted in 1999 of three counts of first-degree murder in the killings of Susan Brouk, twelve-year-old daughter Adrian and nine-year-old son Kyle.
Christeson, then eighteen, and his seventeen-year-old cousin, Jessie Carter, ambushed the young family with shotguns in January 1998 at the family's trailer outside of Vichy, a small town about 15 miles north of Rolla.
Christeson forced Susan Brouk into a bedroom and raped her on her daughter's bed. When Brouk's daughter recognized Carter, Christeson decided they needed to kill them all, according to a summary from the state Supreme Court. The cousins forced the three into Susan Brouk's Bronco and loaded it with her television, VCR, car stereo, video game player, checkbook and other small items.
Christeson drove them to a neighbor's pond where he forced them out of the car and kicked Susan Brouk to the ground.
"Christeson then placed his foot on her mid-section, and reached down and cut her throat with a bone knife," according to the court summary.
Brouk was barely alive on the banks of the pond when Christeson slit her son's throat twice and held the boy under water until he drowned. Christeson then pressed Adrian's windpipe shut while Carter held her legs.
The cousins pitched all three bodies into the pond before driving off in the Bronco. Christeson and Carter's plan all along had been to run away from a sexually abusive relative, and they drove south, crossing through Texas before heading west.
They sold the Brouks' possessions along the way and eventually landed in California, where they were arrested and hauled back to Missouri to face murder charges. Carter testified against Christeson and was spared the death penalty as a result.
Christeson was convicted of the murders in state court and sentenced to die. His court-appointed attorneys missed the deadline to appeal to the federal court by more than 100 days, a serious error they claimed had been a miscalculation.
Attorneys from Saint Louis University's newly formed Death Penalty Project reviewed the case and asked the court to remove Christeson's lawyers, who would have needed to argue against their own work to properly defend their client. The U.S. Supreme Court agreed that it would be a conflict of interest and intervened in 2014, just hours before Christeson was to be executed.
It was an impressive accomplishment for the SLU group, but adjunct professors Joseph Perkovich and Jennifer Merrigan, both of the nonprofit law firm Phillips Black, have argued the U.S. District Court's later decision to slash the defense team's requested budget by more than 90 percent keeps Christeson's new lawyers from giving him the defense his old lawyers didn't.
Mae Quinn, director of the MacArthur Justice Center of St. Louis, agrees. She says it's particularly troubling in Missouri, where the
state's top public defender recently assigned Gov. Jay Nixon a case
in hopes of highlighting Missouri's abysmal funding of legal representation for poor clients.
"Of course, the context in Missouri, where we have such high execution rates, where we have lack of transparency around the death penalty, where we have lack of resources generally in our public defender system — I mean this case presents so many of those things," Quinn says.
The National Association for Public Defense, National Association of Criminal Defense Lawyers, National Legal Aid and Defender Association and American Bar Association have all supported the push to better fund Christeson's defense.
The lawyers argue any death penalty case is complicated and costly, and this one has added elements of Christeson's cognitive disabilities. Sexually abused nearly from birth by relatives, including both parents, he comes from a central Missouri family filled with generations of incest and pedophilia, his attorneys say.
Numerous relatives have been convicted over the years of sexually assaulting children in the family. The defense attorneys say experts are needed to determine Christeson's mental state at the time of the killings.
"Lawyers can't just talk about that," Quinn says. "You need experts and evaluations and evidence to support your claims."
We welcome tips and feedback. Email the author at doyle.murphy@riverfronttimes.com or follow on Twitter at @DoyleMurphy.