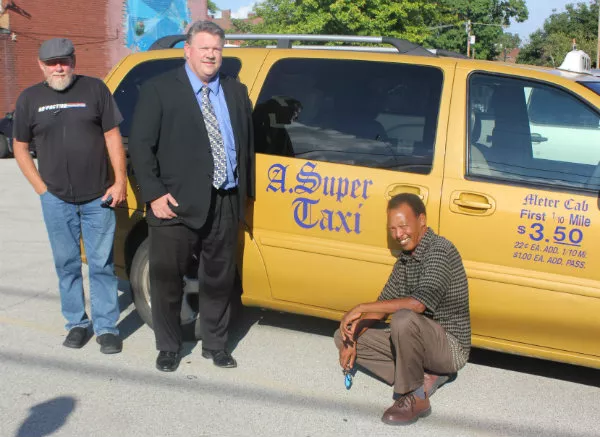 PHOTO BY SARAH FENSKE
Mehari G. Tekle, far right, with Chuck Cole, left, and attorney Drew Baebler, center.
Earlier this year, Mehari G. Tekle did something that no one in St. Louis has done for more than a decade: He opened a new taxi company.
His brand-new operation,
A Super Taxi
, has an office in an old union hall on South Jefferson, 31 drivers and fully functional app ready for downloading — one of the first taxi companies in the city you can hail by smartphone.
Tekle's company is entering the market at a particularly precarious time for cab companies in St. Louis. UberX, which
entered the market in defiance of regulators almost a year ago
, has cratered local taxi business — and the Metropolitan Taxi Commission, or MTC, is trying to persuade a St. Louis County judge to shut down its operations.
And if ride-sharing wasn't a big enough threat to Tekle's new company, the MTC is also, in some ways, aligned against him: The taxi commission only allowed A Super Taxi into the market in the first place because of a lawsuit. Even then, the MTC agreed to end its long-standing moratorium on new taxi companies in St. Louis only if new applicants met onerous conditions — app service among them (even though it's not currently required of the older taxi companies). A Super Taxi must also hold twice the insurance coverage of older cab companies — even though it's been strictly limited in the number of cabs it's permitted to operate, says attorney Drew Baebler.
The very fact of A Super Taxi's existence, then, feels something like a miracle. To Tekle, it is a dream come true — his American dream, in the flesh.
Now 55, Tekle came to St. Louis 26 years ago as a refugee from war-torn Eritrea. To him, in spite of everything, America is the land of opportunity.
He thinks he can defy the odds.
"We established this company, A Super Taxi, and it was a dream come true," he says. "I could not control my tears at the time."
In addition to its app, and it newness,
there is one big thing that separates Tekle from other St. Louis cab companies: its ownership structure.
The way that traditional taxi companies work in St. Louis is a source of great frustration to many cabbies. For a weekly fee — typically about $650, Mehari says — they get the right to drive a taxi on behalf of one of the companies licensed to work in the area by the MTC. But that doesn't really get them anything other than that. They own their cars. They pay their insurance and buy their own gas. In many cases, the taxi company doesn't even dispatch them on calls — they have to hustle for them at airports or hotels.
This was Mehari's life for more than two decades. After being settled here by the International Institute, he worked for Acme Battery in south city. But soon after he got married and started his family — he now has three children — he got laid off and the battery company soon shut down. An acquaintance steered him toward the taxi business. He knew nothing — about driving, about the city.
"It took me six months to know about St. Louis," he says. "Now taxi is my life."
But he was frustrated by the cab company owners, who were happy to take his money but otherwise seemed to do nothing. "I have dream," he recalls. "One day I will own mine." In 1998, in fact, he applied to the city of St. Louis to work for himself, to have his own cab company. They turned him down.
But nearly two decades later, when the MTC was settling that lawsuit over the moratorium, they got in touch. Was he still interested? He definitely was.
Tekle's goal was to stop the gouging he experienced. He vows to charge A Super Taxi drivers the bare minimum to cover insurance and the costs of the app. Baebler, who filed the lawsuit forcing the MTC to drop its moratorium, now represents A Super Taxi. He describes it as something like a mutual insurance company, with profits, if any, to be shared at the year's end. Of the 31 drivers who've banded with Mehari, he says, "they're all owners."
The MTC didn't make it easy get started. Among other things, they required the new company to have a free-standing office, not just a suite, and to staff it 24/7, says Baebler. Still, he says, "these guys pooled their resources and got it done."
"They keep setting hurdles," says Chuck Cole, a longtime cabbie who's been working with Tekle as something of a consultant. "But in every case — hurdle jumped."
Mehari has drilled his drivers. Dress clean, look sharp. Take care of your vehicle. Don't complain about how little money you're making. He knows that consumers have complained that the area's taxi service is lacking. He is determined to change that.
Still, it's tough out there. "When they come," he says of Uber, "they destroyed the business."
In October, a St. Louis County Circuit Court will consider whether to issue a permanent injunction against UberX operating in the St. Louis area. But Mehari isn't waiting for that decision. His taxi drivers are out there on the road now, and he's beginning a push to get the word out about
A Super Taxi's app
beginning today. He'd like a level playing field, sure — it's not fair his drivers have to jump through regulatory hoops when Uber's do not. But regardless of what happens in the courtroom or among his more established competitors, he's all in.
And he believes he's found the American dream — right here in this old union hall-turned-cab-company headquarters in the heart of south city.
"The place you stay if you're happy, that's your home," he says. "I made St. Louis my home."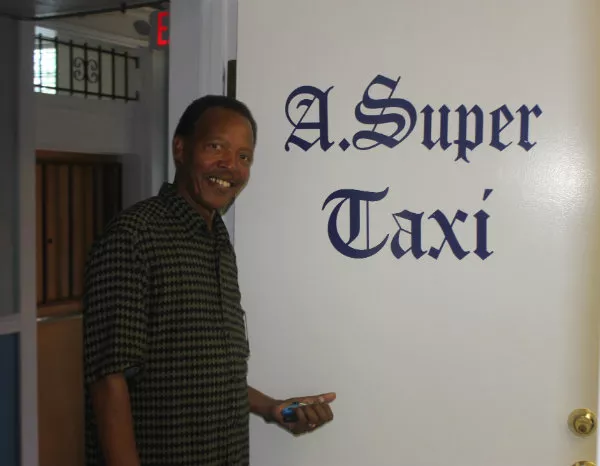 Editor's note: This story was updated after publication to reflect that A Super Taxi is one of the first taxi companies you can hail by smartphone, but it is not the first. Laclede Cab also has a smartphone app. We regret the error.

We welcome tips and feedback. Email the author at sarah.fenske@riverfronttimes.com