Mark Shanklin wasn't just rolling a few joints when St. Louis metro police raided his Carondelet home in June 2015.
"I had 300-something plants," he says. In a probable cause statement, the arresting officer described finding "copious amounts of potted marijuana plants in various states of growth." Shanklin was charged with two felony counts of possession with intent to distribute and a single misdemeanor for unlawful use of drug paraphernalia. Each of those Class B felonies, mind you, could saddle Shanklin with five to fifteen years in prison.
Still, the 53-year-old is optimistic about his next court date, set for August 26. He's already waived his right to a jury trial in favor of a bench trial, with St. Louis City Circuit Judge Robert H. Dierker Jr. charged solely with adjudicating his fate. The trial concluded last month, and now he's awaiting Judge Dierker's verdict.
But Shanklin doesn't dispute the factual basis of the charges — yes, he was growing a bunch of pot in his house. Instead, he's hoping a bold legal strategy will help him beat the rap.
Shanklin's gambit comes down to proving that the
"Right to Farm" constitutional amendment
passed by state voters in 2014 did much more than simply ensure Missourians' rights to "engage in agricultural production and ranching practices."
Basically, Shanklin and his attorneys argue that the pro-farming amendment — — created to constitutionally protect
"agriculture which provides food, energy, health benefits, and security"
— inadvertently destroyed Missouri's prohibitions against growing pot.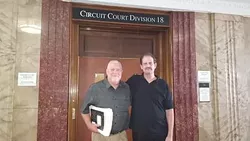 Photo courtesy of Mark Shanklin
Mark Shanklin, left, believes "Right to Farm" also means "Right to Grow Weed."
"The Right to Farm amendment was designed to let people grow the most beneficial crops," says Shanklin, who works as a waiter in a downtown St. Louis steakhouse. "And it just so happens that marijuana is the most beneficial crop known to man."
Pretty nervy, right?
Now, it's worth noting that
this tactic has been tried before
— and it failed.
Right around the time of Shanklin's arrest in 2015, a public defender in Jefferson City was trying to convince a Cole County judge that the Right to Farm amendment
protected his client's right to grow nine pot plants in her basement
. The judge would have none of it.
The "argument that growing marijuana in a basement constitutes a 'farming or ranching practice' goes way beyond the plain meaning of 'farming or ranching practice,'"
ruled Cole County Circuit Judge Dan Green
. "Simply put, marijuana is not considered a part of Missouri's agriculture."
Shanklin's St. Louis-based attorneys say they know of one or two other cases where Missouri pot-growers tried to use "Right to Farm" as a defenses. So far, those attempts have ended in failure. However, they believe this is the first time the tactic been deployed in a St. Louis court.
"The amendment is all encompassing," says attorney Tony Muhlenkamp. "It doesn't specifically rule out things that are currently controlled substances. It's very gray. The way they wrote that amendment, it leaves a lot of unanswered questions. And that's the courts are for."
Muhlenkamp notes that Missouri legislature has already acknowledged some benefits of marijuana, as proven by
a 2014 law that legalized the use of hemp oil
for children with rare forms of epilepsy.
It's unclear if those arguments will be sufficient to sway a St. Louis judge. And while Shanklin and his supporters hope a positive verdict could blow open Missouri's marijuana laws in one fell swoop, Muhlenkamp seems more cautious.
"If there's really a ruling that comes down that marijuana prohibition is unconstitutional in light of Right to Farm, that's going to be a big deal," he says. "That being said, I'm 99 percent sure the state would appeal. At the end of the day this might be something an appellate court needs to look at."
Shanklin's case isn't the only high-stakes court battle that could tip the balance of marijuana prohibition in Missouri. On Monday, the group campaigning to place a medical marijuana initiative on the November ballot said it would sue the state after
falling short on the number of signatures required
to be certified for the ballot.
Follow Danny Wicentowski on Twitter at @D_
Towski. E-mail the author at Danny.Wicentowski@RiverfrontTimes.com