Image via Facebook
Josh Hawley won easily in the Republican primary for state Attorney General.
Mizzou law school professor Josh Hawley crushed Sen. Kurt Schaefer in the Republican primary for state Attorney General, which means we all win —because that godforsaken race is over and we don't have to listen to their horrendous commercials anymore.
Hawley proved himself a far more effective practitioner of the dark art of attack ads. He nearly doubled up Schaefer, painting him throughout the campaign as a "moderate" who just might sell out real conservatives to liberals and China.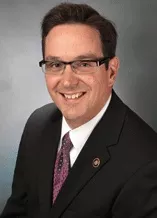 Senator Kurt Schaefer lost a nasty campaign for the Republican Attorney General nominee.
The Republican qualifier stood out among the state races for its unending ugliness.
Hawley and Schaefer spent weeks trashing each other in a spitball fight masquerading as bloodsport.
In one ad
, Schaefer tried to depict Hawley's nebulous connection to a religious liberty court case as an endorsement of violent terrorists.
In another
, Hawley-supporting political operatives commissioned actors to play an offensive stereotype of shady Chinese businessmen smugly exploiting Schaefer so they could snatch Missouri farmland.
The campaign was a horror show from start to finish, and there was no escaping it. A coalition of Asian American business and civic associations pleaded for decency in July.
In a statement
, the coalition made what seemed like a reasonable request for the candidates to drop the "anti-Muslim" and "xenophobic" rhetoric, but they were apparently ignored.
The Associated Press called the race at about 10 p.m. for Hawley.
It wasn't immediately clear who he'll face in the general election. The relatively civil Democratic primary contest between former Cass County Prosecutor Teresa Hensley and St. Louis County Assessor Jake Zimmerman was still too close to call late Tuesday night.
That wasn't the case for a couple of other state races. Former TV news anchor Robin Smith won a landslide victory in the Democratic primary for Secretary of State. Jay Ashcroft picked up an easy win on the Republican side.
In the treasurer's race, Judy Baker stomped Pat Contreras in a battle of progressives. Republican candidate Eric Schmitt was unopposed.
Update: Hensley defeated Zimmerman by a little more than 17,000 votes, according to unofficial election results. She and Hawley will square off in the general election.
We welcome tips and feedback. Email the author at doyle.murphy@riverfronttimes.com or follow on Twitter at @DoyleMurphy.