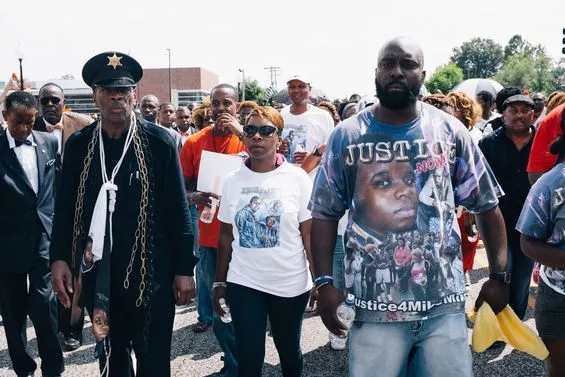 Bryan Sutter
Lesley McSpadden, center, Michael Brown's mother.
Almost two years after her teenaged son was shot by a Ferguson police officer, Lezley McSpadden will speak at the Democratic National Convention this evening.
Michael Brown was fatally shot by Ferguson police officer Darren Wilson on August 9, 2014, triggering widespread protests and ultimately launching a national movement.
That movement came under fire at the Republican National Convention last week (the Milwaukee County Sheriff, in just one example, proclaimed that "blue lives matter!" and
compared the Black Lives Matter movement to "anarchy"
).
The DNC has crafted a much different response. The convention, which is heading into its second night in Philadelphia, will host McSpadden along with other women in Mothers of the Movement, a group of mothers who have lost their children through encounters with police. Gwenn Carr, the mother of Eric Garner, who was killed by an officer in New York City police officer in 2014, will also be speaking tonight.
The theme for the evening, centered around Clinton's candidacy, is "A Lifetime of Fighting for Children and Families."
In an interview with ABC News
, Mothers of the Movement discussed being on the DNC's schedule and recent events involving police shootings.
"This is a bad time to be a good cop in this country," the mother of Sandra Bland, Genevea Reed-Veal, said. "Okay? We need to remember they have lives too." (Bland died under mysterious circumstances while in police custody on July 13, 2015.)
<!———StartFragment———>"Everybody gets caught up on the uniform, but under that uniform is somebody who belongs to somebody who really loves them," McSpadden added.
Since Brown's death, McSpadden
has written a book (Tell the Truth & Shame the Devil)
and testified at the United Nations.
More information on the DNC speakers can be found on
the convention's webpage
. It's currently unclear what time the Mothers of the Movement and McSpadden will speak.