Kavahn Mansouri
St. Louis Equal Housing and Reinvestment Alliance's co-chair Jackie Hutchinson speaks about redlining at a gathering in north St. Louis county's Baden neighborhood.
Just a 15-minute drive from the scene of Michael Brown's death, the flashpoint of a two-year period that has seen St. Louis take a hard look at its patterns of segregation, advocates gathered this morning to discuss a report showing the correlation between mortgage lending and race.
"This report is a reminder that race continues to be a factor in the St. Louis area, and the history of redlining and discrimination in this community still exists today," says Jackie Hutchinson, co-chair of the St. Louis Equal Housing and Community Reinvestment Alliance.
The report shows that St. Louis' days of redlining are far from over. The findings were released by the National Community Reinvestment Coalition or NCRC, a Washington, D.C.-based nonprofit that works to encourage lenders and banks to reinvest in communities.
The NCRC found that the racial composition of St. Louis neighborhoods is a defining trait for the probability of receiving a mortgage loan. Its report also examines how the lack of banking institutions in predominantly black neighborhoods perpetuates the problem.
Racial
composition of a neighborhood, according to the report, is a strong predictor of mortgage activity, nearly as important as the neighborhood's income. As the percentage of white residents increases, so does the amount of mortgage lending. A higher percentage of African-American residents is correlated to fewer mortgage loans.
"This relationship of race and lending in communities significantly enhanced the predictive capacity of our regression model. This is visible
in
the map of lending in the city as well, with neighborhoods in the white, southern half of the city receiving higher levels of mortgage investment, while virtually none was extended to the north city portion of St. Louis, where neighborhoods are typically 80 percent or more African American," the report read.
The local alliance's co-chair, Elizabeth Risch, says the findings confirm what many already knew.
"This shows that there is a clear disparity in north St. Louis, north St. Louis city and north St. Louis county that has less than four loans per 100 houses in the past three years," Risch says.
While median family income is a crucial factor in mortgage activity, most of the lending goes to white-concentrated neighborhoods and scarcely any to African American neighborhoods. Additionally, sections of the St. Louis metro area, including East St. Louis, have little access to banking resources, making it difficult for residents to build savings.
The director of housing for the Metropolitan St. Louis Urban League, Paula Carey, pressed for education and change. The people who live in these areas deal with the report's findings every day, she says.
"We can clearly see the economic disparities in our communities in ways that tend to adversely affect us all," Carey says. "We see it play out in our streets."
St. Louis and Baltimore were both included in the NCRC's examination. While there are no official national rankings for this problem, Risch says, St. Louis and Baltimore were similar — and were among the worst in the nation.
The lack of banking institutions only perpetuates a cycle of disinterest from lenders and community investors, said NCRC President and CEO John Taylor in a prepared release
"Isolation from financial services impacts the ability of majority African-American neighborhoods to build wealth, concentrating poverty," the report read. "This perpetuates a cycle of disinvestment, reinforcing the likelihood that lenders will not invest there. To help address this problem, NCRC is calling for stronger enforcement and expansion of the Community Reinvestment Act (CRA) and the preservation and strengthening of the affordable housing goals in the secondary mortgage market."
Check out the next page to take a look at the report's maps.
You can find the full report here
.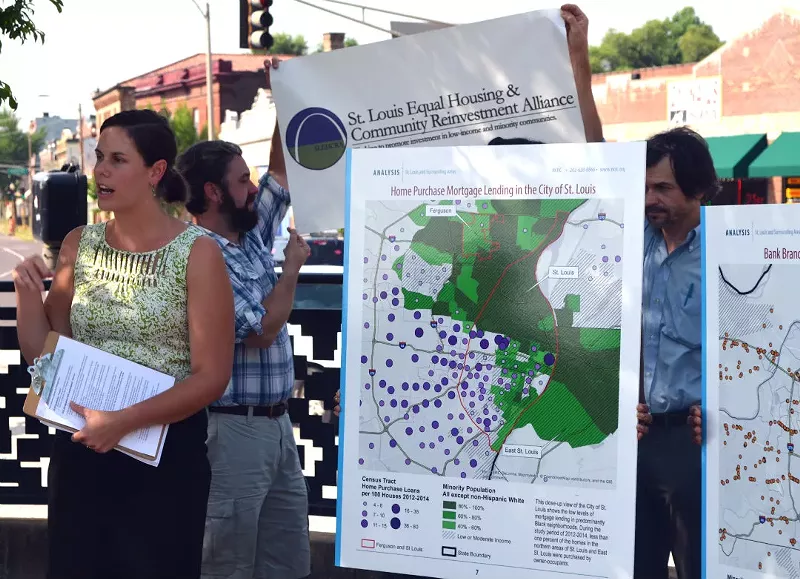 Kavahn Mansouri
St. Louis Equal Housing and Reinvestment Alliance co-chair Elizabeth Risch explains the report's findings.