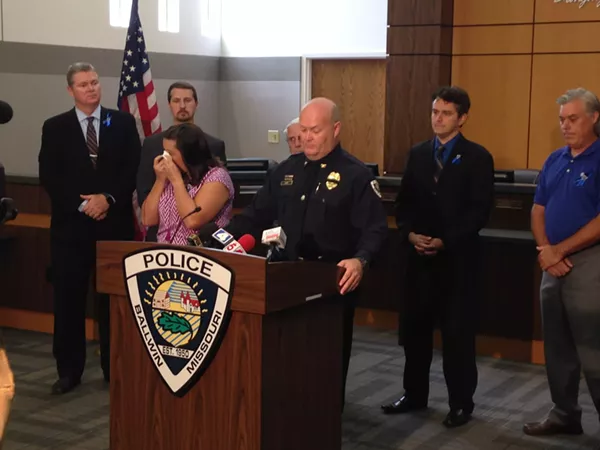 Photo by Doyle Murphy
Sara Flamion (left) wipes away tears as Ballwin police Chief Kevin Scott describe's wounds suffered by her husband, Officer Mike Flamion.
Ballwin police officer Mike Flamion, who was ambushed ten days ago during a traffic stop, is "paralyzed from the neck down," his chief says.
An ex-con rushed the officer from behind on July 8 and fired three times, hitting him in the left side of his neck, authorities say.
"This catastrophic injury will forever change Mike's life and the lives of his family," Ballwin police Chief Kevin Scott said during a news conference today.
Flanked by the wounded officer's wife, Scott told reporters that Flamion is intubated in the hospital and communicates by nodding "yes" and "no" to questions from the family, friends and co-workers who have kept vigil since the attack. He sometimes tries to mouth words, but that's hampered by the intubation, Scott said.
Flamion had been with the department for two years following seven in nearby De Soto when he stopped 31-year-old Antonio Taylor about 11 a.m. on New Ballwin Road. Flamion spoke to Taylor and was headed back to his patrol car when Taylor jumped out, sprinted up behind him and opened fire, authorities say.
Taylor was arrested about 25 minutes later in Manchester. He was charged with first-degree assault on a law enforcement officer, armed criminal action and unlawful possession of a firearm. Taylor, who has a long rap sheet that includes weapons charges, was held on $500,000 cash bond.
Image via St. Louis County Police
Antonio Taylor, 31, is accused of shooting a Ballwin police officer in the neck.
St. Louis County police are investigating the shooting.
Flamion's wife, Sara, says their life has been "day-by-day" since her husband was attacked, but the support from the community has been "overwhelming."
"Every day I'm at the hospital, there's Ballwin police officers, officers from other municipalities, the county, Police Wives," Sara Flamion said. "There's so many people there wanting to help with whatever they can. It's an overwhelming feeling, but it's a great feeling."
Flamion's co-workers have set up a
GoFundMe
account to help cover what will be life-long expenses for the family. The page had raised more than $189,000 of a $250,000 goal as of this afternoon.
There is also a
"Dine Out For Office Mike Flamion" event scheduled for this evening
in Ballwin and surrounding communities. A portion of meals as participating restaurants will go to Flamion's family.
The shooting happened one night after a sniper opened fire on a Black Lives Matter protest in Dallas, killing five officers and wounding seven more — the deadliest day for law enforcement since the September 11, 2001, attacks.
We welcome tips and feedback. Email the author at [email protected] or follow on Twitter at @DoyleMurphy.