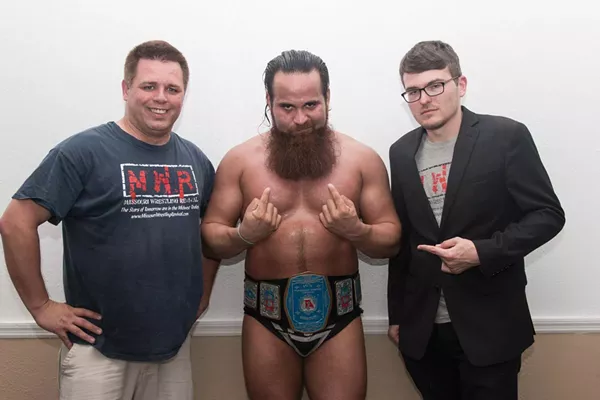 Courtesy of Brian Espinosa
Brian Espinosa, center, caught flak for taunting a black opponent last week.
For the last decade or so, Brandon Espinosa has played the bad guy in the ring. He fights dirty. He offends. The crowd boos him, and he asks for more.
In wrestling terms, Espinosa is the "
heel
," a villainous character who is essential to the scripted melodrama that makes pro wrestling so beloved to fans. But last week, Espinosa's character's antics tangled closely with current events. He's since offered an apology.
During a July 9 match at the South Broadway Athletic Club, Espinosa mocked his opponent, Mike Outlaw, who is black, by shouting "black lives don't matter."
The exchange was scripted, say both wrestlers. But neither predicted the backlash.
Indeed, someone in the audience captured Espinosa's taunt on video. Yesterday, the clip was published on a Los Angles-based
wrestling site
, which lambasted Espinosa for "setting wrestling back 40 years." In response to the post, Espinosa apologized. (The clip isn't embeddable, but you can watch it
here
.)
"My character is a guy who gets under the skin of people. I do whatever I need to do for a reaction," Espinosa tells
Riverfront Times
. "I don't mean any harm, I don't hate anyone because of their race. My kids are black. Do I think black lives don't matter? No. They do."
Espinosa acknowledges that deploying a gimmick based on Black Lives Matter protests was both in poor taste and badly timed, considering the two recent officer-involved shootings of black men in Louisiana and Minnesota.
Mike Outlaw, Espinosa's opponent, also admits that "it wasn't the smartest decision on either of us."
"It had nothing to do with Espinosa the person being a 'racist' or against the Black Lives Matter movement," Outlaw wrote in a Facebook message to
RFT
. "It was Espinosa playing a character, a bad guy, to get a rise out of the audience (and also my character). I want to sincerely apologize on my behalf to anyone who was offended by the angle."