Image via Ballwin Police Department
Ballwin Police Office Mike Flamion was shot in the neck on Friday during a traffic stop, police say.
A Ballwin police officer who authorities say was "ambushed" during a traffic stop has been identified as Officer Mike Flamion.
The nine-year veteran officer was still in critical condition on Saturday after an ex-con rushed him from behind and shot him in the neck, authorities say.
"Mike is an outstanding officer who the citizens of Ballwin should be proud to call their own," Ballwin Police Chief Kevin Scott said in a recorded statement.
Flamion pulled over a Ford Taurus driven by 31-year-old Antonio Taylor at about 11 a.m. on Friday in the 300 block of New Ballwin Road. Dashcam video shows Taylor, whose lengthy rap sheet includes weapons charges, waited until the officer had his back turned to jump out of the car and fire three times, authorities say. Flamion was hit at least once.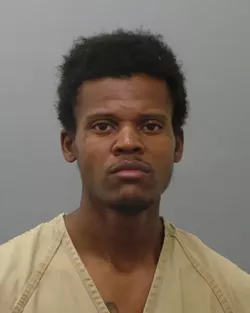 Image via St. Louis County Police
Antonio Taylor, 31, is accused of shooting a Ballwin police officer in the neck.
Taylor, who lived in Forest Park Southeast neighborhood of St. Louis city, drove off but was spotted about 25 minutes later in Manchester and captured after a short foot chase, police say. He was charged on Friday with first-degree assault on a law enforcement officer, armed criminal action and unlawful possession of a firearm. He was held on $500,000 cash bond.
Flamion joined the Ballwin Police Department in 2014 after seven years with De Soto police.
A GoFundMe page
has been set up to raise money for him and his family. The page raised of $40,000 in the first 22 hours and has a goal of $250,000.
St. Louis County police are handling the investigation, and they were still looking for more witnesses to come forward. They ask anyone with information to call 314-615-5400.
We welcome tips and feedback. Email the author at doyle.murphy@riverfronttimes.com or follow on Twitter at @DoyleMurphy.