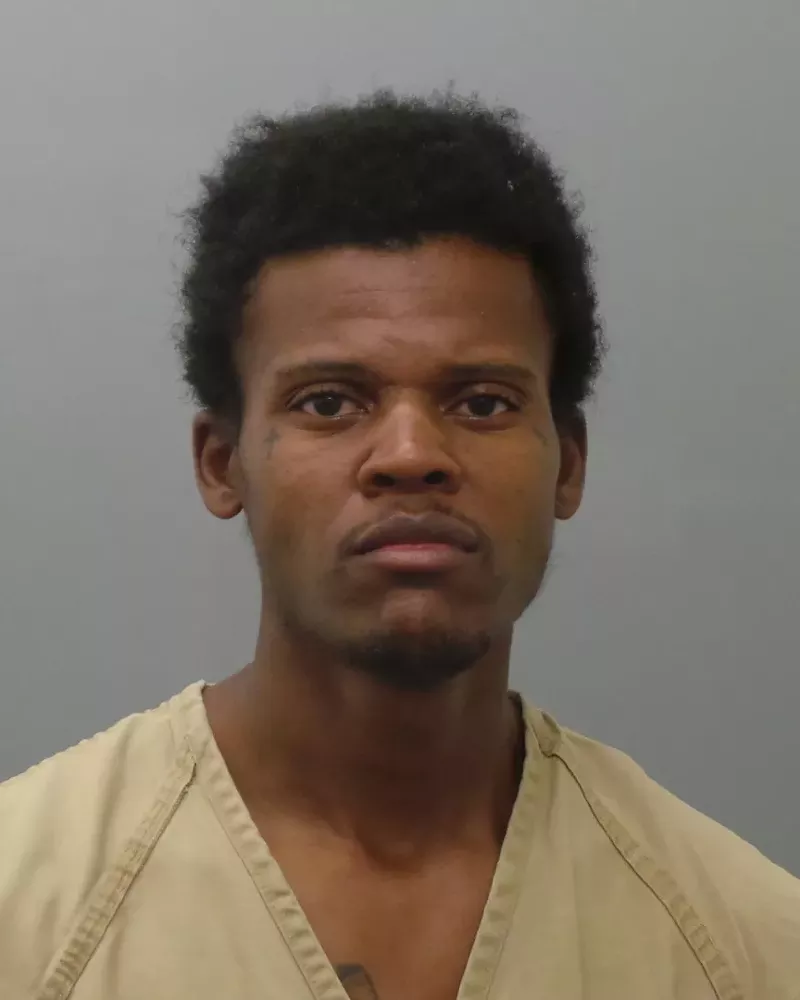 Image via St. Louis County Police
Antonio Taylor, 31, is accused of shooting a Ballwin police officer in the neck.

5:04 p.m. Update with name of suspect and charges

4:30 p.m. Updated with information from St. Louis County and Ballwin police.

A Ballwin police officer is fighting for his life after he was shot in the neck during traffic stop on Friday, authorities say.
The officer, whose name wasn't released, was walking back to his vehicle about 11 a.m. when the suspect jumped out of a Ford Taurus, rushed him from behind and fired three rounds. At least one bullet struck him.
"Make no mistake, we believe during this investigation the Ballwin officer was ambushed," St. Louis County Police Chief Jon Belmar told reporters.
Neighbors in the west county suburb called 911 as the suspect, a 31-year-old ex-con, sped off. The officer was transported to a local hospital where he was in critical but stable condition, authorities say.
Thanks to calls from witnesses near the scene in the 300 block of New Ballwin Road, police were quickly able to put out a description of the Taurus. Officers responding from surrounding agencies spotted the car in the nearby town of Manchester.
The suspect bailed out of the Taurus and fled on foot, sprinting through yards before he was captured in the 800 block of Burgundy, authorities say. He wasn't injured. Officers recovered a semi-automatic handgun.
Photo by Doyle Murphy
St. Louis County police Chief Jon Belmar (l) and Ballwin police Chief Kevin Scott say an officer was ambushed during a traffic stop on Friday.
The suspect is in custody. St. Louis County Prosecuting Attorney Bob McCulloch identified him at 31-year-old Antonio Taylor, who last know address was Tower Grove Avenue in the Forest Park Southeast neighborhood of south city. Taylor is facing charges of assault on a police officer, armed criminal action and possession of weapon as a felon. He was held on $500,000 bail, MucCulloch said at an afternoon news conference.
Taylor's record includes auto theft in 2011 in Oklahoma, followed by a weapons violation in California while on probation. He served time in prison and was released in March 2013, Belmar says.
County police are handling the investigation. The officer, who is surrounded by family at the hospital, hasn't been able to tell investigators anything because of his condition.
The reason for the original stop was speeding, and the interaction was captured by the patrol car's dash-cam, Ballwin Police Chief Kevin Scott says. The video shows the officer speak with the suspect, who was still sitting in the Taurus, and then walk back to the cruiser to finish up some paper work.
"You see the suspect exit his vehicle, run back toward our officer, firing shots," Scott says. "It sounds like from the video three shots were fired."
The officer had "no chance at all" to draw his service weapon and protect himself, according to the chief.
The shooting comes the day after the horrific incident in Dallas, in which a sniper opened fire on police officers stationed at a Black Lives Matter protest. Five officers were killed before the suspect was taken out by an explosive device.
Scott and Belmar say it's a "difficult time" for police officers across the country, but they refused to speculate on whether the gunman was motivated by the killings in Dallas. Scott says the outpouring of support from the community has been "enormous" since word of Friday's shooting spread.
"If the men and women of this community would keep our officers in their prayers as we go through this trying time, it would be greatly appreciated," Scott said.
See also: Police Union Spokesman Blames Barack Obama for Dallas Tragedy
We welcome tips and feedback. Email the author at doyle.murphy@riverfronttimes.com or follow on Twitter at @DoyleMurphy.