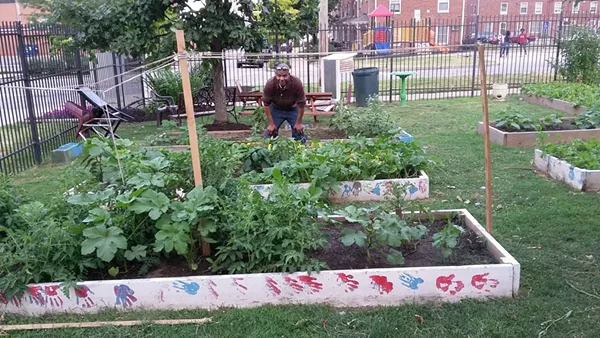 Photo Courtesy of Sam Blue
A downtown public housing complex's community garden has been vandalized repeatedly this year. Now, the community is trying to stop the vandals by building a larger fence to surround the garden.
A St. Louis alderwoman wants you to help stop vandals from destroying a public housing complex's community garden — with a
Go Fund Me campaign
that aims to build a six-foot fence to keep out the troublemakers.
The garden is located in the Clinton Peabody complex, which is just south of downtown and east of Lafayette Square. When residents came together to plant the garden two years ago, the benefits were clear, says Alderwoman Christine Ingrassia.
"It's been really cool to see the community come together," she says. "A safe place for people to gather, and an opportunity for people to learn how to grow their own food and they use it for themselves and then for other families who may be in need in the area."
But the plot has been almost continually destroyed by vandals. The destruction has been a major source of frustration from the residents who use the garden.
The vandals often pull up plants, smash fruit and vegetables and ruin the hard work of residents trying to put healthier food on their tables.
"It's been problematic but this year vandalism has increased," Ingrassia observes. "It's probably just kids who think its funny to smash vegetables and fruit, and unfortunately it's really taking its toll on the forward momentum it had, and people are starting to get frustrated and disappointed."
She adds, "There's a level of frustration there when over and over again their things are being ruined. And it's taking away from their opportunity to put food on their tables for their families."
Because the housing is federal property, Ingrassia says she cannot use ward-allocated money to protect the garden. That's why she turned to the crowd-funding website.
A local non-profit has donated half of its $12,000 cost; Ingrassia hopes Go Fund Me donors will feel inspired to take care of the rest.
After seven days of fundraising online, more than 70 donations have been made ranging for $5 to $250 putting the total raised at $3,635 as of prses time. One former resident, Marilyn Ricker, lovingly dedicated her donation to the memory of her mother.
"Given in memory of my mother Clara who raised me and my brothers in Clinton Peabody and in memory of Florida Ison, our neighbor who, with my mom, loved to grow plants and flowers in our little project back yard," she wrote.
The campaign's progress so far has been a big surprise, Ingrassia says.
"We've been overwhelmed with how quickly we've raised a decent chunk of change, especially because a lot of our donations are five, ten or twenty bucks," Ingrassia says.