Two gunmen armed with combat-style rifles were caught on tape as they ambushed four men in north St. Louis on Monday, killing two and badly wounding a third.
The victims pulled up just before noon in front of Mama Minnie's Market on West Page Boulevard when security cameras recorded a red Dodge Charger swerving around the corner behind them. Police say the shooters hopped out of the Charger and opened fire.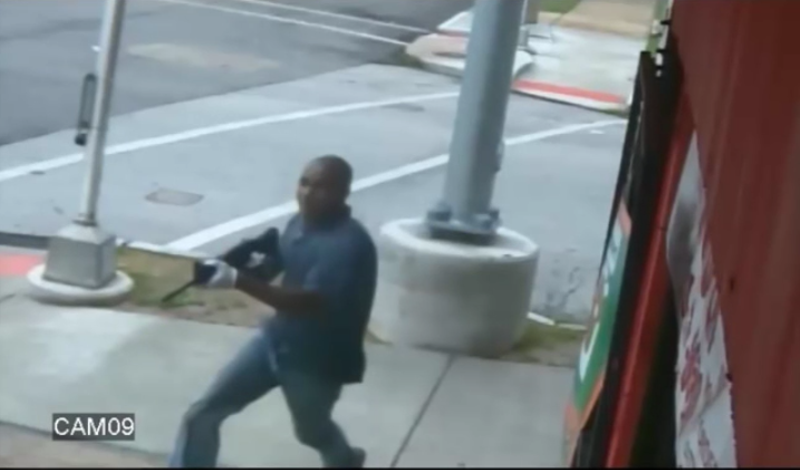 Image via St. Louis Metropolitan Police Department
"Suspect 1" and an accomplice ambushed four men, killing two during a midday shooting in north St. Louis, police say.
Samuel Jackson, 31, and Jamie Conner, 21, were shot dead when their attackers unloaded a barrage of bullets. Investigators would later count more than 50 shell casings scattered across the crime scene, which is located in the city's Vandeventer neighborhood just west of Grand Center,
KMOV reported
.
A third victim, a 20-year-old whose name wasn't released, managed to slip into the store before collapsing on the floor. He was taken to a hospital where was being treated for multiple gunshot wounds. He was in critical/unstable condition on Tuesday, according to police.
Police say one of the shooters, whom they're calling Suspect 1, chased one of the victims as he tried to escape. Suspect 1 is described as about 30 years old with extremely short hair or possibly bald. He was wearing brown shoes and light-colored gloves during the attack.
Image via St. Louis Metropolitan Police Department
This is the second shooter in Monday's double murder, police say.
The second suspect is 20 to 30 years old with short hair and a short beard, police say. He was also wearing light-colored gloves in the video.
Police say the Charger is a 2007 or 2008 with dark tinted windows, a rear spoiler and chrome wheels.
Anyone with information is asked to call CrimeStoppers at 866-371-TIPS.
We welcome tips and feedback. Email the author at doyle.murphy@riverfronttimes.com or follow on Twitter at @DoyleMurphy.