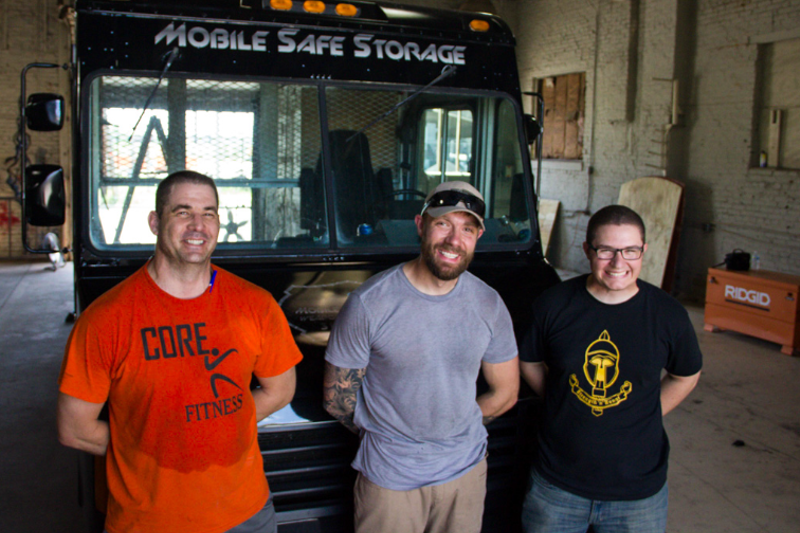 Photos by Danny Wicentowski
The Weapon Safe Armory team, from left: Rodney Sebaugh, founder Justin Hulsey and Isaac Porch.
In less than a month, the dream of being able to safely stow your gun while you're in downtown St. Louis seeing a baseball game will become a reality.
Justin Hulsey, founder of
Weapon Safe Armory
, is eyeing a ten-day Cardinals home stretch starting July 15 to deploy his armored truck to a parking lot owned by the bar Paddy O's (618 S. 7th Street).


The company hopes to offer safe, convenient storage for anyone who believes they need a firearm for their personal protection — but is visiting a downtown venue like Busch Stadium where guns are not permitted. They hope for a quick, secure solution for anyone who wants their gun at their side as they walk to their parking space before or after a game.
"We need to be able to get somebody in the truck and out of the truck every ten seconds," says Hulsey.
Back in November, shortly after
a tragic shooting
near Busch Stadium, the National Guard veteran
grabbed headlines with his plan
to provide gun-toting sports fans a secure location to check and retrieve firearms.
Over the past seven months or so, Husley has busied himself ironing out a business plan, which involved tweaking his original vision. Hulsey initially hoped to begin sending the truck to Busch Stadium in April, and from there he imagined seeing the vehicle stationed outside concerts and public events, essentially operating like a
food truck for guns
— only instead of buying them, customers would be paying to check them before going into gun-free zones. But Hulsey says the city's business regulations and zoning laws bar him from fully adopting the mobile food truck model.
That's where Paddy O's comes in. Located next door to Busch Stadium, the bar is reserving a spot in one of its adjacent parking lots for Hulsey's 22-foot-long step van, which is painted black with the words "Mobile Safe Storage" stenciled on the front and side. (A Paddy O's general manager confirmed the bar's involvement.) Thanks to the bar's participation, the truck doesn't need to be mobile; customers can stash their pieces before the game and then return to the same spot after it. The truck will also accept other valuables like purses, garments and electronics.
Hulsey couldn't be more stoked for the debut. After months of frustrating delays, he's ready to see his plan in action.
"We've ordered the armor," he continues, ticking off the vehicle's still-unfinished features. "Cameras on the van will be running the entire time in operation; there will be 360-degree security and body cameras on all the guards there."
On Sunday, Hulsey joined two fellow veterans from his National Guard unit in their newly leased garage on Chouteau, which is less than a mile from Paddy Os. Rodney Sebaugh, a hulking former supply sergeant, emerges from the truck in a sweat-stained t-shirt. He's been preparing the vehicle for its armor upgrades.
"We just got to be able to make the back of truck secure, so that we don't have to worry about any issues with that," Sebaugh says. "The biggest thing is how you process that many people in a timely manner, but still keep 100 percent accountability of all items."
Hulsey and Sebaugh are understandably cagey about disclosing details of the truck's armor and security layout, lest any criminals decide to target a vehicle full of guns and valuables. Guarding the truck and its precious cargo will fall to an in-house team of licensed (and armed) security guards wearing body cameras.
Isaac Porch, seen here modeling the uniform and body camera setup for the company's security guards.
Isaac Porch, also a veteran of Hulsey's National Guard unit, joined Hulsey and Seabaugh earlier this year and is heading the security side of the operation. They've made around a dozen hires so far.
"We have this bad perception of St. Louis city," says Porch, an infantryman who worked in private security after completing his military service. "We want to be physically there so people can come here, spend their money at the bars, have a good night out and not worry about being mugged or their car getting broken into."
Pricing for storage starts at $10, or $15 if you pay with a credit card.
Hulsey believes that's a pittance compared to the peace of mind of knowing your valuables or firearms are safe. He's already thinking about expanding.
"If this prototype works, the next one might be a 6-by-18-foot trailer that we can park in certain locations," he says. "We could park a trailer at Paddy O's, and then get the truck off to another spot. And then another spot and another spot."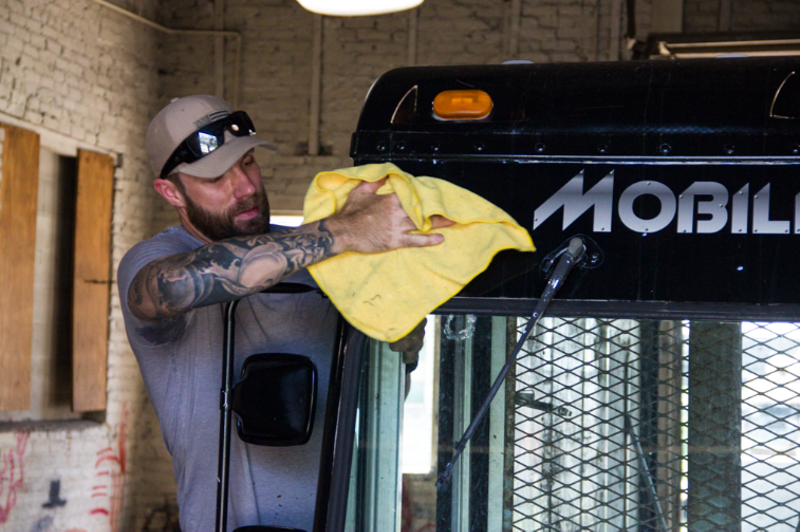 <!—————————————StartFragment—————————————>Follow Danny Wicentowski on Twitter at
@D_Towski
. E-mail the author at
Danny.Wicentowski@RiverfrontTimes.com