Image via St. Louis Metropolitan Police
Dressed like Stormtrooper, this guy robbed a Church's Chicken, police say.
He's clearly with the evil empire.
A gunman dressed like a Star Wars Stormtrooper was caught on camera robbing a Church's Chicken near Grand Center, city police say.
The costumed thief and an accomplice — dressed unimaginatively in a yellow hoodie — marched into the restaurant at about 9:35 p.m. on Saturday and demanded money from a worker. The buckethead was armed with a handgun and hopped over the counter to clean out the cash register.
Police say he's in his early 20s, and his uniform consisted of a zip-up jacket and full mask. His wing man is also believed to be in his early 20s. He's stocky and wearing a black bandanna and jeans along with his yellow hoodie.
The suspect in yellow also snatched a woman's purse on their way out of Church's.
The two were last seen fleeing east in an older-model, grey Dodge Durango.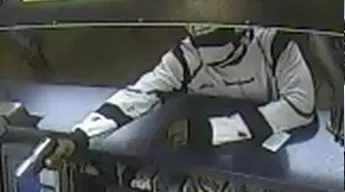 Image via St. Louis Metropolitan Police
A thief in a Stormtrooper costume robbed Church's Chicken, 920 N. Grand Ave., police say.
We welcome tips and feedback. Email the author at doyle.murphy@riverfronttimes.com or follow on Twitter at @DoyleMurphy.