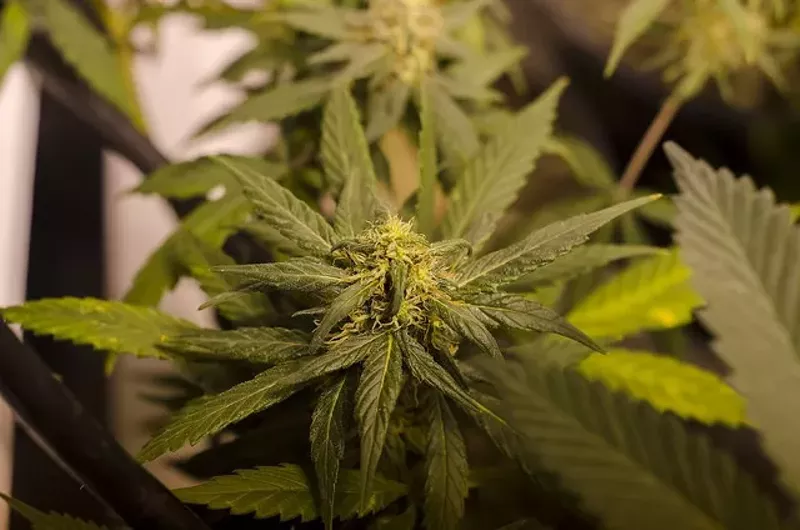 Photo courtesy of Flickr/Brett Levin
It's just a plant, you guys.
For the past fifteen years or so, pro-marijuana students attending the University of Missouri-Columbia have printed t-shirts and banners emblazoned with versions of
this design
, featuring a stylized "tiger claw" made of pot leaves and Mizzou's official "MU" logo.
But no longer. After the university demanded that student activists pushing for reform of the nation's drug laws stop using a pot leaf in their logo, a national group has threatened a lawsuit on their behalf, citing First Amendment grounds.
The battle is being waged by the campus chapter of NORML (National Organization for the Reform of Marijuana Laws), along with the Philadelphia-based Foundation for Individual Rights in Education.
"We have a very polarizing topic," concedes the outgoing president of Mizzou's NORML chapter, Benton Berigan. "Because of our viewpoint, we might be under higher scrutiny for the things we do. Whatever we're doing, we always makes sure to go through the proper procedures."
Berigan, a Ph.D student in the Division of Biological Sciences, says that NORML's use of Mizzou imagery stretches back more than a decade, and that the "tiger claw/pot leaf" design originated from the school's own
Student Design Center.
Last spring, Berigan approached the Student Design Center to update NORML's logo for the coming year. The
the result
was an updated version of the stylized tiger claw, which also incorporated an illustration of the campus skyline.
That's where the problems began. In August 2015, Berigan submitted a request to the university to sell the t-shirts during a fundraiser. His request was denied. Because the shirts included the full name of the university, Berigan was told he needed additional approval from the college's Office of Licensing & Trademarks.
The university, it turns out, was none too thrilled.
In an email to Berigan in early September 2015, a university "licensing assistant" rejected Berigan's request, writing that although "the attached design looks fine," the office "would like for the cannabis leaf images to be removed from the design." The email explained that Mizzou's licensing policy "prohibits the use of alcohol or drug-related images."
Indeed, the
official design guidelines
for Mizzou's student organizations state: "No use of the university's name or logo may be approved in connection with promotion of alcohol, tobacco or other drugs or in connection with pornography or other forms of expression limited by law."
In a later email, Berigan was also informed that using an image of the campus skyline was also out of the question, since "campus landmarks are considered trademarks of the university and any use of landmarks or campus imagery for logo purposes needs to be approved by MU Marketing and Communications." Berigan tried to explain that NORML only advocated drug law reform, not drug use — but to no avail.
Faced with fighting Mizzoui's mind-numbing bureaucracy, Berigan reached out to the Philadelphia-based Foundation for Individual Rights in Education (FIRE), which in turn fired off a lengthy and blistering letter to Mizzou Interim Chancellor Henry C. Foley.
"The University of Missouri's refusal to allow MU NORML to use a marijuana leaf on its promotional materials raises serious First Amendment concerns and must be reversed,"
stated the letter, dated April 22
. "FIRE calls upon the
University of Missouri to promptly approve MU NORML's proposed designs and unequivocally assure all Mizzou students that the university will respect its students' free speech rights. FIRE is committed to using the resources at our disposal to see this matter through to a just conclusion."
Catherine Sevcenko, FIRE's director of litigation, tells
RFT
that the letter represented a "shot across the bow," implying that Mizzou's restrictive branding policy could lead to a lawsuit.
In a remarkably similar case from 2014
, FIRE filed a First Amendment lawsuit against Iowa State University for banning its own campus chapter of NORML from using ISU's trademarked initials.
This past January
, a federal district court ruled against ISU and issued a permanent injunction prohibiting university administrators from using its trademark policy as a cudgel against student pot activists.
"There is exactly the same case as Iowa's," says Sevcenko. "And we took that to court."
Reached by phone on Friday, Mizzou spokesman Christian Basi tells
RFT
that the university is "continuing to review the correspondence from FIRE," adding, "It's something we want to go through very carefully."
NORML's old logo was used on campus for years.
MU NORML's new logo, which has been rejected by the university's Office of Licensing & Trademarks.
<!—StartFragment—>

Follow Danny Wicentowski on Twitter at @D_
Towski. E-mail the author at Danny.Wicentowski@RiverfrontTimes.com