Photo courtesy of Flicker/Paul Sableman
The view from Charles Rock Road heading into downtown. A number of north county suburbs are among the hottest real estate markets.
If you've been staying up on real estate news, you knew
Crestwood was hot
. But did you know that was also true of Webster Groves, Olivette and even Black Jack?
Yes, Black Jack, the tiny north county municipality tucked between Florissant and Spanish Lake. It clocks in at No. 4 on a new list produced by
Chesterfield-based real estate office MORE, REALTORS
. Broker-owner Dennis Norman says the list was compiled to show the average number of days on the market for municipalities in the metro area. The fewer days, the faster that homes in the municipality are being snapped up.
As
Realtor.com predicted back in December
, Crestwood easily won the list's top slot, with homes sitting on the market an average of just 23 days. After that was Webster Groves, with an average of 38 days; Olivette, with 40, and Black Jack, with 45.
No. 5 on the list was, no surprise, the leafy suburb of Glendale, which clocked in at 46. But No. 6 was another surprise: Normandy, which clocked in with an average of 48 days on the market.
Rounding out the top ten? Sunset Hills, Fenton, and, in the tenth slot, a three-way tie between Dardenne Prairie, Maplewood and Florissant.
Our takeaway? Despite the turmoil it's faced in the last two years, north county is doing quite well on the home sale front, with five of the ten slots on the list. And forget what you heard about McMansions in outer-ring suburbs being where it's at; if you're looking for a home that will sell quickly, you might be better off in charming older communities like Webster Groves, Olivette and Glendale. St. Charles, it should be noted, didn't make it on the list until No. 19.
See the complete top-30 below.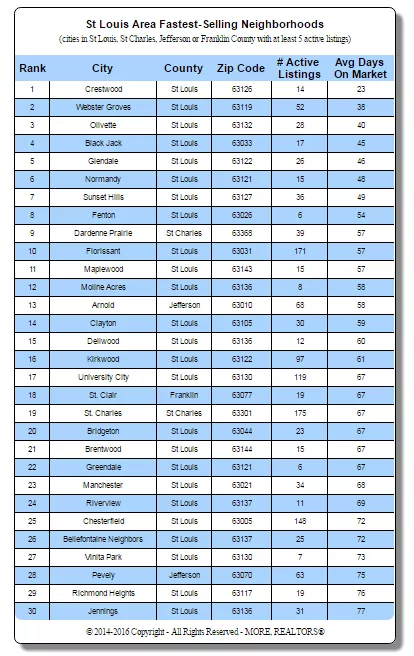 We welcome tips and feedback. Email the author at sarah.fenske@riverfronttimes.com