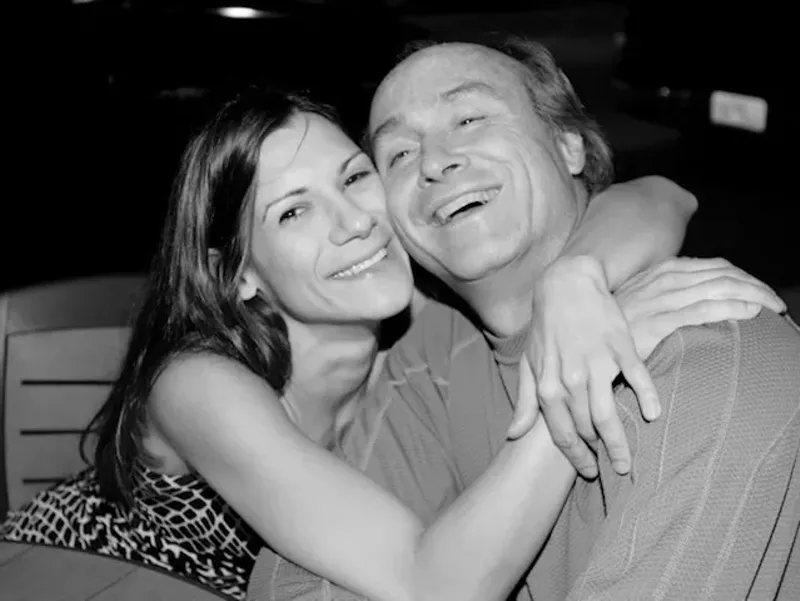 PHOTO BY MIKE DIFILIPPO/COURTESY OF GIOVANNA CASSILLY
Giovanna and Bob Cassilly on their first wedding anniversary.
Nearly five years after St. Louis artist and City Museum founder Bob Cassilly died in what police termed a bulldozer mishap, his widow is speaking out, saying she's become convinced his death was not an accident.
Giovanna Cassilly, who'd been married to the prolific artist for seven years at the time of his death, has been working with attorney Albert Watkins to persuade law enforcement to reopen the case. Watkins confirms they have spoken with the FBI and are also seeking the involvement of the St. Louis County Police Department's major case squad.
Giovanna believes that a cursory investigation on the part of local law enforcement failed to get at the truth of what happened to her husband — and that a series of strange events, including an earlier incident where he was beaten up, as well as a subsequent fire that appears to have been deliberately set — may be connected. She's begging anyone with information to step up.
"I do believe someone is going to come forward with substantial information," she says. "People know things, but no one has had a place to go.
I
had no place to go! This has been on me, eating me alive. And I want to encourage anyone who has seen any kind of suspicious actions — to call. As silly as they may think it is. Please call. Please come forward. 


"People have information, and that's all I want."
The noted sculptor was found in his bulldozer on Monday, September 26, 2011, around 8 a.m. The grisly discovery was made by a member of Cassilly's crew who had reported for work at Cementland, Cassilly's unfinished 56-acre masterwork along the Mississippi River north of downtown. His body was slumped in the cab of the upright dozer as it rested on the hillside. From a distance, a neighbor recalls, it looked like he was napping, or had fainted.
Giovanna Cassilly had been in Los Angeles for the weekend, and she'd started worrying when her husband failed to meet her parents for a planned hand-off of their two young sons on Sunday. She'd tried calling, tried texting. Nothing.
That Sunday evening, increasingly alarmed, she called their neighbor and asked her to go look at Cementland. The neighbor (who asked that her name not be used) tells the
RFT
that she vividly recalls standing at the gate. It was dark and rainy; there was no sound of Bob's bulldozer, and the gate was padlocked.
Nothing, she reported back. He's not there.
The next morning Giovanna began calling again, this time asking her husband's crew members if they could look for him on the property. What they found was her worst fear: Her husband was dead. Within hours, the media would report there had been an accident, the result of a bulldozer rollover that had apparently sent the machine tumbling down a steep hill, fracturing Cassilly's skull.
Everything that followed was a blur, a terrible period of mourning even in the midst of legal chaos. Because Bob Cassilly died with no will and an exceptionally complicated estate (part ownership in the City Museum and full ownership of Cementland; two kids from a previous marriage, plus a wife and two more kids), years would follow in probate court — years of stress and great sadness.
It was only after a fire ravaged the work garage at Cementland where her husband's art was kept, and only in the midst of the chaos of Ferguson, that Cassilly's widow found herself jolted to everything that had been nagging at her, subconsciously, for years.
How had her husband, an experienced operator of heavy machinery, somehow sent a 32,585-pound bulldozer tumbling over and over with such velocity that it landed almost fully upright — not throwing him from the machine, but still killing him?
Why had no one in law enforcement ever even asked her about all the strange events of that summer of 2011?
And how was it possible that Cementland's gates were locked the night before her husband's body was found? When Bob was working he never locked himself in, as crew members confirm to the
RFT
; his hands were too big to reach around from the inside and unlock the gate. Instead he would set the padlock so it looked closed, but wasn't.
And yet their neighbor, who knew the difference, was sure it had been locked that Sunday. Had someone else been at Cementland that Saturday or Sunday? Did that someone lock the gate behind them?
"It all hit me at once," Giovanna says. "This was no accident."
At that point, in the summer of 2014, Giovanna first got in touch with the FBI. When they contacted her to say they were opening an investigation, she asked them to repeat what they'd told her: "I just want to make sure I heard that right." Hearing it a second time, she sank to the floor.
"I don't think I've ever felt anything like this," she says. "I felt complete happiness, complete sadness — I was laughing and crying. I felt like Bob had tackled me to the ground.
"It was the best feeling of the most intense pain I've ever felt. I thought, 'Oh my God, I did the right thing.' And I've been waiting since then."
Turn the page for more. Warning: Pages three and four of this story include images from Cassilly's death scene.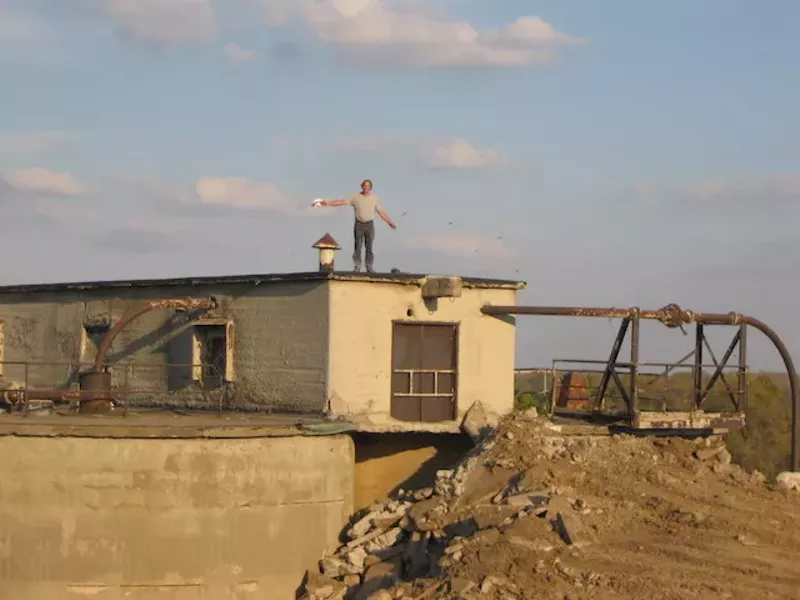 PHOTO BY GIOVANNA CASSILLY
Bob Cassilly at Cementland — his unfinished masterwork, and also the scene of his 2011 death.
The fact that Bob Cassilly died at Cementland has time and again proven a complication. Beyond the difficulties of its topography, the site straddles the city/county line. Attorney Watkins says the spot where Cassilly was found was actually located in the St. Louis County municipality of Riverview — giving Riverview Police jurisdiction. (A spokeswoman for the St. Louis Metropolitan Police Department, which instead handled the investigation, disagrees, saying the street address was in St. Louis city.)
The St. Louis police investigation was minimal. They never interviewed Cassilly's widow. They never established whether the death occurred on Saturday or Sunday.
A spokeswoman defending the police investigation notes that OSHA also looked at the scene, as well as the medical examiner's office. But OSHA's two reports are almost laughable in their brevity. A one-line summary in the first report makes it clear just how unprepared the agency was to deal with the unusual circumstances: "A museum piece fell on an employee killing the employee during the erection of a museum piece." In the second report, that's been changed to "a sole proprietor was killed during construction of a private property." The report notes that "no inspection" is planned.
The medical examiner's office was more thorough. By the time its investigator arrived, the news media was already there, but emergency personnel assured the staffer that the bulldozer had not been moved. It was "in a mostly upright position, leaning to the right" at the bottom of a steep hillside.
"On initial examination, the exterior of the equipment was noted to have some damage which could be consistent with rolling down the hillside," the investigator wrote, theorizing that the dozer must have tumbled over at least once and then landed upright. The top of the cab compartment was dented; the side mirror was cracked. Orange-colored ear protectors midway up the hillside must have slipped out along the way.


But there were plenty of questions that no one seems to have answered.
"I was unable to obtain information at the scene at the time of the investigation about the known previous condition of the equipment being operated by the deceased," the investigator wrote. "It was unknown if it was owned or a rental. How much, if any, experience the deceased had on this piece of equipment was unknown to anyone interviewed by this Investigator at the scene."
It's an odd statement, since Cassilly's experience with the dozer — his 1999 model John Deere 750J — was well-documented. More critically, had the roof been dented before the weekend in question? The report doesn't spend any more time on the question, much less consider whether the machine could have suffered only a "dent" by tumbling down a hillside.
And while bulldozers can, and do, roll over, fatalities are rare. One of the few studies that looks at the phenomenon was done in 2001, with the Centers for Disease Control surveying OSHA data on "mining accidents while operating a bulldozer" from 1988 to 1997. In those ten years, across the nation, the study found just fourteen deaths attributable to the dozers "rolling over, falling over an edge or falling into a hidden void." Seven were caused by the operator being thrown from the dozer; the other seven were caused by asphyxiation or drowning. None matches the description of Cassilly's death scene.
John Deere's spokesman was not aware of any studies that look at bulldozer rollovers, nor was a spokeswoman for the larger Association of Equipment Manufacturers. John Deere confirmed that a rollover protection device would have come standard on the model operated by Cassilly — making it less likely that he could have been crushed while in the bulldozer's cab.
But "crushed" doesn't match what the medical examiner found. Cassilly's spine did not snap, the report shows. Instead, there was a skull fracture, "multiple contusions of the right neck" and "multiple contusions and abrasions present on the upper back." Numerous ribs were fractured.
To Cassilly's widow, the findings are horrifying.
"They told me in the morgue it was quick and painless, that he didn't feel a thing," she says. "That is not what happened here. I come from a place of common sense — I challenge anyone to come look at this and read this report and come to the conclusion it was an accident."
She's convinced the crime scene was staged — or at minimum misinterpreted. She believes her husband was beaten to death: "Look at it yourself and read the report. This man was brutally beaten from behind."
Dr. Michael Graham, the chief medical examiner for the city of St. Louis, acknowledges that the report didn't attempt to answer numerous questions you might be familiar with from
CSI
, including the time of death. And that's for a simple reason: Nothing contradicted the idea of it being an accident.
"We approach the scene neutrally," he says. "When you get all this information together, you've got a guy in the caged portion of a bulldozer with the kind of injuries you'd expect when something rolls over. Unless there's solid information suggesting otherwise, as far as I'm concerned, you've got the answer." Graham also says he believes Cassilly's injuries are not typical from what you'd see in a beating, mainly because "his head and neck injuries are all on one side."
But, he says, a case is never fully closed.
"We may be at a stopping point, but we've sometimes come back to cases twenty years later," he says. "There's nothing that makes me go back here to say that the initial scenario was not correct. But, given new information, we can always go back and look at a case again."
PHOTO COURTESY OF ALBERT WATKINS
A photo from the scene of Bob Cassilly's death shows him in the bulldozer, which was found nearly upright with the artist's body slumped in the cage.
There are a few reasons Giovanna Cassilly has found herself wondering, time and again, if her husband was beaten to death at Cementland — and one reason is that he'd been beaten there before. While Giovanna was in Portugal that May before her husband's death, she says, he told her he'd been beaten up at the site.
Her second-hand recollection is the kind of maddening detail you run into repeatedly when you're probing a five-year-old incident that never got a full contemporaneous investigation. Giovanna remembers Bob telling her that he'd been jumped, that it was three white guys, and that it happened at Cementland. "I thought I was dead," he told her. He fought them off, he said, with some kind of piece of scrap metal.
Richard Fortner, a member of the Cementland crew, says he has no memory of Bob mentioning such an attack. But while it might be easy to dismiss a distraught widow, confirmation comes from both the couple's neighbor (who remembers being told of the incident at the time) and Cassilly's longtime massage therapist (who also spoke to the
RFT
on the condition that we not use his full name).
The masseur says he worked on Cassilly soon after the beating. He remembers scuffed-up hands and a bruised back and arms.
"I asked him what happened, and he said something like, 'You should see the other three guys,'" the therapist recalls. "He said, 'I got some good clumps on them too.'" He remembers Cassilly saying that he hadn't called the cops, which wasn't surprising. It wasn't his style.
The beating wasn't the Cassilly family's only violent incident in the year before Bob's death. In December 2010, Giovanna had taken out a restraining order against Bob's son from a previous marriage, Max, after the 27-year-old left a voice mail threatening to kill her in her sleep and calling her a "dumb fucking whore." ("Hey! And Dad! You go fuck yourself too," he says on the message.)
Eight months later, just one month before Bob's death, Max Cassilly was shot repeatedly with an AK-47 in his south-city apartment.
According to the prosecutor's sentencing memorandum, a "persistent offender involved in illegal drug and gun activity" named John Blake went to Max's home in south St. Louis with another man "under the guise of buying marijuana from [Cassilly's] roommate." But instead of buying pot, the two men forced their way in, the memo says, with the unnamed man asking where Max Cassilly and his dogs were.
"The gunman demanded [Cassilly's] money and started shooting," the memo says.
Reached by phone at the Northeast Correctional Center in Bowling Green, Missouri, Blake describes a chilling scene, albeit one different than that in court files.
He confirms that he was a drug dealer, and was there to buy pot from Cassilly's roommate. But while he was making the purchase, Blake says, another man forced his way into the apartment with an AK-47 and demanded money. He asked for Max — and he began shooting.
Blake fled the scene. Apprehended by police after he crashed his Hummer, he was charged as an accomplice.
He pled guilty, he says, because he knows he shouldn't have fled (he was on probation at the time, and worried about getting in trouble). But he wasn't in cahoots with the other guy, he says: "I couldn't tell you who he was if I saw him today." The shooter has never been apprehended.
Max made a surprisingly swift recovery from the semi-automatic blasts, and by all accounts, the incident brought him closer to his father. In fact, Max and his father met for lunch on the Saturday before his death. The police report notes he was likely the last person to see his father alive.
Max is now married and running the rooftop cafe at City Museum. He is also running for a Democratic Party committee seat. He credits the terrible events of that summer for helping him get his life together: "It set my ass straight."
The way he describes it, his roommate had been tempted by the ease of getting pot in Colorado, where it had recently been legalized, and got in over his head. "He wanted to make a whole bunch of money for no work, and people in the industry don't like that," he says.
But Max says that's not what led to his shooting — instead, he believes, his roommate was too trusting, and an acquaintance saw their apartment as a ripe target for armed robbery.
What happened to him, he insists, is in no way connected to his father's death. He saw the accident scene, and in light of Cementland's topography, it made sense. "If it was an inside job, they were amazing at what they did," he says.
If it was murder, he adds, "It would be fucking awesome – it would answer so many questions. Unfortunately, the shittiness of the world is to blame, not some secret society."
PHOTO BY GIOVANNA CASSILLY
Giovanna Cassilly took this photo of her husband.
On August 22, 2014, there was a fire at Cementland, and the 40,000-square-foot building that held much of Bob Cassilly's commercial artwork (as well as some larger pieces of fine art) burned.
Because the administrator appointed by probate court had allowed property insurance to lapse, there was never a formal investigation into what caused the blaze. Until, that is, this spring. That's when Giovanna Cassilly hired attorney Watkins to help her with the ongoing probate case, as well as assistance pushing her concerns about her husband's death.
Watkins hired a certified fire inspector named John L. Scheper. In a two-page report, Scheper concluded that the fire was no accident. An accelerant had been used, leading to "uniform and catastrophic damage thru-out the structure."
Additionally, Scheper wrote, some of Bob Cassilly's most valuable molds had been removed from the warehouse prior to the blaze. "Based upon the provided inventory of the room contents, and the eye-witness accounts of the property care takers, nearly 50 percent of the molds were removed prior to the fire," he concluded.
To Watkins, the blaze is just one more suspicious incident in a long list. "Once the expert-laden investigation was able to conclusively determine the fire at Cementland was arson, several pieces to the proverbial puzzle fell into place, including the reality that the fire was set to obscure the theft of priceless and irreplaceable artistic molds created by the hands of Bob Cassilly.
"The sequence of events leading up to the sudden death of Robert Cassilly Jr. is otherworldly. The events following the sudden death of Robert Cassilly, Jr. are otherworldly. Given the otherworldly nature of Cementland itself, there is a certain sense of poetic justice which enshrouds the saga," he says.
Of his client, he says, "Giovanna's punctilious attention to detail has been invaluable to those seeking to reconcile the events. Giovanna and her lawyers will continue to assist all law enforcement agencies, bureaus and forces involved. This obviously includes sharing findings arising out of Giovanna's self-funded investigative undertakings. I pity those who until recently may have felt their actions would forever go undetected."
Giovanna has set up a hotline and an email address in hopes that anyone with information about her husband, Cementland or the warehouse fire will get in touch. She's asking people to email justiceforbobcassilly@gmail.com or call 314-578-5347.
She's willing to share reports with anyone who wants to read them. And if anyone wants to examine it, she still has the bulldozer.
She recently completed the purchase of Cementland from her husband's estate, a long process thanks to the probate court's involvement. She wants to preserve her husband's legacy by finding a way to finish his master work.
But she also wants to preserve what she's convinced is a crime scene.
"I'm sick to my stomach thinking there are murderers out there who thought they got away with this," she says. "I will gladly let somebody, anybody, come and see this, and read these reports. We need help."
PHOTO COURTESY OF ALBERT WATKINS
Another view of Cassilly's final resting place. After his body was found, workers brought the piece of equipment at left to keep it from falling.
We welcome tips and feedback. Email the author at sarah.fenske@riverfronttimes.com.