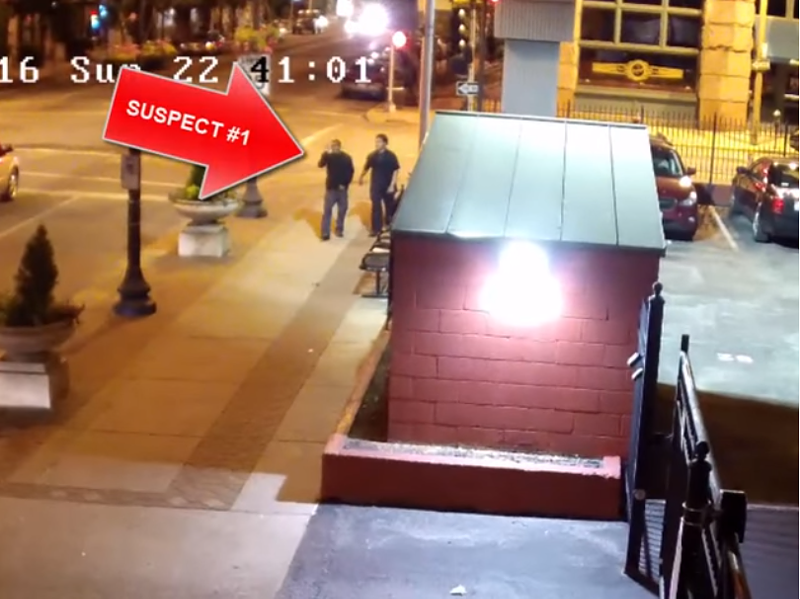 Image via SLMPD/Youtube.com
Devonte Gates, 21, was killed on Thursday by law enforcement.
The man wanted for killing a young mother during a carjacking in downtown St. Louis on Sunday was shot dead yesterday by federal agents and police in Illinois, authorities say.
The man, identified in multiple news reports as 21-year-old Devonte Gates, was suspected of shooting Brandi Hill and stealing her car while her nine-month-old baby rode in the backseat, Illinois State Police say.
Gates' accomplice, 19-year-old Ross Randolph,
turned himself in on Tuesday
, but the alleged triggerman had been on the run. Two U.S. Marshals from the service's fugitive unit and a Caseyville police officer confronted the Brooklyn, Illinois, man on Thursday around 1 p.m. in Washington Park.
"A foot pursuit took place," Illinois State Trooper Calvin Dye told the
Riverfront Times
. "At some point, the suspect turned toward the officers. At this point, all three officers discharged their firearms."
Gates was hit multiple times. The marshals and police officer began first aid, but he died there.
A
witness told KMOV
he saw officers chasing Gates and soon heard multiple gunshots.
"I was riding my bike through the creek over there, and I saw him running through the field," the witness, David Allen, told the station. "They was chasing him, running through the field right there."
The Illinois State Police are handling the shooting investigation and will hand over the results to the St. Clair County State's Attorney.
It wasn't immediately clear if Gates was armed at the time of the shooting or if investigators had recovered a weapon. Dye says they're still investigating.
Along with the carjacking, Gates was wanted for questioning in a month-old homicide investigation in East St. Louis, authorities say.
"They took a very dangerous individual off the street," Dye says.
St. Louis police say Gates and Randolph attacked Hill about 10:30 p.m. on Sunday as she was stopped on Washington Avenue. The men pulled the 21-year-old mother's pregnant friend out of the passenger seat of Hill's Dodge Challenger, and Gates jumped inside, authorities say.
"Bitch, give me the car and the keys," Gates said before shooting Hill in the head, according to court records.
Gates and Ross fled and later tossed Hill's baby, still in her car seat, into the street. They dumped the car a short time later.
Randolph is facing charges of murder, kidnapping, robbery and armed criminal action. He was jailed on $1 million bond.
We welcome tips and feedback. Contact the author at [email protected] or follow on Twitter at @DoyleMurphy.