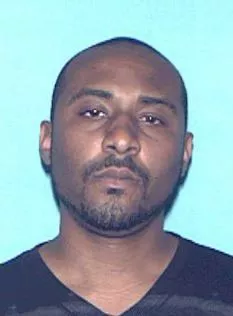 Image via SLMPD
Diata Crockett surrendered to police Wednesday morning, St. Louis police say.
A St. Louis dad
who tried to shoot his wife but instead killed their baby son
has surrendered to police, authorities say.
Diata Crockett, 34, set off a manhunt through the metro area on Tuesday after police announced he was on the run with two of the couple's other young children.
The fugitive father, accompanied by his attorney, turned himself in earlier this morning, police say.
St. Louis police Chief Sam Dotson told reporters on Tuesday Crockett had flashed a pistol at the mother of his six children, scaring her into a rented Hyundai Sonata at about 1 p.m. in the Bellefontaine Neighbors section of north city. Three of their kids were in the car, including eight-month-old Reign Crockett.
When the mother escaped from the vehicle as they exited I-270 onto Riverview Boulevard, Crockett fired one shot at her, Dotson says. The bullet hit Reign, who was in her arms.
Police issued a St. Louis Area Regional Amber Alert in search of Reign's two brothers, ages two and three years old, who were still in the Sonata when Crockett drove away. The alert was canceled Tuesday evening after the boys were discovered unharmed at a relative's home. The Sonata was found abandoned on Caddiefield Road a short time later.
Crockett is expected to face charges of first-degree murder, domestic assault and armed criminal action, police said on Tuesday.
We welcome tips and feedback. Email the author at doyle.murphy@riverfronttimes.com or follow on Twitter at @DoyleMurphy.