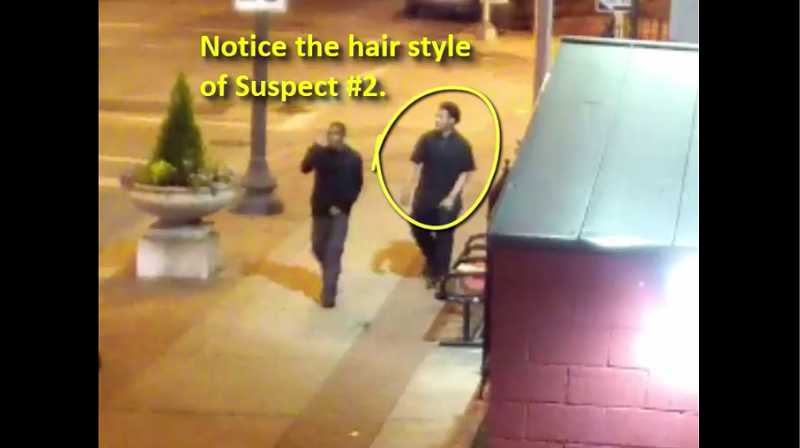 Image via SLMPD/Youtube
'Suspect #2' has turned himself in after a deadly carjacking.
One of two suspected carjackers turned himself in Tuesday, less 48 hours after
a young mother was killed and her baby kidnapped downtown
, police say.
The nineteen-year-old Belleville, Illinois, man surrendered this morning at the police Central Patrol Division on North Jefferson Avenue, authorities say. His partner, who cops believe shot 21-year-old Brandi Hill, is still on the loose.
Hill, her baby and Hill's pregnant friend were stopped about 10:30 p.m. on Sunday at a traffic light on Washington Avenue when two men ambushed them, police say.
The Belleville man, whose name wasn't released pending charges, was previously identified as "Suspect #2" by police. He and his partner pulled open the door of Hill's Dodge Charger and yanked her friend out onto the pavement. The other suspect hopped in, shot Hill and drove across 11th Street, police say.
Suspect #2 chased the car up to where it had stopped and climbed in through the passenger window while the shooter pushed Hill into the street, authorities say.
Hill's baby was still in the backseat when they drove away. The carjackers tossed the car seat with the little girl into the street near Angelica and 22nd streets, about three miles away, where she was found safe by neighbors.
Cops found the Charger abandoned a short time later.
At least part of the shocking series of events was caught on surveillance cameras. Police released video clips on Monday and are still asking for tips.
Anyone with information is asked to call CrimeStoppers at 866-371-TIPS.
We welcome tips and feedback. Email the author at doyle.murphy@riverfronttimes.com or follow on Twitter at @DoyleMurphy.