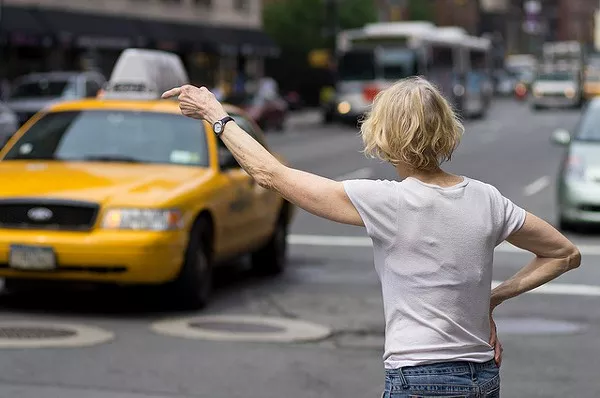 Photo courtesy of Flickr/ooznu
The St. Louis Municipal Taxi Commission are on the lookout for Uber drivers operating outside of commission code.
It's hunting season for the Metropolitan Taxi Commission.
The commission, which regulates taxi drivers in St. Louis city and county, said it will begin seeking out UberX drivers in an attempt to issue citations. The announcement comes after California-based Uber's bid to pass statewide regulations for ride-hailing companies died in Jefferson City this month for the second year in a row.
A spokesman
with
the commission said yesterday that no tickets have been issued to date, but that agents are on the lookout for drivers who are violating the taxi commission's codes.
Uber has been operating in St. Louis in defiance of local regulations since September 2015, when it announced it would begin providing services and basically dared the city to shut it down. But while the taxi commission quickly won an
injunction in the summer of 2014 to stop Lyft from operating within its borders
, Uber has basically operated without penalty. City police said they simply had bigger priorities than enforcing the city's taxi rules; while county police said they would cite Uber drivers, there's been no record of them doing so.
The taxi commission spokesman wouldn't speak to how the commission plans to go about catching unlawful drivers in the
act,
but said that between two and three staffers would be charged with working to enforce the taxicab code, along with other duties.
The official citation would be for driving without a taxi commission license or permit; the amount of any fines given to the drivers would be up to the municipal court handling the citation.
Uber has sued the taxi commission in federal court, alleging anti-trust violations, while the commission filed a separate suit against Uber seeking to bar the company from operating unless it hews to regulations requiring drivers to undergo fingerprinting and obtain a chauffeur's license. Uber has called those rules a deal killer.
Yesterday, the company criticized the commission's enforcement plans.
"It's disappointing that the Taxi Commission is trying to take work opportunities away from St. Louisans in order to benefit taxi interests," Uber in a statement. "Their repeated illegal efforts to block competition and banish ridesharing are a disservice to thousands of residents who use the app to earn money and get around."
In a follow-up email, Uber hinted that staffers would continue pushing for statewide regulations on ride-hailing.
"Tens of thousands of Missourians would benefit from a statewide ridesharing law that provides safe rides and the power to work on demand. We're grateful for the leadership of many legislators in both houses, and we look forward to working with them in the future," the statement read.
Editor's note: A previous version of this story incorrectly described which entity won an injunction against Lyft. It was the taxi commission, not the city. We regret the error.