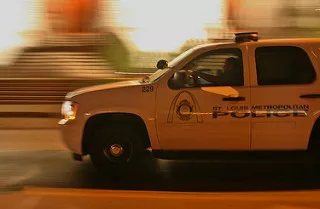 Image via Paul Sableman/Flickr
A former St. Louis city police officer has been charged with murder in the 2011 shooting of a driver.
A former St. Louis police officer caught on tape saying he was "going to kill this motherfucker" shortly before fatally shooting a black driver has been charged with first-degree murder.
Jason Stockley, 35, was arrested today at his Texas home for the death of Anthony Lamar Smith. The nearly five-year investigation stemmed from a high-speed car chase that ended with Stockley unloading on Smith.
"We believe we have the evidence we need to prove Mr. Stockley's guilt beyond a reasonable doubt in a court of law," St. Louis Circuit Attorney Jennifer Joyce announced Monday.
Stockley and his partner chased Smith on December 20, 2011, through the Walnut Park neighborhood, hitting speeds of more than 80 miles per hour, according to court documents. The pursuit was captured on an internal camera in the police SUV. Stockley is heard saying, "Going to kill this motherfucker, don't you know it," prosecutors say.
As Smith slowed near Riverview Boulevard and Thekla Avenue, Stockley told the other officer, "Hit him right now." The other officer then slammed the police SUV into Smith's car.
Stockley then hopped out and fired five rounds at Smith, prosecutors say. He didn't miss once.
Investigators found a gun in Smith's car, but an examination determined it had only Stockley's DNA on it, according to the allegations.
The case has been investigated by the U.S. Attorney's Office, FBI and metro police, but Stockley was not charged until Monday. He resigned from the department in 2013.
He was living in Houston, where he was arrested by U.S. Marshals and members of his former department,
the Post-Dispatch reported
. He's being held in Harris County, Texas.
The Justice Department is also looking into the case but hasn't released its findings, according to the Circuit Attorney.
We welcome tips and feedback. Email the author at doyle.murphy@riverfronttimes.com or follow on Twitter at @DoyleMurphy.