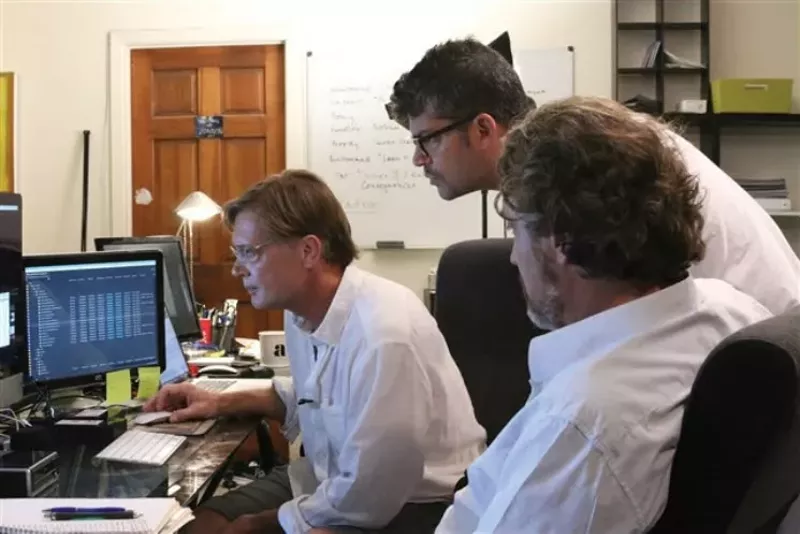 Cinema Libre Studio
Andrew Wakefield, left, believes vaccines are linked to autism. He is wrong.
A documentary that was
stricken from the Tribeca Film Festival
after public outcry over its anti-vaccine theories is
opening today
at the Tivoli Theater.
Directed by Andrew Wakefield,
the same disgraced scientist
whose debunked 1998 research study linked autism with the measles, mumps and rubella (MMR) vaccine,
Vaxxed: From Cover-Up to Catastrophe
has been widely panned for its slipshod logic and disingenuous presentations of medical science.
In other words (as Penn and Teller might say),
this documentary is bullshit
.
Vaxxed
's "plot" offers a dizzying mix of conspiracy theory and testimonial. Over 90 minutes, it flips between a central argument — that the U.S. Centers for Disease Control is suppressing data that proves the MMR vaccine is connected to autism — and a series of heartbreaking interviews with the parents of autistic children.
The transitions are jarring. Reenactments of recorded phone calls with a CDC "whistleblower" are presented alongside images of syringes and shadowy figures in lab coats.
William Thompson, the supposed whistleblower, was a senior scientist with the CDC when he worked on a 2004 research study that compared the age of a child's first MMR vaccination to the onset of autism. Thompson was convinced that data from the study had been destroyed by the CDC to conceal a connection between the vaccine and autism in black children. This is the narrative core of the film, but (as others have pointed out
here
,
here
and
here
) this theory is woven from leaps of logic that would get you laughed out of medical school.
The documentary presents Wakefield as a neutral voice of reason, as it does one of the film's producers, Del Bigtree. Yet it fails to disclose how
a Sunday Times investigation
uncovered Wakefield's financial interests the debunked 1998 study. In 2010, those revelations ultimately led the British General Medical Council to
bar
Wakefield from practicing medicine in the U.K.
In a press release sent to
Riverfront Times
this week
,
the film's publicist insisted that
Vaxxed
is not "anti-vaccine," but only seeks to expose the CDC's cover-up about the MMR study.
This is also bullshit
.
For instance: About two-thirds of the way through,
Vaxxed
transitions to a highlight reel of parental sob stories, babies who stopped talking, vibrant children who turned listless overnight — nightmare after nightmare. The scene ends with a final gut punch, a tearful mother speaking directly to the camera: "Vaccines do cause autism," she cries. "Hear me well."
The parents of autistic children suffer, there is no debate about that. But Wakefield's use of these parents as emotional props in his own game of professional redemption is appalling. Alas, there are no vaccines to protect us against charlatans.
<!——StartFragment——>
Follow Danny Wicentowski on Twitter at @D_
Towski. E-mail the author at Danny.Wicentowski@RiverfrontTimes.com