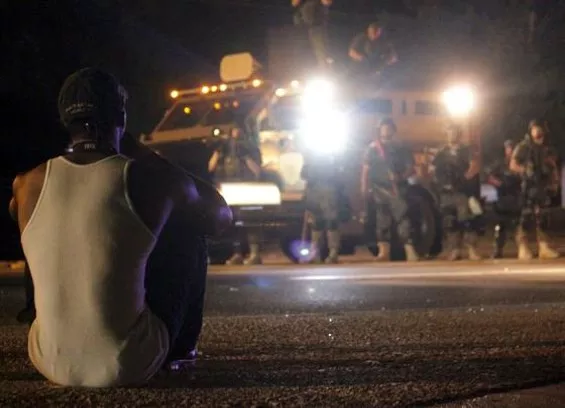 PHOTO BY DANNY WICENTOWSKI
Three Ferguson protestors charged with "failure to comply" by the police have been acquitted of the charges.
Jasmine Woods, Keith Rose and Michael Lohtak were first cited by Ferguson Police in August 2014, two days after the death of Michael Brown. They subsequently fought the charges for nearly a year in St. Louis County Circuit Court — even though, according to Arch City Defenders, the non-profit legal group that took on their cases pro bono, Ferguson was unable to produce a single witness to testify that any of the three had broken the law.
Instead, Ferguson prosecutors Stephanie Karr and Patrick Chassaing, who work for the private law firm of Curtis, Heinz, Garret and O'Keefe, argued that the fact of arrest was enough to convict.
Judge Joseph Dueker did not agree. He issued rulings yesterday granting the three protesters' motions for acquittal, court records show.
The protesters trumpeted the victory in a press release.
"This is just one more example of how private firms like [Curtis, Heinz, Garret and O'Keefe] use 'Prosecution for Profit' to fill their pockets while ignoring the facts, the Law, and the public interest," Rose said in the release.
Added Lhotak, "This system with its systematic oppression must be replaced. The fact that Ferguson would rather fight for 21 months than repent is also revealing to me. The power structure in Ferguson has to go so that these predatory practices can start to lessen and we can get systemic change and liberation one day."
Karr and Chassaing were paid $150/hour to pursue the cases on Ferguson's behalf, according to Arch City Defenders.
"The people acquitted today spent more time in jail than Darren Wilson and faced more serious charges than he did. This is yet another example of a racist criminal legal system that punishes the poor and communities of color and looks the other way when wealthier white people commit criminal acts," said Michael-John Voss, COO and Co-founder at ArchCity Defenders.
Editor's note: We edited this post after publication to clarify exactly how many days after Brown's death the protesters were arrested.
We welcome tips and feedback. Email the author at [email protected]