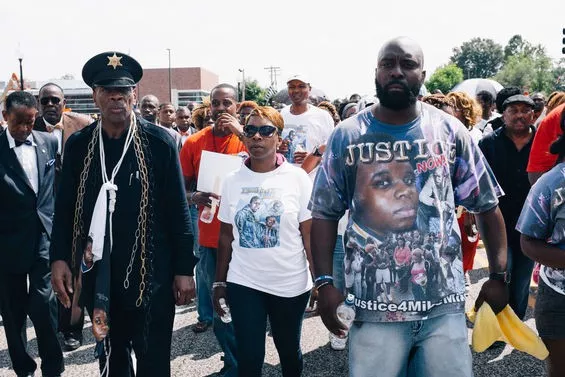 Bryan Sutter
Lezley McSpadden, center, attending a protest outside the Ferguson Police Department.
Lezley McSpadden is still grieving.
A recent cameo
in Beyoncé's visual album
Lemonade
finds McSpadden staring grimly at the camera and holding a framed graduation photo of her dead son, Michael Brown. And when McSpadden testified before the Missouri Senate in February to support a body camera bill, she noted that no recordings exist of the moment a Ferguson police officer shot her son to death on August 9, 2014. What, she asked, if a police video camera
had
captured footage of the fatal altercation?
"It would have given me the truth," McSpadden
testified at the time
. "It would have answered a lot of unanswered questions."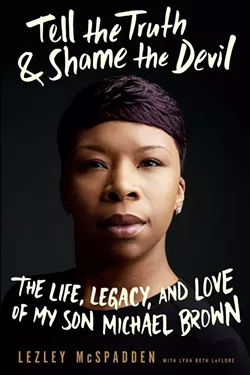 Those same unanswered questions seem to comprise the core of McSpadden's new memoir,
Tell the Truth and Shame the Devil
, which is being released today. Co-authored with Lyah Beth LeFlore, the book spends considerable real estate on McSpadden's tumultuous childhood and relationships with the fathers of her four children. Over 250 pages, McSpadden traces the steps leading up to her son's death.
In her telling, Brown was a college-bound teenager and aspiring rap artist who was just coming into his own. Growing up, he was bigger than most of his classmates, but also more sensitive. He preferred playing video games to sports. And while he struggled to make it through school, Brown was able to obtain his diploma with the help of an alternative summer educational program. McSpadden couldn't have been prouder of her son.
When it comes to Brown's death and the ensuing protests,
Tell the Truth and Shame the Devil
contains little in the way of bombshell revelations. The most shocking moment comes in an early passage describing McSpadden's frenzied rush home after her son was shot on August 9. When she arrived at the scene — which was already crowded with people protesting the shooting — McSpadden claims one of the responding officers callously flipped her off.
In McSpadden's telling:
I stormed up and down the sidewalk. "Where is he? Where's the one who did this to my child?" I got closer to one of them whose face had a permanent scowl carved into it. He stood over me. "Ya'll muthafuckas gonna have to answer to this," I challenged, looking up at him, square in the eye like I was every bit of the giant he was.

"Well, we some good motherfuckers," he growled, then threw up his middle finger.

Later in the book, McSpadden recounts various meetings with then-U.S. Attorney General Eric Holder. And although she was crushed when the Department of Justice
failed to bring charges against Darren Wilson
, the former Ferguson officer who killed her son, McSpadden didn't blame Holder. She writes: "He was a black man who knew that my son's civil rights and living rights had been violated, but maybe his hands were tied."
Today, McSpadden is involved in running
The Michael O. D. Brown We Love Our Sons & Daughters Foundation
, which she founded in the wake of the Ferguson protests. According to a press release, the organization "advocates for justice, improving health, advancing education and strengthening families."
Her family's wrongful death lawsuit
against Wilson, the City of Ferguson and former police chief Thomas Jackson is still winding its way through federal court.
In the book's epilogue, McSpadden concludes with a letter to her son. She addresses it to "Mike Mike," his family nickname.
"This is real hard, Mike Mike, because you were supposed to be here with us. But I'm going to be strong. I have to be for you," she writes. "The truth hasn't ever been told. Your truth. You're not here to tell the world what happened. So I'm gonna represent, baby, as best I can."
McSpadden will be appearing at a book signing at Left Bank Books on May 17. This event is free and open to the public, but RSVPs are requested
via the bookstore's website
.
Follow Danny Wicentowski on Twitter at @D_
Towski. E-mail the author at

[email protected]