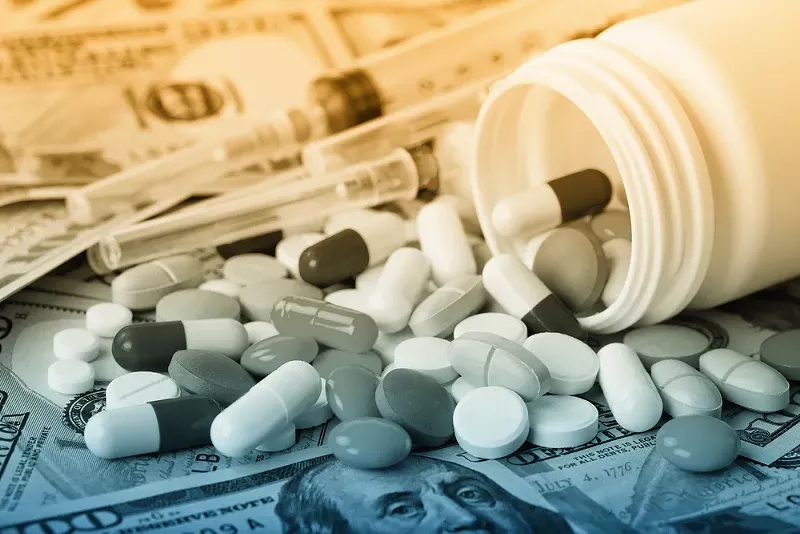 SHUTTERSTOCK/Zadorozhnyi Viktor
I got a press release Friday from a group called Keeping Missouri Kids Safe. The name should have been my first clue — any time there's kneejerk stupidity to be propagated, it's done in the name of the children. And the combination of "children" and "safety" almost always means the adults are about to get screwed.
So it was in this case. The release announced the formation of a political action committee to fight the
medical marijuana initiative aiming for Missouri ballots in November
. Keeping Missouri Kids Safe, the release explained, is "a newly-formed coalition of citizens from drug prevention, treatment and recovery centers, parent networks, medical centers and law enforcement agencies who have joined together to educate Missourians regarding the truth about today's marijuana."
And what is that truth? Naturally, things are getting scary
for the children
. These guardians of our youth argue that marijuana cannot be used as medicine because, get this, it hasn't been approved by the FDA.
To wit:
"Marijuana is not medicine and should be put through the strict FDA process just like all other drugs," said Joy Sweeney, the Executive Director of the Council for Drug-Free Youth and Co-Chair of Keeping Missouri Kids Safe. ....

"If a pharmaceutical company wanted to release a psychoactive drug over-the-counter without clinical trials or FDA approval, in its own store with no knowledge of dosing or drug contra-indications, and then have it distributed by someone with no medical training, people would be outraged," said Bridget Klotz, Director of Smart Approaches to Marijuana, Missouri, and co-chair of Keeping Missouri Kids Safe. "There would be protests and petitions to stop it, and there should be. So why is Big Marijuana getting a pass?"
So if only we could get federal regulators involved, we might be able to render pot safe for human consumption? Pardon me while I laugh my ass off.
The fact is, Missouri has a huge drug problem — and it has nothing to do with leafy plants and "Big Marijuana," whatever the heck that is. No, the drugs that are destroying lives in Missouri in 2016 are opioids — prescription painkillers including Oxycontin and Percocet.
It's not only that people are getting hooked on these drugs, although that's a real problem. It's also that they're getting hooked on them, seeing their lives crumble and then
turning to heroin
because it's easier to get, or cheaper. The combination has become a scourge on America.
Unlike pot, these drugs really are killers — and that's not just true for those who switch over to heroin. Opioids themselves also kill. One recent victim? Prince, a clean-living pop star who eschewed pot and alcohol but had been
prescribed painkillers for a bad hip
and found himself dependent. Last month, at 57, he died, with the drugs thought to be the catalyst.
What makes it all so horrifying is that the opioid epidemic happened with the FDA's blessing. David A. Kessler, the agency's former commissioner,
acknowledged as such in a remarkable op-ed published in the New York Times Saturday
.
Kessler wrote, "Beginning in the late 1990s, pharmaceutical companies selling high-dose opioids seized upon a notion, based on flimsy scientific evidence, that regardless of the length of treatment, patients would not become addicted to opioids. It has proved to be one of the biggest mistakes in modern medicine."
As Kessler detailed, a CDC analysis reveals that a full 27 percent of those at the highest risk of overdoses are taking drugs that have been prescribed by them. Another 49 percent got them from friends or relatives. Only 15 percent, he wrote, bought pills from a drug dealer.
Kessler's essay was a rare acknowledgement that the problem with painkillers isn't patients who go rogue. It's the painkillers themselves — and they've proliferated with the FDA's full blessing.
Last week, the
L.A. Times published an illuminating series
that details how Big Pharma (and particularly a company called Purdue Pharma) won regulatory approval for Oxycontin as a twelve-hour drug, even though studies showed it only worked for eight hours, and sometimes even less than that.
Why does that matter? As the story details, for Purdue Pharma, that twelve-hour dosage was everything — the FDA's approval of that dosage gave the drug a huge marketing edge. Doctors everywhere leapt to prescribe it to help suffering patients, thinking they were giving them twelve full hours of pain relief.
But the consequences of that decision have been disastrous. The
Times
details story after story of patients who found themselves physically dependent on higher and higher doses of the drug. In many cases, their lives were destroyed by it.
One gripping example is Burgess MacNamara, who was prescribed Oxy after knee surgery. A top athlete and public school teacher, he was "used to following the rules." But following the rules with Oxy did no good because his body needed another dose much sooner than his prescription indicated.
That's not a guy going off script. That's a guy following the dosage recommended by the FDA — not realizing he was being led right into a trap that would destroy his life.
Per the story,
Within a month, he was crushing and snorting the pills. Within a year, he was forging prescriptions. He eventually tried heroin, which was cheaper, and other drugs. MacNamara was arrested for forging prescriptions, possession of controlled substances, stealing pills from a school clinic and other drug-fueled crimes. He lost his teaching career and spent 19 months behind bars.
But hey, what did Purdue Pharma care? There's always some collateral damage in capitalism. And the drug has reportedly made the company $31 billion.
Faced with complaints from patients and concern from doctors, the
Times
reported, the company refused to admit what its own studies indicated. Being honest about the drug's limits, after all, could decimate profits. They instead urged physicians to administer higher doses, the paper reported.
The result? I was "just a zombie," one patient told the
Times
. A Wash. U professor quoted by the
Times
called prescribing OxyContin at 12-hour intervals "the perfect recipe for addiction."
And where was the FDA in all this? They were working hand in hand with the drug manufacturers.
The FDA approved the application in 1995. Dr. Curtis Wright, who led the agency's medical review of the drug, declined to comment for this article. Shortly after OxyContin's approval, he left the FDA and, within two years, was working for Purdue in new product development, according to his sworn testimony in a lawsuit a decade ago.
Oxycontin is still being marketed for a 12-hour dosage. And it still has the FDA's stamp of approval.
This is who we need regulating marijuana?
Tasked with "regulating" cannabis, I can just see how the FDA regulators would help keep our kids safe — signing off on high-dose pills that allow some drug company to laugh all the way to the bank, then landing lucrative jobs on its payroll. The dealer on the street goes to the jail; the dealer peddling a far more addictive product via a network of regulators and physicians and attractive sales reps retires to a gated community in Chesterfield.
Now, there are certainly arguments to be made against the legalization of pot. I lived in California as medical marijuana gained a foothold there, and let's just say if you oppose people using cannabis to "treat" depression, anxiety and ADHD, you probably shouldn't vote for medical marijuana. Weed helps a lot of people struggling with chemotherapy and chronic pain, yes, and provides an alternative to painkillers like Oxycontin — but it also finds a way to treat a whole lot of people whose problems amount to a general malaise. Is Missouri ready for that?
Having seen how it played out in California, I don't see a huge downside. I signed the petition to bring medical marijuana here last week for just that reason. But reasonable people can disagree, and that's a good conversation to have. Do we want people to be allowed to self-medicate with a few puffs of the pot pipe to get through the night? Or do we want to require them to get on a mood stabilizer like Paxil or Prozac or Zoloft? Let's discuss.
As for me, I can't help but think about
Jeff Mizanskey
, the Missouri grandfather who became a symbol of all that's wrong with our drug policies a few years ago.
After getting caught assisting a pot dealer, Mizanskey was slapped with his third felony and sentenced to life in prison. He did more than 20 years behind bars before Governor Jay Nixon
finally commuted his sentence last year
.
An ex-con
gathering signatures for the medical marijuana ballot initiative
, Mizanskey is surely the kind of guy Keeping Missouri Kids Safe would warn us about. But if it comes down to Mizanskey or the CEO of Purdue Pharma, I know who's left far less damage in his wake.
It's not the one who had the blessing of the FDA.
Sarah Fenske is the editor in chief of the Riverfront Times. Email her at sarah.fenske@riverfronttimes.com or follow her on Twitter @sarahfenske