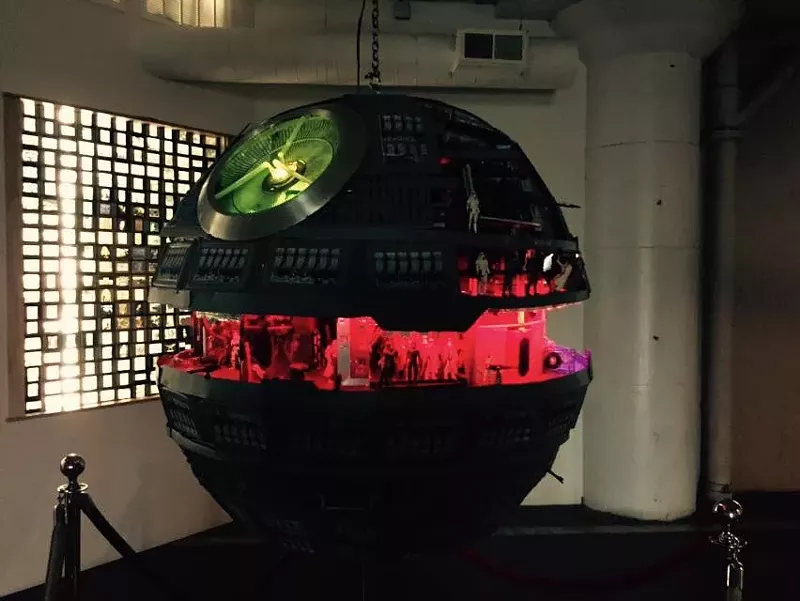 Courtesy of Davide Weaver
Sorry Alderaan...
If you were hoping to witness the power of a fully operational Death Star, only one that was cobbled together from action figures and discarded computer parts, well, the bad news is that you're too late.
Local artist Davide Weaver spent more than a month designing and assembling the iconic Star Wars battle station for an art exhibition at City Museum. It's been hanging in a gallery there since March. At four feet in diameter, Weaver's creation brims with small details and set-pieces inspired by the original trilogy. Building the thing pushed the artist to his limits — and now he's searching for the Death Star's new home.
For a price, that is.
"If we found a semi-temporary place that would be public and safe, I wouldn't mind putting it there until we sell it," Weaver says. "It's designed to go in a bar or restaurant."
Courtesy of Davide Weaver
Weaver speaks from experience. His previous Star Wars art pieces debuted at 2720 Cherokee, the music and art gallery he co-founded in 2009. (The venue
recently replaced the Star Wars sets
with murals and a more stripped-down look.)
On Monday, Weaver and some pals loaded the Death Star onto a pickup truck and bid farewell to City Museum, where the planet-busting doomsday weapon was painstakingly assembled and displayed alongside Weaver's other sprawling Star Wars installations — the battles of Hoth and Yavin among them. The pieces enchanted thousands of visitors since the exhibit's January opening.
Star Wars, says Weaver, "brings out this energy in people, the childhood memories, that I've never seen in my artwork."
Courtesy of Davide Weaver
Davide Weaver poses alongside the Empire's greatest weapon.
Unlike the original Death Star, Weaver's creation was a labor of love. During the month or so of construction inside City Museum, Weaver frequently found himself working in front an audience. The completed piece involved numerous, intricately posed action figures and star-ships hanging from the ceiling. In the process, Weaver discovered novel uses for discarded computer parts and even organic spinach containers.
"To create it as a full sphere was a challenge," he says. "I did the math on it before the full drawings. People would ask if I was working on it for years. I would say this is the fourth week, and that's when their jaws would drop."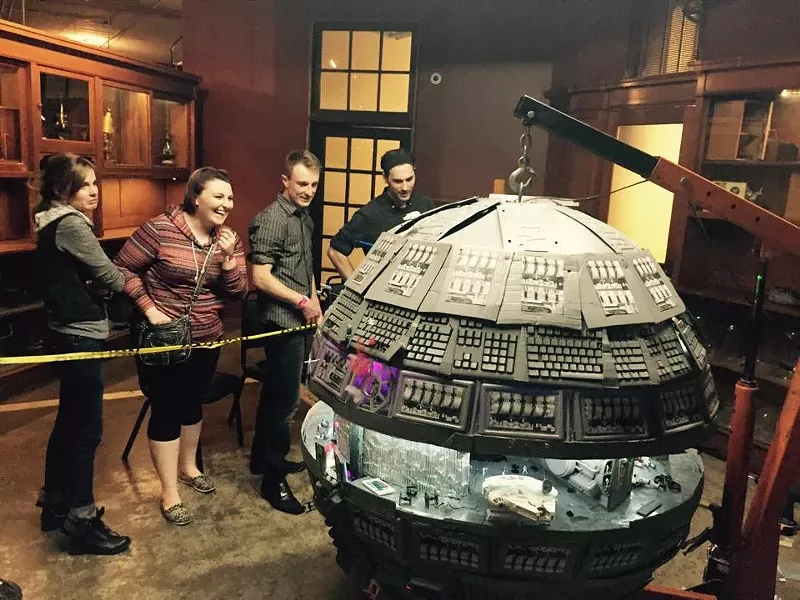 Courtesy of Davide Weaver
Weaver's Death Star, shown here during its construction,
Weaver declined to name a specific price for the one-of-a-kind, definitely-not-a-moon art piece. He is accepting "best offers" at the moment by email, at weaver.davide@gmail.com.
<!————————StartFragment————————>
Follow Danny Wicentowski on Twitter at @D_
Towski. E-mail the author at Danny.Wicentowski@RiverfrontTimes.com