Photo courtesy of Flickr/Matt A.J.
Doesn't that Technicolor face-and-hair combo just cry out for a 64-count box of Crayola?
Wayne Bell, the founder of Clayton's Really Big Coloring Books, knows a good candidate for a coloring book when he sees one. Of Donald Trump, the subject of his company's newest book, he enthuses, "He's every color in the rainbow! You might need two boxes of crayons for this one."
The Trump book,
which the company released yesterday
, is 36 pages of color-inside-the-lines madness — you can color Trump along with fellow "American Men that Contribute selflessly," like Lincoln and Roosevelt; color the protesters trying to stop Trump's rallies and even connect the dots to draw a wall and "imagine America with a safe Southern border." It's sort of like sitting through a Trump rally on CNN, only minus all the shouting (and with a box of Crayolas).
And that means the target audience is less the adorable two-year-old in your life, and more your Trump-lovin' auntie, provided she's hipster enough to indulge in adult coloring books. "This is for adults, young adults, maybe middle-schoolers," says Bell. "Not little kids in pre-school."
The company is certain that demand exists. When Trump first announced his run for the presidency, the company provided a one-page PDF coloring sheet for fans to download; the response was through the roof, Bell says.
"He is incredibly, wildly popular with a lot of people from coast to coast," Bell says. "If people didn't want it, they wouldn't download it — unless they're going to use it for target practice."
The book costs $7.99 and comes with an MP3 of a song called "Upgrade America," performed by the company's in-house band the Color Tones.
And if it seems like the company is courting controversy with this book, well, that's nothing new. Previous offerings introduced young people
to the Tea Party
, let them swap "
Terrorist Trading Cards
" and
showed Ted Cruz blasting Obamacare with a shotgun
.
It's not all conservative causes, either. "Our coloring book 'Barack Hussein Obama — Yes We Did' was an incredibly crazy seller," Bell notes. "We couldn't keep it in the stock, literally."
Bell has a theory on why books like the ones made by his company are so popular. "I've been making coloring books a long, long time, and when the economy is not as good as you want it to be, parents can still afford to buy a nice coloring book."
So, hey: If Trump manages to make America great again, that might not be so good for business. But think of the presidential scenes "Donald J. Trump: The Presidency" could illustrate!
Below, some sample pages from the Really Big Color Book Trump release: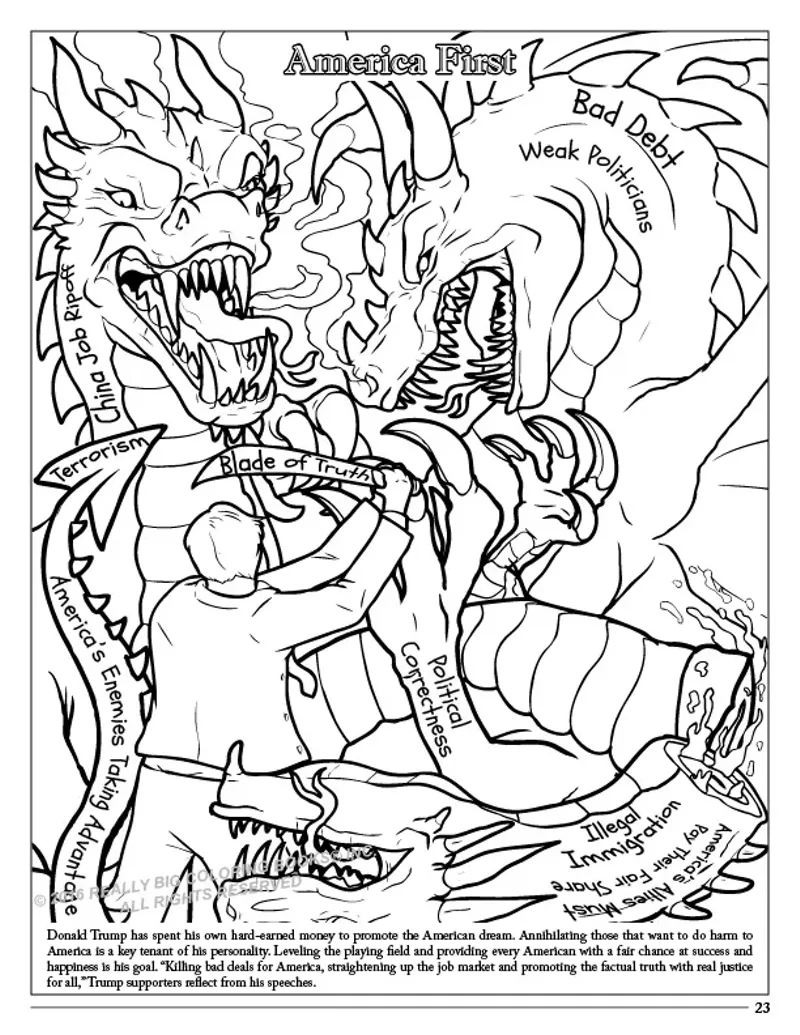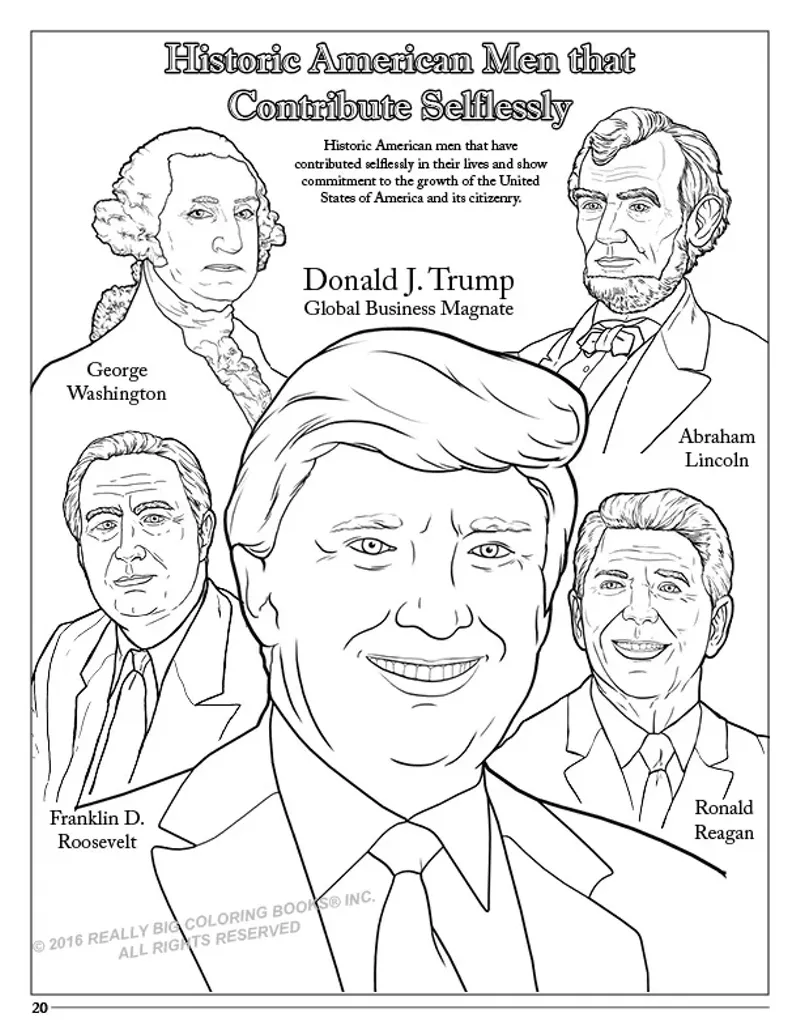 We welcome tips and feedback. Email the author at sarah.fenske@riverfronttimes.com