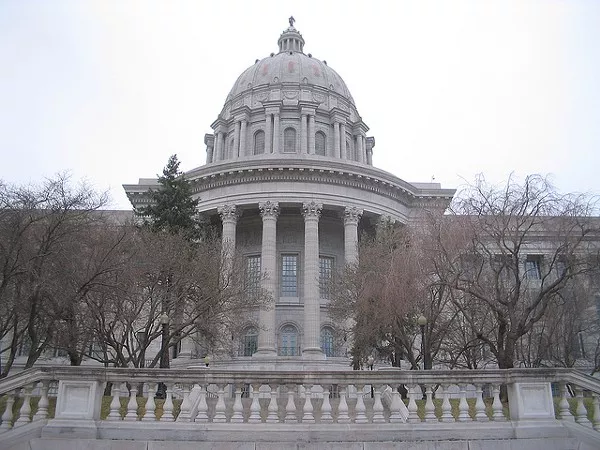 Missouri's
controversial religious freedom bill, SJR 39
, failed to get enough votes to make it out of committee — with the GOP-led "emerging issues committee" splitting 6 to 6 in a vote early this afternoon.
Representative Jim Hansen, R-Frankford, cast the deciding vote against the measure after a thoughtful, yet passionate, speech in which he defended his Christian faith and referenced the Bible's call to "judge not, lest you be judged." Why, he asked, did the house committee need to single out same-sex activity over a host of other things prohibited in the Bible — making itself judge and jury over other Missouri residents?
"I put my faith in God, not man, and I'm not going to judge anyone," he said.
According to PROMO Missouri, Hansen was joined in opposition by Rep. Jeremy LaFaver, Rep. Mike Colona, Rep. Sharon Pace, Rep. Caleb Rowden and Rep. Anne Zerr. Zerr, of St. Charles, and Rowden, of Columbia, are also Republicans, and both currently running for the Missouri Senate.
The tie vote means the constitutional amendment will not go to a full vote of the House of the Representatives, barring another attempt on the part of its sponsors. (It's already passed the Missouri Senate, though getting it through that chamber required extraordinary measures to end
an epic Democrat-led filibuster
.)
The resolution, SJR 39, was proposed by Republican Bob Onder, R-Lake St. Louis. It would have sent to the voters a constitutional amendment barring the government from imposing any penalty on those who oppose same-sex marriages — a convoluted piece of legal writing that some
scholars say could legalize murder under certain conditions
.
It drew wide opposition from the business community, with many corporations and chambers of commerce throughout the state condemning the measure. GOP gubernatorial candidate Eric Greitens also split with his fellow Republicans in opposing the measure.
The conservative group Missouri Alliance for Freedom has already issued a statement blasting the three Republicans who voted against the bill. The quote in the state below is from President Ryan Johnson — and a sure sign of the heat that the GOP state reps may take for their vote against the controversial bill.
SJR39's failure in committee lies squarely on the shoulders of republican Representatives Anne Zerr of St. Charles (candidate for State Senate in SD23), Caleb Rowden of Columbia (candidate for State Senate in SD19), and Jim Hansen of Frankford who represents Legislative District 40 in north east Missouri.

"This is the opening salvo in a long war. We are not finished. While today's results are not optimal we are not going anywhere. Religious freedom is not negotiable. It is an integral part of the Constitution of the United States and we are not about to start picking and choosing which freedoms will be tolerated according to the false doctrine of political correctness. Religious people's first freedoms deserve to be defended and we will continue working toward that end."
We welcome tips and feedback. Email the author at sarah.fenske@riverfronttimes.com