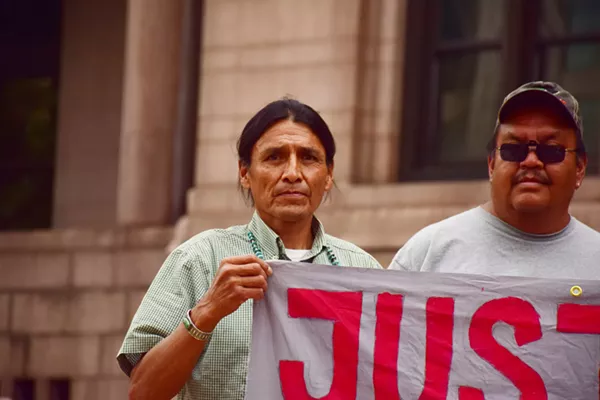 Katelyn Mae Petrin
Marshall Johnson (left) lead much of the march this Tuesday.
Nadine Narindrankura drove more than 1,000 miles to St. Louis this week. With friends and family members, she joined around 100 others marching from City Hall to Peabody Energy's downtown headquarters Tuesday afternoon. After asking for (and not getting) an audience with former CEO Gregory Boyce, the protesters rolled a safety fence across the street and blocked traffic.
Narindrankura's protest isn't just political or environmental; it's personal. Her home in Big Mountain, Arizona, is at risk. "I grew up out there. I live out there. I plan to have my baby out there," she says.
But that might not be possible. Peabody Energy filed for bankruptcy April 13. Here in St. Louis, people―including the advocacy group Missourians Organizing for Reform and Empowerment, which organized the protest―say that Peabody's business practices have harmed the city. They've gotten tax breaks to maintain jobs in the city, even though the company has actually decreased employment in the past few years. And representatives from Rocky Branch, Illinois, say that health problems have run rampant since Peabody began blasting for a new mine in 2014.
But Peabody's reach goes far beyond just Missouri and Illinois. Narindrankura was one of thirteen representatives from the Diné (Navajo) and Hopi of Black Mesa and Big Mountain to make the trek to St. Louis. They hope to pressure Peabody to make reparations for the consequences of their operations at Kayenta Mine.
The protesters presented a list of demands for a "Just Transition Fund," which would prioritize reparations to affected communities over shareholders. Various communities from Missouri, Illinois, and Arizona presented additional demands that overlap with the Just Transition Fund's goal.
"Our main concern is that Peabody will be completely let off the hook," Karindrankura explains. "That they're just going to leave a big hole in the earth, they're going to leave our water table depleted and damaged, and these are things that we're all gonna have to deal with out there."
Narindrankura and the Diné describe a long history of exploitation that began in the late 1960s, when a lawyer on Peabody's bankroll encouraged the Native Americans to sign away their land. This has resulted in the excavation of more 1 million artifacts on sacred ground, in addition to the government-supported relocation of dozens of families. And that's on top of the mining.
Today, the Diné and Hopi face an uncertain future because of depleted aquifers, polluted air and a mining-dependent economy. Peabody's website boasts awards for "industry-leading efforts to reclaim mined lands in a manner that also preserves cultural ways" – but the Arizonans who visited St. Louis Tuesday do not agree.
Dan Herder is a farmer and rancher in Black Mesa. Because aquifers have been depleted, he worries about the future. He says, "The contamination of our land, water, and air―before the mine, we never had health problems. There's asthma, cancer." With the depleted aquifers, the Diné's water security is limited. This, in particular, causes the worry that they may have to leave their lands altogether.
And as much as people want reparations, it may be too late.
"Part of me wants to say yes, [the fund] will make everything better," says Narindrakura. "But once you damage the earth, once you dig it up and mine it, there is no way you can ever get it back to its natural state. I think we can really use any help to remediate the land and the water and introduce the plants and the animals back."
Herder says what he really wants is to "stop the coal mining," although others worry that about the impact on the local economy if Peabody ceases operations. But Narindrankura believes that Peabody makes far too much profit off their land to leave now. He believes the emphasis needs to be on affected communities going forward.
"We're still here," Narindrankura says. "We still have hope that we can remain on our land."
In Rocky Branch, which is about 140 miles east of St. Louis, the message is much the same. "We need guaranteed quality clean up of the land, so we can farm again," says Judy Kellen, who lives near the mine in Satine County. A Diné community leader, Marshall Johnson, urged Peabody execs for a chance to speak "human to human."
"Please don't make my trip be wasted," one protester says. Another of the elder protesters lectured Boyce on his manners. Others encouraged Peabody to "divest from mother earth, invest in father sun."
"Look at the sunlight! It can power this building," Johnson says, as the sun came out over the protesters. "It's a good omen."
Organizers say that they will continue to push for a Just Transition Fund as Peabody's bankruptcy hearings progress. St. Louis organizers plan to focus on ending Peabody's tax subsidies, which include a 50 percent abatement on the city's earnings tax for new employees, granted as part of a $61 million incentive package in 2010.
For more photos of the action, see below.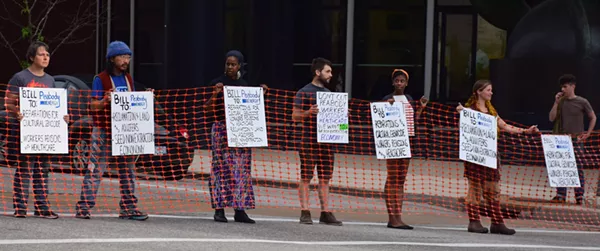 Katelyn Mae Petrin
Protesters blocked the intersection in front of Peabody Energy's headquarters.
Katelyn Mae Petrin
People chanted and spoke in front of the corporation's headquarters.
Katelyn Mae Petrin
People marched silently from City Hall to Peabody Energy.

Editor's note: A previous version of this story incorrectly described Gregory Boyce. He is the former CEO. We regret the error.