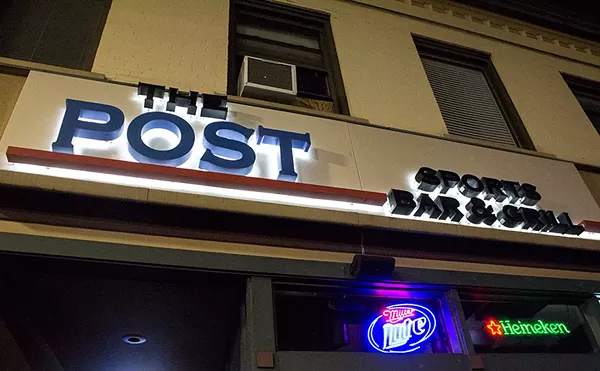 A man who identified himself as a cook for the Post Sports Bar and Grill (
7372 Manchester, Maplewood
) is facing a felony charge after allegedly throwing two Molotov cocktails into the restaurant.
Alexander Silver allegedly threw the explosive devices through the glass windows at the front of the Maplewood restaurant on Saturday night,
according to 40 South News
. But it's another detail in the paper's brief story that's even more chilling: He allegedly used his car to block the back door of the restaurant first.
Employees had left unusually early that night,
the paper reports
, so no one was injured.
Court records show that Silver, 20, has been charged with one felony count of arson. He does not yet have an attorney.
Dave Sendejas, the restaurant's general manager and also one of its owners, said police have instructed him not to comment on the matter, citing an ongoing investigation. He would neither confirm nor deny that Silver had been an employee.
But, he said, the restaurant is open for business. "We're business as usual," he said. "We put some boards up and spray painted them to look festive — we're ready for the Blues game tonight." In fact, he said, the damage is a chance to update the storefront, which had been looking a little dated.
Sendejas did say there had been no damage inside — "just a little fire outside the building."
On his Facebook page, Silver had identified himself as a cook at the sports-loving bar and grill. He also shared an image on March 24 that only seems troubling in hindsight.
It shows a cartoon character with a stick of dynamite and the words, "In the end, we only regret the chances we didn't take."
Maplewood Police did not immediately respond to a request for comment; we'll update this story if we hear back.
We welcome tips and feedback. Email the author at sarah.fenske@riverfronttimes.com