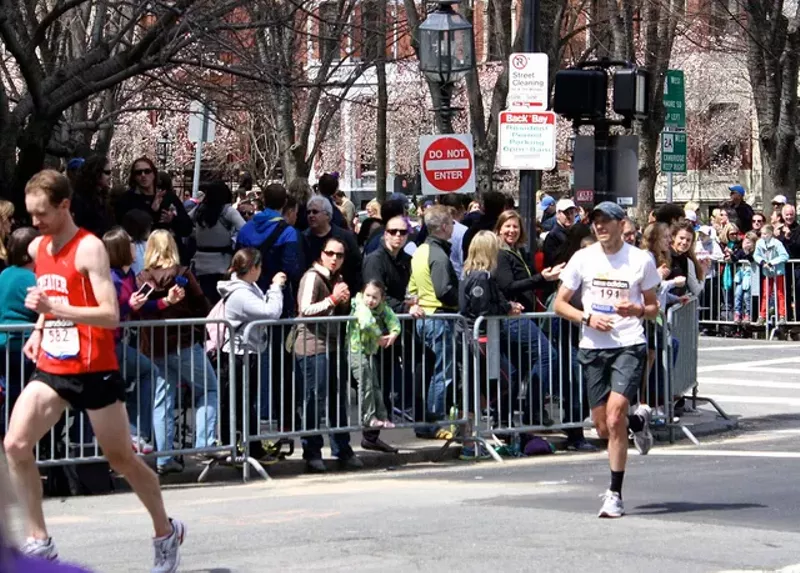 Photo courtesy of Flickr/Sonia Su
The 2013 Boston Marathon turned tragic — but a St. Louis company will be ready if anything goes wrong this year.
A St. Louis start-up has been entrusted with handling a hefty emergency-management detail: the Boston Marathon.
SirenGPS will provide emergency communication services for the 2016 Boston Marathon on April 18. The company's app will be used to connect volunteers, law enforcement and other first responders to each another. The volunteers can use the app to call 911 and SirenGPS can send out a mass alert, if necessary.
A marathon is a logistical challenge even on a good day. Boston's 26.2-mile course, for example, runs through eleven different municipalities with different law enforcement agencies and emergency personnel. Add in course volunteers — it's a lot to coordinate.
And what if something goes wrong? During the 2013 Boston Marathon bombing, SirenGPS President Paul Rauner says the city had to shut down cell towers to prevent possible bomb detonations from a cell phone. That could have the unintended consequence of disrupting communications between first responders and those in need.
The company's app gets around that problem.
"An app like ours that allows you to communicate with 911 also lets us send messages to your phone even if the cell tower is down," Rauner says. "That's another aspect that's attractive to the marathon, because if you're using text messages during a large-scale emergency, it's not going to work."
Rauner had been working in the emergency management field for about fifteen years when he decided to strike out on his own in 2012. His company is based in Midtown, with six staffers. While the app is free to download, Siren makes its money by working with various public safety enterprises, including St. Louis County EMS and Metro West.
Starting in St. Louis rather than a traditional startup community like Boston or San Francisco initially led fundraising challenges, Rauner says, but ultimately, the location has paid off.
"Starting in St Louis has been a mixed blessing," says Rauner. "The real benefit of being in St Louis is that it is the perfect size for our first market, and the community is really receptive to looking at new ways to save lives. It might have been easier to raise money in Silicon Valley, but it would likely have been harder to get adoption."
Rauner also teaches remotely as an adjunct for Boston University in its emergency management department; the relationships he was able to cultivate in the Boston area through his professorship led to the opportunity with the marathon.
For this year's marathon, the Boston Athletic Association will be using SirenGPS's tools for the marathon's 1,700 first responder volunteers. Runners are not obligated to download or use the app—though that's something Rauner hopes will be looked at next year.
He adds, "Our goal is to really create resiliency in communities by stitching these different stakeholders together."
Editor's note: We changed one line in this story to better reflect how the technology will be used during the marathon. Currently only volunteers have SirenGPS's tools; others along the route will not.