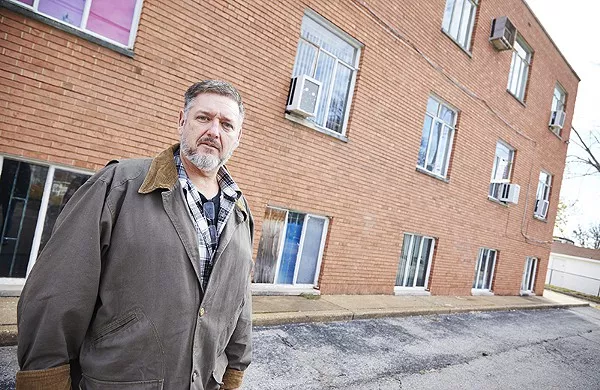 Steve Truesdell
Loren Copp was arrested on Thursday on federal charges of producing child pornography.
Loren Copp, the Dojo Pizza owner
targeted in a long-running criminal investigation
, was arrested Thursday afternoon on charges of producing child pornography.
Federal agents took the 47-year-old into custody about 3:45 p.m. outside the Bevo Mill church where he once taught karate, ran a pizza restaurant, operated a school and raised four teenage girls, according to a witness and his attorney.
The federal complaint claims investigators searched "multiple types of digital media" and discovered an image of a minor performing oral sex on Copp and another of Copp having vaginal sex with the girl. The minor, listed as "Jane Doe 1" in the document, identified Copp as the man in the photos, according to the complaint. She says she was about twelve in the first photo and fifteen or sixteen in the second.
Copp was lured on Thursday to the dojo, which had been boarded up since a law enforcement raid in October, by a city building inspector who called to say someone had broken in, Copp's friend John Albrecht tells the
Riverfront Times
.
Copp had asked his friend to drive with him, because he worried he was being set up, Albrecht said.
They circled the building looking for damage before spotting the inspector standing alone in front and got out to meet him. The three men made small talk for a couple of minutes before a half-dozen cars, loaded with federal agents and St. Louis police, swarmed the neighborhood.
"So many cars and people showed up; I don't know what they were expecting," Albrecht says. "He didn't have a weapon or anything."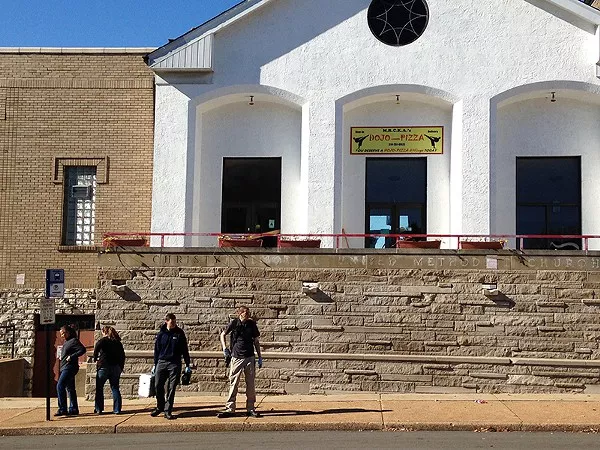 Doyle Murphy
Federal agents leave Dojo Pizza on November 12 after one of several raids on the former Bevo Mill church.
Copp's attorney, Justin Meehan, says he'd previously told police he would produce his client if authorities ever needed to talk to him. Thursday's sting was a sign they hoped instead to create a "media circus," he says, adding that the only details he's been told have come from Albrecht.
Copp was the subject of an
RFT feature story
in December after a series of federal raids on Dojo Pizza. He was taken into police custody for a couple of days in October on suspicion of child endangerment, but he was released without charges.
He has maintained his innocence, blaming the investigation on a disgruntled former live-in volunteer who he'd ejected from the dojo. Court documents filed in support of the early raids revealed police were investigating accusations of human trafficking, alleging Copp forced the teens to work for free in the pizzeria. He denied the charge. The girls were staying him because their parents were on drugs, imprisoned or otherwise unable to care for them, he said. Two of the girls had lived with him so long, they called him their father, and he considered them his daughters.
Parents, visitors to the dojo and one of the girls interviewed by the
RFT
supported him.
The charges of production of child pornography are new.
Agents who'd previously raided the dojo, a former church in October and November, had been seen taking evidence boxes and computers from the building.
In interviews, Copp has suggested investigators have been trying to set him up and possibly planted evidence. He noted neighbors claim to have seen men who appeared to be law enforcement officers climb in through a back window before one of the raids.
Copp is scheduled to appear on Friday in federal court. The charges carry a maximum prison sentence of 30 years and a $250,000 fine.
We welcome tips and feedback. Email the author at doyle.murphy@riverfronttimes.com or follow on Twitter at @DoyleMurphy.

Turn the page to see the complaint.