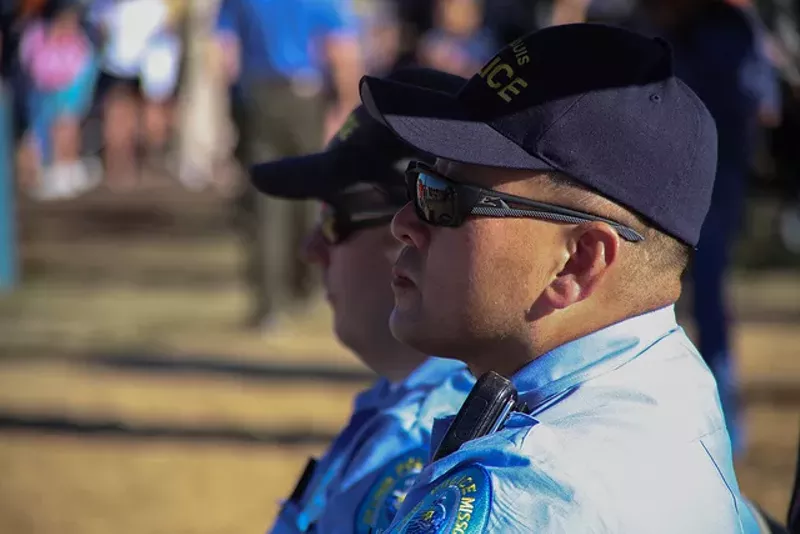 Photo courtesy of Flickr/Paul Sableman
St. Louis police officers. Some officers who aren't identified are accused of alerting Thomas Carroll that his daughter's credit card had been found on a suspect.
A St. Louis police officer has pleaded guilty to beating a handcuffed suspect who he believed had stolen his daughter's stolen credit card.
In his guilty plea, officer Thomas Carroll acknowledged beating the man while was he cuffed, throwing him into a chair and against the wall and threatening him by brandishing a gun and putting it into the suspect's mouth.
BOOKING PHOTO
Michael Waller
The suspect is not identified within the plea agreement, but has previously been identified as Michael Waller.
Waller allegedly had a credit card belonging to Carroll's daughter on him when he was arrested at Ballpark Village in July 2014 — and so Carroll's fellow officers alerted him to the fact that the man was in custody.
Carroll, now 52, admits to yelling at the handcuffed man as he sat in another officer's patrol car, telling him he'd made a "huge mistake" and "broke into the wrong girl's car." Once they were back at the Central Patrol police station, despite orders from a supervisor to stay away from Waller, Carroll charged in and beat him in an interview room, even though he was shackled to the floor, according to the plea agreement.
Carroll pled guilty to one count of "Deprivation of Rights." He faces up to 10 years in prison and a $250,000 fine at his sentencing. He was taken into custody immediately after his plea, according to the U.S. Attorney's Office of the Western District of Missouri, which is prosecuting the case.
"I have zero tolerance for the actions of police officers who discard justice for their own angry vendetta," said U.S. Attorney Tammy Dickinson. "I know the vast majority of law enforcement officers join me in repudiating this brand of brutality. This former police officer not only violated the civil rights of a person in police custody, he violated the public trust and his oath of office."
Previously, assistant prosecutor Bliss Worrell
pleaded guilty to helping cover up the assault
by filing charges against Waller for supposedly "resisting arrest" — even though she knew Carroll had actually beaten him without provocation.
We welcome tips and feedback. Email the author at sarah.fenske@riverfronttimes.com