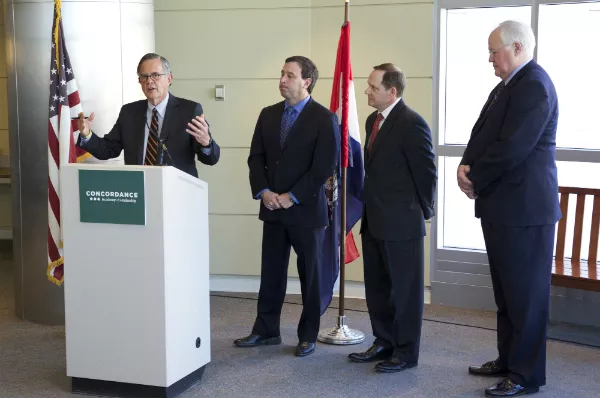 Image via Concordance Academy
Concordance CEO and President Danny Ludeman with St. Louis County Executive Steve Stenger, St. Louis Mayor Francis Slay and St. Charles County Executive Steve Elhmann.
A former Wells Fargo CEO's one-stop shop for ex-cons leaving prison will start with a nearly $2 million boost from St. Louis area taxpayers.
Concordance Academy of Leadership
, designed to weave offenders back into the world, has been racking up financing and assembling a team of high-powered bankers, academics and local players since the plan was publicly announced a year ago.
See Also: A Former Banking CEO Wants to Solve Prison Recidivism in St. Louis — and the Entire Country
"There is nothing that will have more of an impact on reducing crime and improving public safety in this region than by helping people when they leave prison and re-enter our society not commit another crime," says Danny Ludeman, who retired from St. Louis-based Wells Fargo Advisors in 2013. "But we want more than that. We really do want this population to lead joyful and productive lives."
About three-quarters of 650,000 inmates released each year in the United States will be rearrested within five years, according to national crime statistics. Missouri frees about 20,000 people annually, and more than 4,000 return to the St. Louis region.
"We neglect these individuals to their detriment and at our peril," St. Louis County Executive Steve Stenger said at a news conference on Tuesday.
The county has offered $900,000 to Concordance during the next two years. The city has pledged $750,000 during that time, and St. Charles County confirmed $100,000 for this year with the possibility of renewing within the next two years.
Image via Concordance Academy
The board of Concordance Academy is preparing to welcome its first class in May.
The money is part of about $12 million raised by Ludeman and his team to fund the academy and the Concordance Institute at Washington University, the research arm of the operation.
The program is expected to be the first of its kind. Instead of fitting into the patchwork of services that send parolees scrambling to one place for housing and another for job placement, the program is set to offer a full range of services in-house.
Mental health counselors, educators and job trainers are all part of the operation. Concordance lawyers will be available to help participants untangle lingering legal issues. An employment service will hire 100 percent of enrollees for jobs paying a living wage, probably about $12-$15 an hour, and housing specialists will help them find affordable apartments near their jobs, Ludeman says.
"They want what we all want," Ludeman says of soon-to-be-released inmates. "They want a second chance. They've paid their debt to society. This population is hurting."
While the participants work toward reintegration, researchers in the institute will track their progress, along with the path of a control group of similar inmates. Solid data will be key to showing whether the model, expected to cost about $15,000 per person, works, Ludeman says.
Concordance staffers are interviewing state prisoners for their first class, set to begin in May. The inmates will work with the program for their final six months behind bars and then another year after they're released. For their first four weeks of freedom, they'll be required to attend daily (paid) training at Concordance. They'll begin jobs on the fifth week and scale back their training hours. Ludeman says he's still looking for a building, aiming for somewhere close to a MetroLink station along the city-county border.
Enrollment in the program is voluntary. Participants will all be adults headed back to the St. Louis region. Concordance isn't accepting sex offenders for the time being, but that's expected to change in the future.
Ludeman says they'll work with about 270 people — 25 percent of them women — through the first eighteen months. He'd like to expand to Kansas City next, and he sees this as a potentially national model.
We welcome tips and feedback. Email the author at doyle.murphy@riverfronttimes.com or follow on Twitter at @DoyleMurphy.