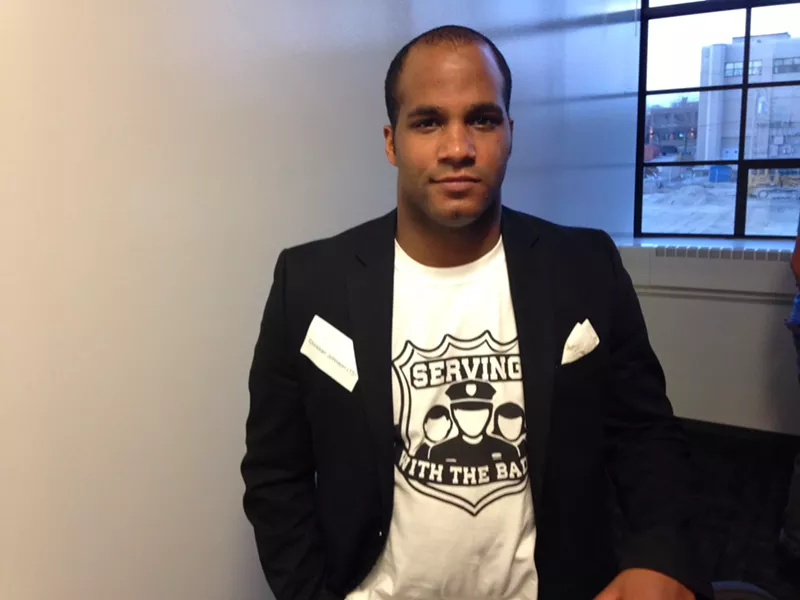 Photo by Doyle Murphy
Christian Johnson, a St. Louis police officer, founded Serving With The Badge.
Two weeks after Michael Brown was shot dead by a cop in Ferguson, Christian Johnson graduated the police academy and joined the St. Louis Metropolitan Police Department.
"It was an environment where no one had been — even experienced officers," Johnson says.
A St. Louis native and Army veteran, Johnson saw the fallout from both sides. He could relate to the cops who grew defensive and wary, but he could also sympathize with the frustration in the streets.
"Maybe it's not just that people are tearing up their neighborhoods," he says. "Maybe they really are being oppressed."
St. Louis has long been a divided city, with a history of racially segregated neighborhoods and rifts between cops and the people they police. Johnson, 26, hopes to help the two sides find some common ground.
He knows what it's like to see a kid in a hoodie walking down a dark street and wonder if he's up to no good. He also knows what it's like to grow up black in the city.
"When I take off the uniform, that's all I am — a black kid," he says.
He was still a rookie when he started
Serving With The Badge
, a nonprofit that began as a way to encourage off-duty cops to volunteer in their communities. The organization has attracted about fifteen other officers, who have partnered with business people, designers, engineers and tech workers in search of innovative ways to bridge the gap between police and residents.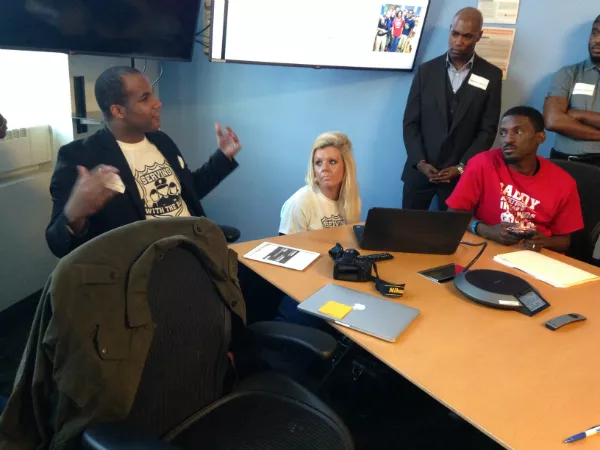 Photo by Doyle Murphy
Officer Christian Johnson speaks during Venture Cafe at Cortex.
It's taking the group to some new and interesting places. On Thursday, Johnson and several team members unveiled a new app at
Venture Cafe
, a weekly meetup of the city's entrepreneurs and tech developers at Cortex in Midtown.
The app, still in beta testing, would give officers direct access to a network of social and health services to assist the people they encounter on the street. A homeless guy about to get busted for trespassing might instead be directed to a shelter. A person suffering a mental health crisis could be connected to counseling instead of getting locked up.
Bruce Franks,
an activist and business owner
, says good interactions with police are key to changing the relationship.
"We have young people in our community that have been victimized for years by the same officers, and they only see those officers get promoted," says Franks, who founded a nonprofit called
28 to Life
.
He's begun collaborating with Johnson in hopes of the changing the force from the inside out.
"When you have officers who actually give a fuck, that's the the primary way of getting things done," he says.
The idea is to replace the archetypal police "warrior mentality" with a "guardian mentality," Johnson says. But making the switch is a difficult task, even in Johnson's own department. Leadership has been cool to some of his ideas, Johnson says, while some of his fellow officers go into their shifts eager to lock people up.
That said, he knows that some people need to be locked up. On overnights in the 6th District, a north St. Louis jurisdiction that covers Walnut Park and other neighborhoods, Johnson is a "jump out boy," an aggressive cop not afraid to spring out on suspects in high-crime areas and chase them through dark alleys. He says he leads the district stats in arrests as well as guns and drugs recovered.
But it can be too easy to start seeing everyone as a criminal, Johnson says. That's why he sees volunteering as vital. It gives cops and people a chance to get to know each other in low-heat situations. For example, Serving With The Badge walked north city streets in March handing out 1,000 light bulbs as part of the Porch Light Project, created to make nights a little brighter and safer. They plan to hit more neighborhoods in two months.
The organization also opened its first office on Thursday at Kingdom House in LaSalle Park. A second location is set to open soon. Johnson says he's encouraged.
"There are a lot of police officers that very involved in this," he says. "It's making them remember why they wanted to be a cop."
We welcome tips and feedback. Email the author at doyle.murphy@riverfronttimes.com or follow on Twitter at @DoyleMurphy.

Editor's note: We slightly altered a sentence of this story after publication to clarify the role of "jump out boys" like Johnson.