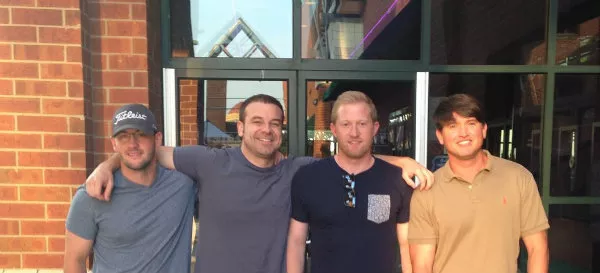 Photo Courtesy of Ginny Caballero
Ross Brooks (left), Bryan Clayton, Zach Hendrix and Gene Caballero co-founded GreenPal in Nashville in 2013.
A Nashville-based startup called
GreenPal
that connects homeowners with lawn care providers is launching in St. Louis this Friday, April 1. The founders say it's like Uber, only for your lawn.
GreenPal CEO Bryan Clayton owned a commercial lawn care service since he was seventeen years old. He saw many problems in this fragmented industry and decided he could do something to fix it.
"There's got to be a better way for a homeowner to find a lawn guy that's in the neighborhood or who does that service without having to go on Craigslist or throw a rock at the guy next door," explains Gene Caballero, one of the company's co-founders.
Inspired by services like Airbnb and ride sharing apps, Clayton and Caballero got together to create a website—and now an app—to facilitate relationships between homeowners and lawn care providers, eliminating the hassle for both parties. No longer will homeowners have to do lengthy research on vendors, or even pick up a phone. And vendors don't have to worry about marketing or bookkeeping; they can just do their job.
This is how it works: A homeowner posts a lawn care job on GreenPal, which alerts local vendors that they can bid for the work. Users can see the vendors' ratings and reviews and pick one to do their lawn work. Homeowners can pay right on the app, with GreenPal taking a 5 percent cut from each transaction. Before GreenPal allows vendors onto their platform, the startup runs a background check, checks their references and makes sure they have commercial-grade equipment.
"We like to give our homeowners high fives but our vendors hugs. What we're trying to do is create an Open Table type of operating system for our vendors through our platform," says Caballero. "We're just trying to make it as easy as possible for them to make money and be efficient and have a better overall business experience."
After three years of operation in six cities, the company's projected earnings for this year will be $1 million, Caballero says. GreenPal picked St. Louis for its next expansion because it saw a demand.
He adds, "We've got some really good businesses in [the] area and we've done a couple of test runs, and everything works great. So we're just looking forward to growing in that market and finding these local guys some more business."