The man with the mustache says he cares about babies, but is it all a ploy?
Representative Mike Moon loves babies. Or, at least his Twitter feed does.
Earlier this month, the Tea Party Republican from Ash Grove began using his social media account as a megaphone to trumpet adorable facts about babies, including a trove of
cutesy memes from ScoopWhoop.com
that make important observations like "A baby's eyes are 75% of their adult size when they're born" and "A newborn baby is nearsighted." Um, adorbs?
Moon tweeted stuff like this: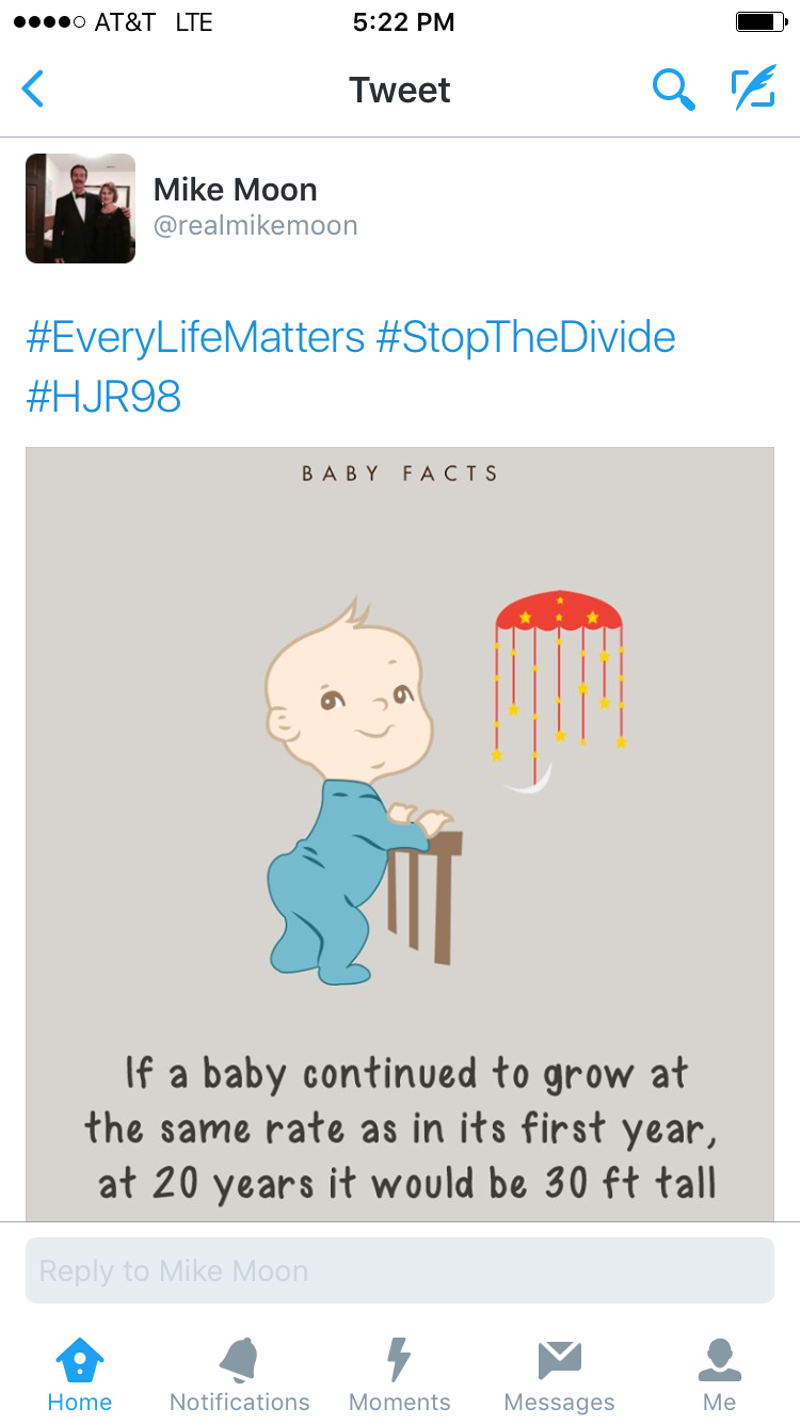 Now, a casual observer of the lawmaker's tweets might conclude that this is man who simply loves babies and facts, and when those two things coincided he could not help himself but devote
seventeen freaking tweets
to the subject matter.
But that observer would be wrong, because Mike Moon's love of babies is directly related to his attempt to block women from making their own decisions about whether or not to birth said babies.
Suffice it to say, Moon, a staunch conservative who once urged his colleagues to employ
"manly firmness"
to defeat Obamacare, doesn't much care for abortion. And his latest attempt at dismantling women's abortion rights is
HJR 98
, a proposed ballot referendum to ask Missouri voters whether the state should protect a fertilized egg the same way it does a person. (Moon previously introduced a similar measure as a bill called the "All Lives Matter Act."
Yes, he went there
.)
If placed on the ballot by the legislature and then approved by voters, HJR 98 would upend the state's abortion laws, amending the state constitution to include two new clauses:
(1) That this state recognizes the right to life of every unborn human child at every stage of biological development and shall protect such life from deprivation by the state or private action to the extent permitted by the federal constitution.

(2) Nothing in this constitution secures or protects a right to abortion or requires the funding of an abortion. The people retain the right through their elected state representatives and state senators to enact, amend, or repeal statutes regarding abortion including, but not limited to, circumstances of pregnancy resulting from rape or incest or if necessary to save the life of the mother
Moon's bill is scheduled for a hearing today before the House committee on Children and Families.
Now, if voters decide to pass a constitutional amendment based on HJR 98, the courts would almost certainly declare it unconstitutional.
As Mother Jones notes
, such "personhood" laws generally conflict with federal law and U.S. Supreme Court precedent in
Roe v Wade.
Declaring a zygote a person could also be used to deny women certain forms of contraception, such morning-after pill and IUDs, since
these methods
can prevent an already-fertilized egg from implanting in the uterus.
Which brings us back to Moon's tweets. In truth, his bill isn't really about babies. It's an attempt at eliminating the last legal threads supporting abortion rights in Missouri. For Moon, being pro-baby
is really about being anti-abortion
.
We're going to call bullshit on that. Deploying cute baby facts to convince people your bill isn't actually a pile of unconstitutional garbage isn't merely misleading, it's straight-up propaganda. And it's worth pointing out that using babies as emotional props is a touchstone of the anti-abortion movement; it's the same tactic that blithely applies the term "pro-life"
to protesters who harass patients outside Planned Parenthood in the Central West End
— which is, by the way, the last abortion-providing clinic in the state. At its most extreme, this zero-sum "pro-life" logic
has been used to justify actual murder
.
So, in the spirit of accuracy, we've gone ahead and edited Moon's recent baby tweets to reflect the real world, the place where real women are forced to live with
dumb
and
hurtful laws
.
Are you a fan of babies? Great! So are we. But let's be honest about them. They're adorable
and
they are a huge responsibility. And, occasionally, babies are real assholes.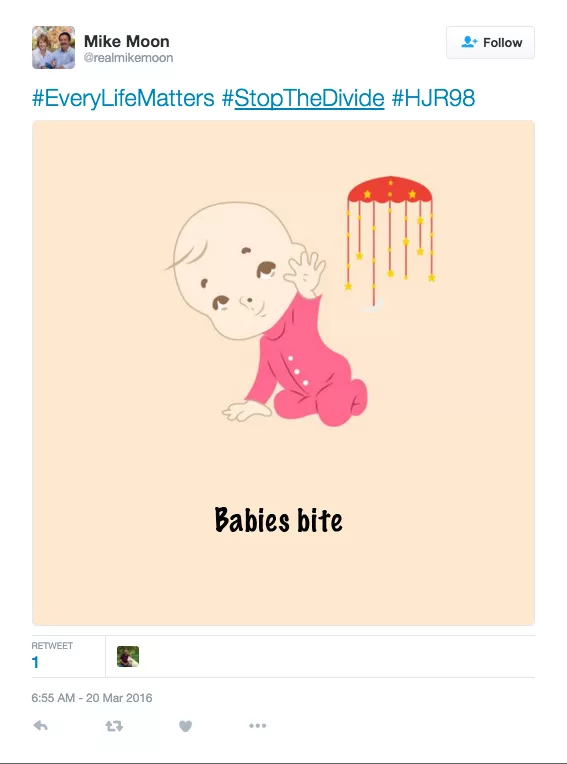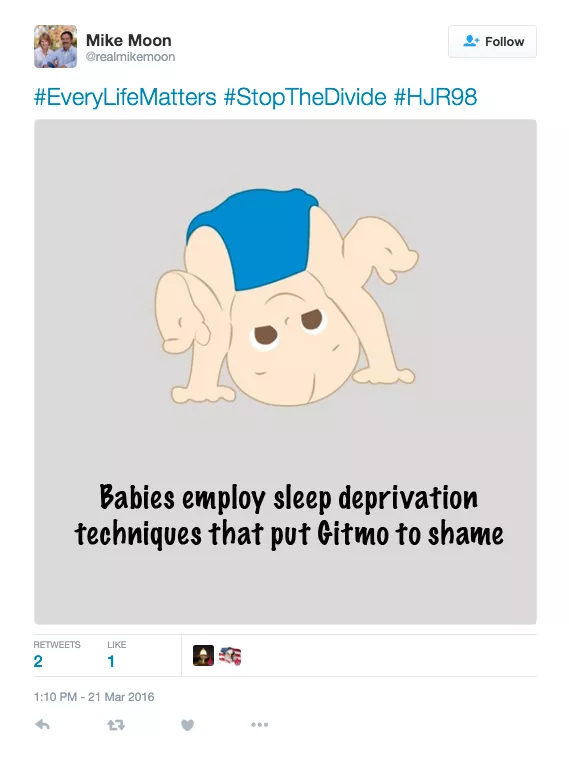 You're welcome, Mike.
<!—————StartFragment—————>
Follow Danny Wicentowski on Twitter at @D_
Towski. E-mail the author at Danny.Wicentowski@RiverfrontTimes.com